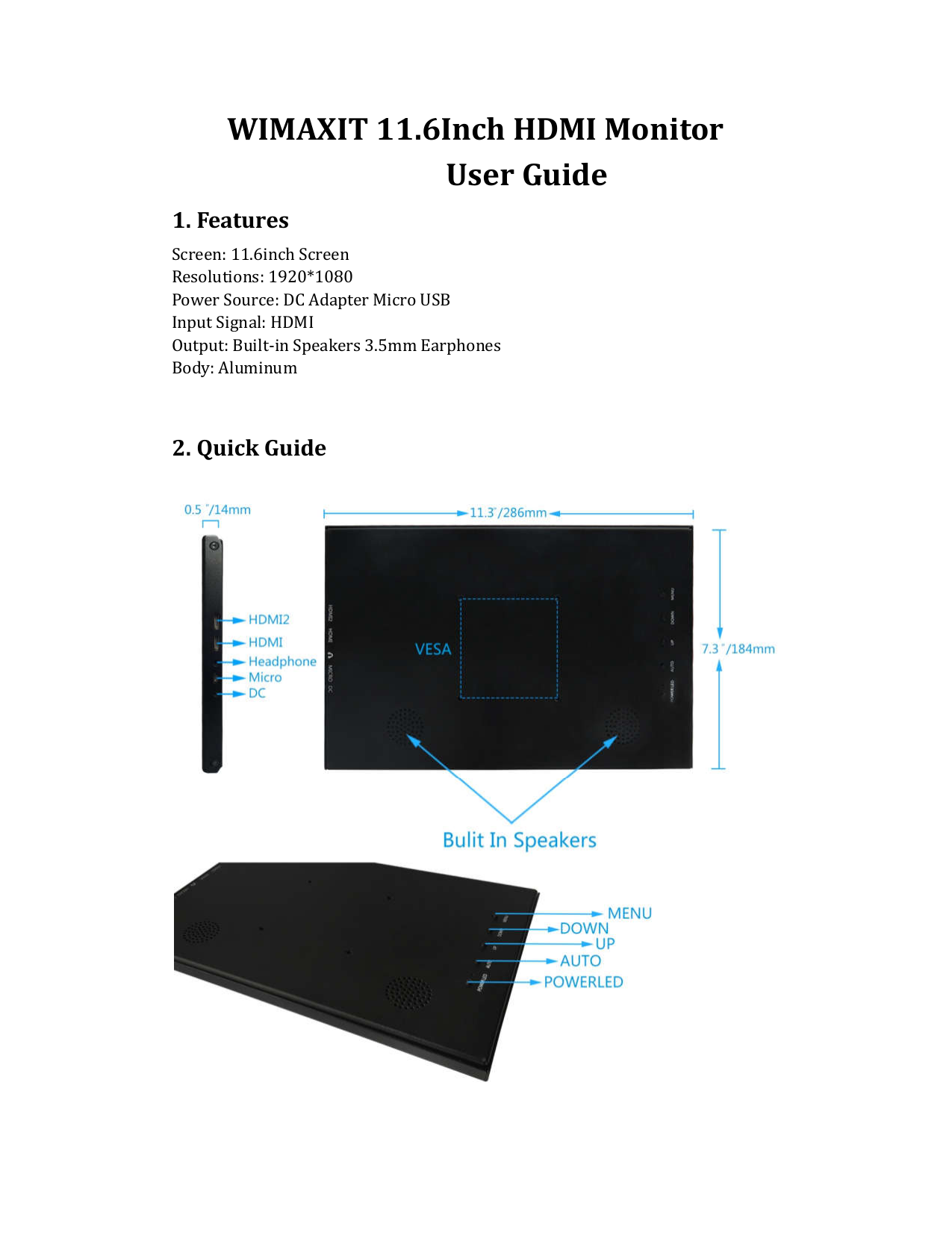 WIMAXIT 11.6Inch HDMI Monitor
User Guide
1. Features
Screen: 11.6inch Screen
Resolutions: 1920*1080
Power Source: DC Adapter Micro USB
Input Signal: HDMI
Output: Built-in Speakers 3.5mm Earphones
Body: Aluminum
2. Quick Guide
3. Key Operation
MENU
DOWN
UP
AUTO
POWER
Note: Down—long press quick key to
"Brightness"
Enter MENU or Confirm
Select or "-"
Select or "+"
EXIT &Return
Power ON/OFF
"Volume". UP—long press quick key to
4. Package Contents
WIMAXIT M1160S HDMI Monitor
DC Power Adapter
HDMI Cable
Stand
Guarantee Card
Cleaning Cloth
User Manual
1
1
1
1
1
1
1
5 Warranty
This 11.6inch monitor comes with limited 1 year warranty and 24 hours easy to
reach customer service. If you encounter any questions, feel free to contact us at
[email protected]
Register an account free on www.andycine.com. You will never miss the discount
and latest electronic products.
6.Attention
1 Screen is fragile. Please keep the monitor from collapse,falling. Stay away from
liquid or high humidity environment.
2 Do NOT use non -manufacturer authorized accessories such as power supply to
avoid product damage and abnormal operation.

* Your assessment is very important for improving the work of artificial intelligence, which forms the content of this project