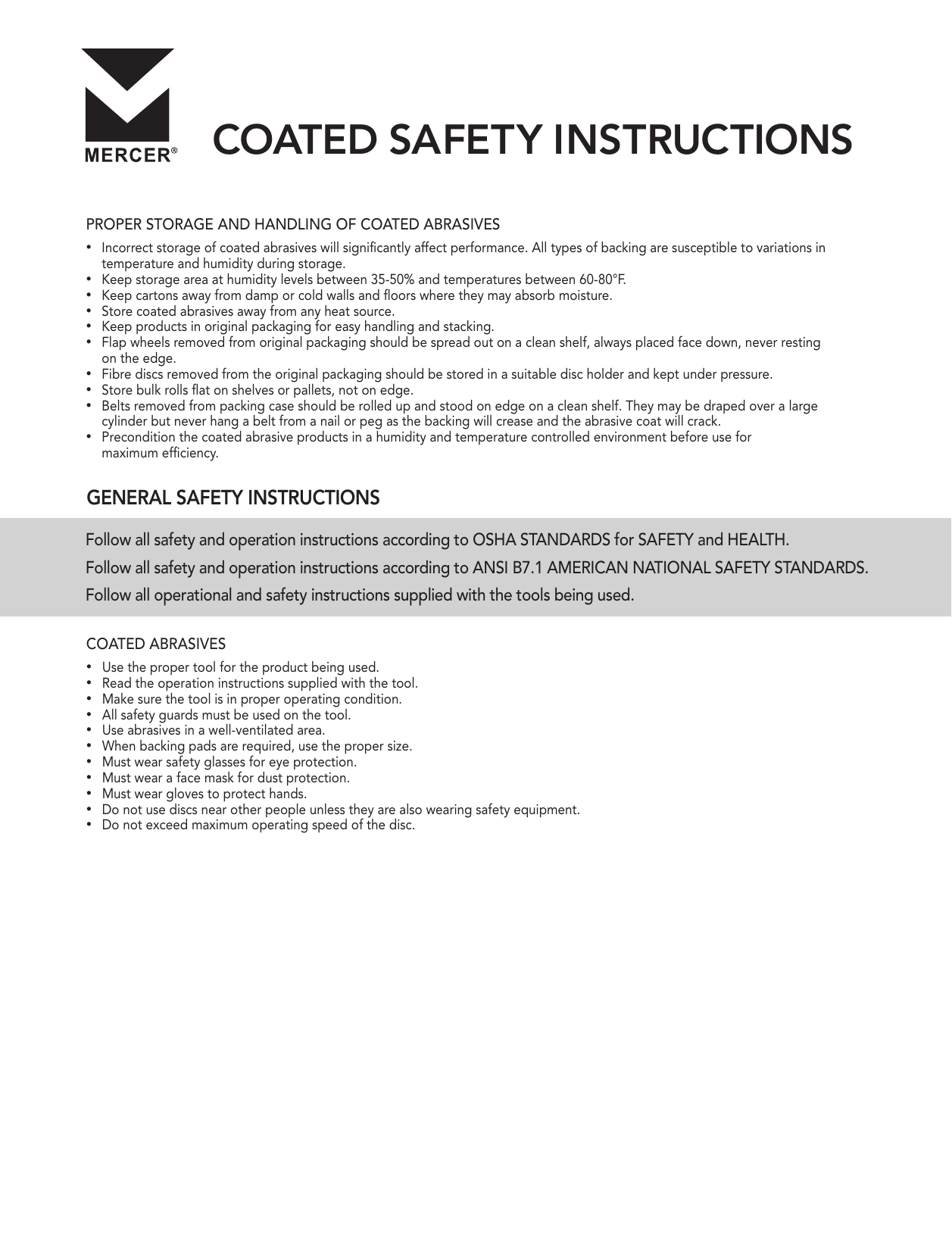 COATED SAFETY INSTRUCTIONS
PROPER STORAGE AND HANDLING OF COATED ABRASIVES
•Incorrect
storage of coated abrasives will significantly affect performance. All types of backing are susceptible to variations in
temperature and humidity during storage.
• Keep storage area at humidity levels between 35-50% and temperatures between 60-80°F.
• Keep cartons away from damp or cold walls and floors where they may absorb moisture.
• Store coated abrasives away from any heat source.
• Keep products in original packaging for easy handling and stacking.
•Flap wheels removed from original packaging should be spread out on a clean shelf, always placed face down, never resting
on the edge.
•Fibre discs removed from the original packaging should be stored in a suitable disc holder and kept under pressure.
•Store bulk rolls flat on shelves or pallets, not on edge.
•Belts removed from packing case should be rolled up and stood on edge on a clean shelf. They may be draped over a large
cylinder but never hang a belt from a nail or peg as the backing will crease and the abrasive coat will crack.
•Precondition the coated abrasive products in a humidity and temperature controlled environment before use for
maximum efficiency.
GENERAL SAFETY INSTRUCTIONS
Follow all safety and operation instructions according to OSHA STANDARDS for SAFETY and HEALTH.
Follow all safety and operation instructions according to ANSI B7.1 AMERICAN NATIONAL SAFETY STANDARDS.
Follow all operational and safety instructions supplied with the tools being used.
COATED ABRASIVES
•
•
•
•
•
•
•
•
•
•
•
Use the proper tool for the product being used.
Read the operation instructions supplied with the tool.
Make sure the tool is in proper operating condition.
All safety guards must be used on the tool.
Use abrasives in a well-ventilated area.
When backing pads are required, use the proper size.
Must wear safety glasses for eye protection.
Must wear a face mask for dust protection.
Must wear gloves to protect hands.
Do not use discs near other people unless they are also wearing safety equipment.
Do not exceed maximum operating speed of the disc.

* Your assessment is very important for improving the work of artificial intelligence, which forms the content of this project