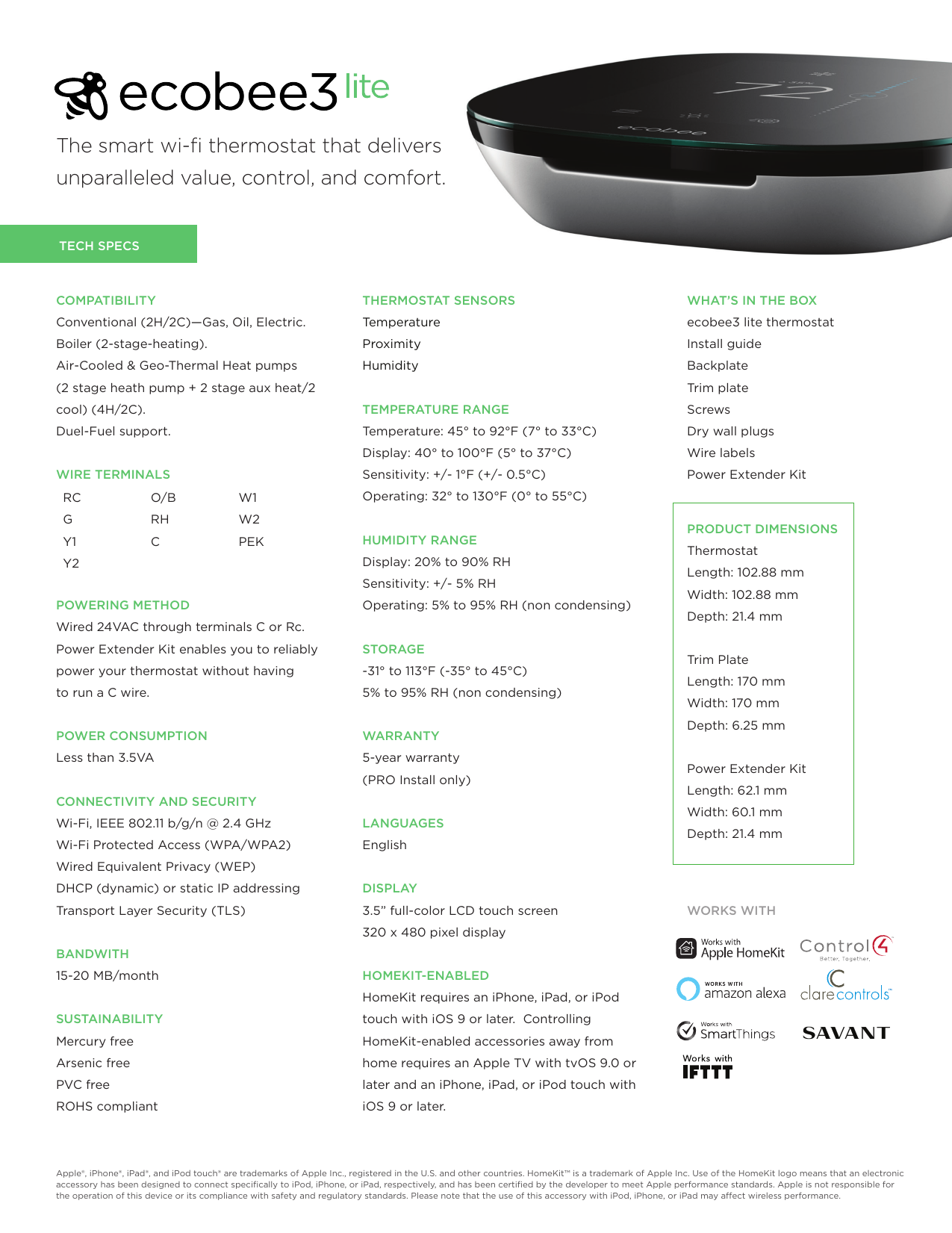 The smart wi-fi thermostat that delivers
unparalleled value, control, and comfort.
TECH SPECS
COMPATIBILITY
THERMOSTAT SENSORS
WHAT'S IN THE BOX
Conventional (2H/2C)—Gas, Oil, Electric.
Temperature
ecobee3 lite thermostat
Boiler (2-stage-heating).
Proximity
Install guide
Air-Cooled & Geo-Thermal Heat pumps
Humidity• Humidity
Backplate
(2 stage heath pump + 2 stage aux heat/2
Trim plate
cool) (4H/2C).
TEMPERATURE RANGE
Screws
Duel-Fuel support.
Temperature: 45° to 92°F (7° to 33°C)
Dry wall plugs
Display: 40° to 100°F (5° to 37°C)
Wire labels
Sensitivity: +/- 1°F (+/- 0.5°C)
Power Extender Kit
WIRE TERMINALS
RC
O/B
W1
G
RH
W2
Y1
C
PEK
Y2
Operating: 32° to 130°F (0° to 55°C)
HUMIDITY RANGE
Display: 20% to 90% RH
Sensitivity: +/- 5% RH
POWERING METHOD
Operating: 5% to 95% RH (non condensing)
Wired 24VAC through terminals C or Rc.
Power Extender Kit enables you to reliably
STORAGE
power your thermostat without having
-31° to 113°F (-35° to 45°C)
to run a C wire.
5% to 95% RH (non condensing)
POWER CONSUMPTION
WARRANTY
Less than 3.5VA
5-year warranty
(PRO Install only)
CONNECTIVITY AND SECURITY
Wi-Fi, IEEE 802.11 b/g/n @ 2.4 GHz
LANGUAGES
Wi-Fi Protected Access (WPA/WPA2)
English
PRODUCT DIMENSIONS
Thermostat
Length: 102.88 mm
Width: 102.88 mm
Depth: 21.4 mm
Trim Plate
Length: 170 mm
Width: 170 mm
Depth: 6.25 mm
Power Extender Kit
Length: 62.1 mm
Width: 60.1 mm
Depth: 21.4 mm
Wired Equivalent Privacy (WEP)
DHCP (dynamic) or static IP addressing
DISPLAY
Transport Layer Security (TLS)
3.5" full-color LCD touch screen
320 x 480 pixel display
WORKS WITH
™
BANDWITH
15-20 MB/month
HOMEKIT-ENABLED
HomeKit requires an iPhone, iPad, or iPod
SUSTAINABILITY
touch with iOS 9 or later. Controlling
Mercury free
HomeKit-enabled accessories away from
Arsenic free
home requires an Apple TV with tvOS 9.0 or
PVC free
later and an iPhone, iPad, or iPod touch with
ROHS compliant
iOS 9 or later.
Apple®, iPhone®, iPad®, and iPod touch® are trademarks of Apple Inc., registered in the U.S. and other countries. HomeKit™ is a trademark of Apple Inc. Use of the HomeKit logo means that an electronic
accessory has been designed to connect specifically to iPod, iPhone, or iPad, respectively, and has been certified by the developer to meet Apple performance standards. Apple is not responsible for
the operation of this device or its compliance with safety and regulatory standards. Please note that the use of this accessory with iPod, iPhone, or iPad may affect wireless performance.

* Your assessment is very important for improving the work of artificial intelligence, which forms the content of this project