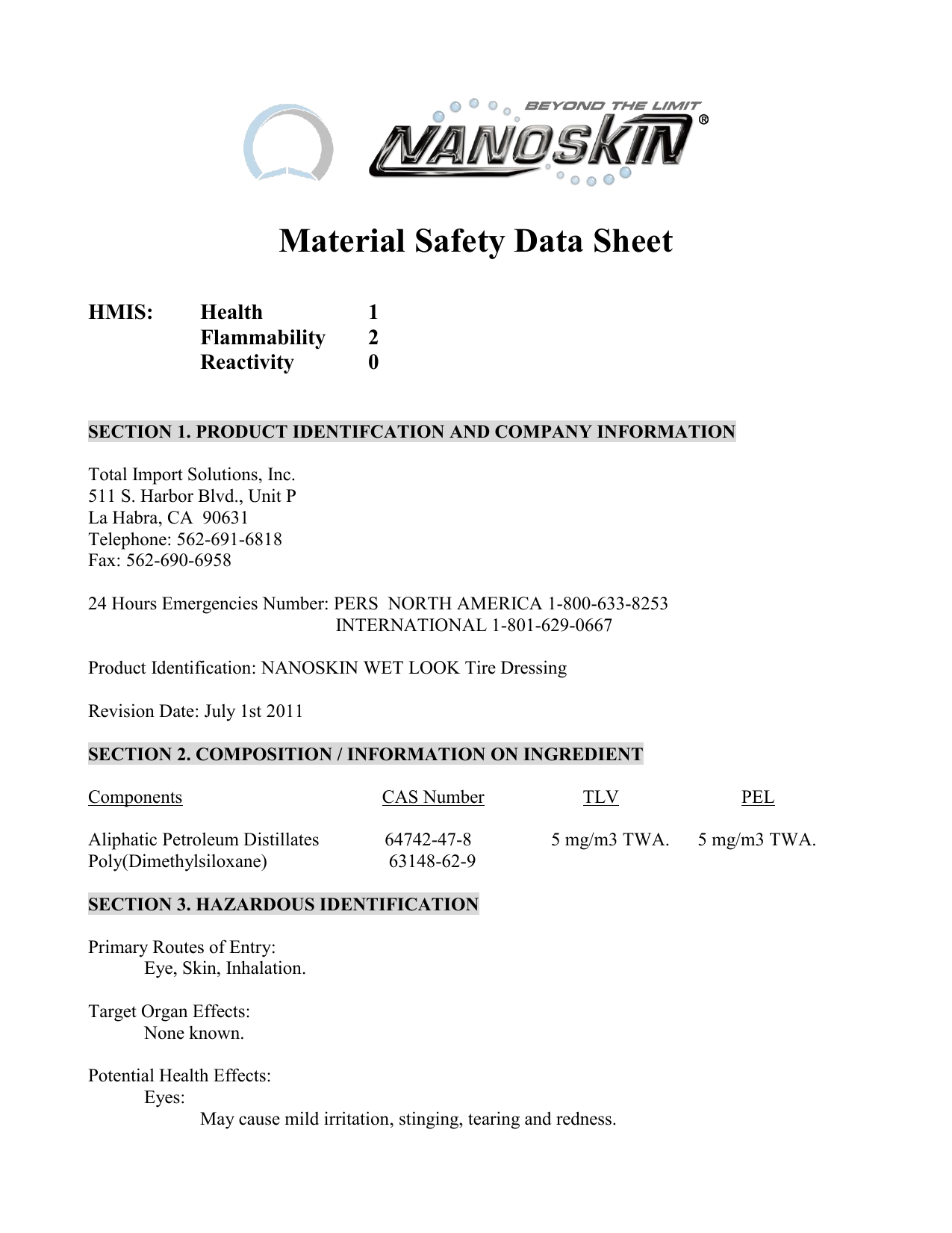 Material Safety Data Sheet
HMIS:
Health
Flammability
Reactivity
1
2
0
SECTION 1. PRODUCT IDENTIFCATION AND COMPANY INFORMATION
Total Import Solutions, Inc.
511 S. Harbor Blvd., Unit P
La Habra, CA 90631
Telephone: 562-691-6818
Fax: 562-690-6958
24 Hours Emergencies Number: PERS NORTH AMERICA 1-800-633-8253
INTERNATIONAL 1-801-629-0667
Product Identification: NANOSKIN WET LOOK Tire Dressing
Revision Date: July 1st 2011
SECTION 2. COMPOSITION / INFORMATION ON INGREDIENT
Components
CAS Number
Aliphatic Petroleum Distillates
Poly(Dimethylsiloxane)
64742-47-8
63148-62-9
TLV
5 mg/m3 TWA.
SECTION 3. HAZARDOUS IDENTIFICATION
Primary Routes of Entry:
Eye, Skin, Inhalation.
Target Organ Effects:
None known.
Potential Health Effects:
Eyes:
May cause mild irritation, stinging, tearing and redness.
PEL
5 mg/m3 TWA.
Skin:
May cause mild irritation with prolonged contact.
Swallowing:
Swallowing small amounts during normal handling is not likely to cause harmful effects.
Swallowing large amounts may be harmful. Can cause gastrointestinal irritation, nausea,
vomiting, and diarrhea. This material can enter the lungs during swallowing or vomiting
and cause lung inflammation and other lung damage.
Inhalation:
May cause irritation of the respiratory tract.
Symptoms Of Exposure:
Stomach or intestinal upset (nausea, vomiting, diarrhea), irritation (nose, throat, airways),
central nervous system depression (dizziness, drowsiness, weakness, fatigue, nausea, headache,
unconsciousness).
Reproductive/Developmental Information:
No data
Long term effects:
No data available.
SECTION 4. FIRST AID MEASURES
Eyes:
Flush eyes with water for 15 minutes. Wash under eyelids. If irritation persists, get medical
assistance.
Skin:
Wash with soap and water. If irritation persists, get medical assistance.
Swallowing:
Do not induce vomiting. Get immediate medical aid. If person is drowsy or unconscious, do not
give anything by mouth, place person on left side with head down. If possible, do not leave
person unattended.
Inhalation:
Move away from source of exposure. If breathing difficulties develop, get medical assistance.
SECTION 5. FIRE FIGHTING MEASURES
Flash Point:
176 degrees F
Explosive Limits:
No data available.
Autoignition Temperature:
No data available.
Flammable Properties:
Some oxides of carbon on incineration.
Extinguishing media:
Foam, water, water spray.
Fire Fighting Instructions:
Use self-contained breathing apparatus with a full face piece operated in the positive pressure
demand mode when fighting fires. .
SECTION 6. ACCIDENTAL RELEASE MEASURES
Small spills:
Absorb liquid on vermiculite, floor absorbent or other absorbent material.
Large spills:
Stop spill at source, dike area of spill to prevent spreading, pump liquid into salvage
tank. Prevent run-off to sewers, streams or other bodies of water. If run-off occurs,
notify proper authorities as required. Remaining liquid may be taken up on sand, clay,
earth, floor absorbent, or other absorbent material and shoveled into containers.
SECTION 7. HANDLING AND STORAGE
Storage:
Store in closed containers in a cool, dry, well-ventilated area. Protect containers from
physical damage. Keep empty containers closed and do not use to mix or store any other
materials. Empty containers retain material residue. Observe all hazard precautions contained
in this Material Safety Data Sheet.
Handling:
Avoid conditions which generate dust levels in excess of exposure limits. Wear protective
equipment. Avoid eye contact. Wash thoroughly after handling. Launder clothing before reuse.
Special Precautions:
Heating may cause release of irritating vapors. Empty containers retain material residue.
Keep empty containers closed and do not use to mix or store any other materials.
SECTION 8. EXPOSURE CONTROLS/PERSONAL PROTECTION
Eye and facial:
Chemical splash goggles.
Skin:
None normally required.
Respiratory:
Use an approved personal respirator for control of fine mineral dusts.
Ventilation:
General or mechanical ventilation to maintain a dust-free work place.
Other:
Eye wash and safety shower should be readily available.
SECTION 9. PHYSICAL AND CHEMICAL PROPERTIES
Appearance:
Blue Liquid
pH:
No data available
Vapor pressure:
No data available
Vapor Density:
No data available
Boiling Point:
176 - 213 Degrees F
Solubility in water:
insoluble
Percent volatile:
< 65
Specific gravity:
No data available
Evaporation rate:
No Data (Butyl Acetate = 1)
SECTION 10. STABILITY AND REACTIVITY
Stability:
Stable.
Conditions to Avoid:
None with proper storing and handling.
Materials to avoid:
Avoid contact with strong oxidizing agents..
Hazardous Decomposition Products:
May form carbon dioxide, carbon monoxide, various hydrocarbons..
Hazardous Polymerization:
Does not polymerize.
SECTION 11. TOXICOLOGICAL INFORMATION
No Data
SECTION 12. ECOLOGICAL INFORMATION
No Data
SECTION 13. DISPOSAL CONSIDERATIONS
Dispose of in accordance with all applicable local, state and federal regulations.
SECTION 14. TRANSPORTION INFORMATION
Dot Class
Not regulated
SECTION 15. REGULATORY INFORMATION
No data available
SECTION 16. OTHER INFORMATION
HMIS Rating:
Health = 1 Flammability = 1 Reactivity = 0 Personal Protection
HMIS Standard:
0 = Insignificant 1 = Slight 2 = Moderate 3 = High 4 = Extreme
Revision Date 07/01/11: Original Issue.
This information relates only to the specific material designated herein and does not relate to use in
combination with any other material or in any process. Such information is to the best of out
knowledge and belief, accurate and reliable as of the date compiled. However, no representation,
warranty or guarantee is made as to its accuracy, reliability, or completeness. It is the user's
responsibility to satisfy himself as to the suitability and completeness of this information for his own
particular use. We do not accept liability for any loss or damage that may occur from the use of this
information nor do we offer warranty against patent infringement.