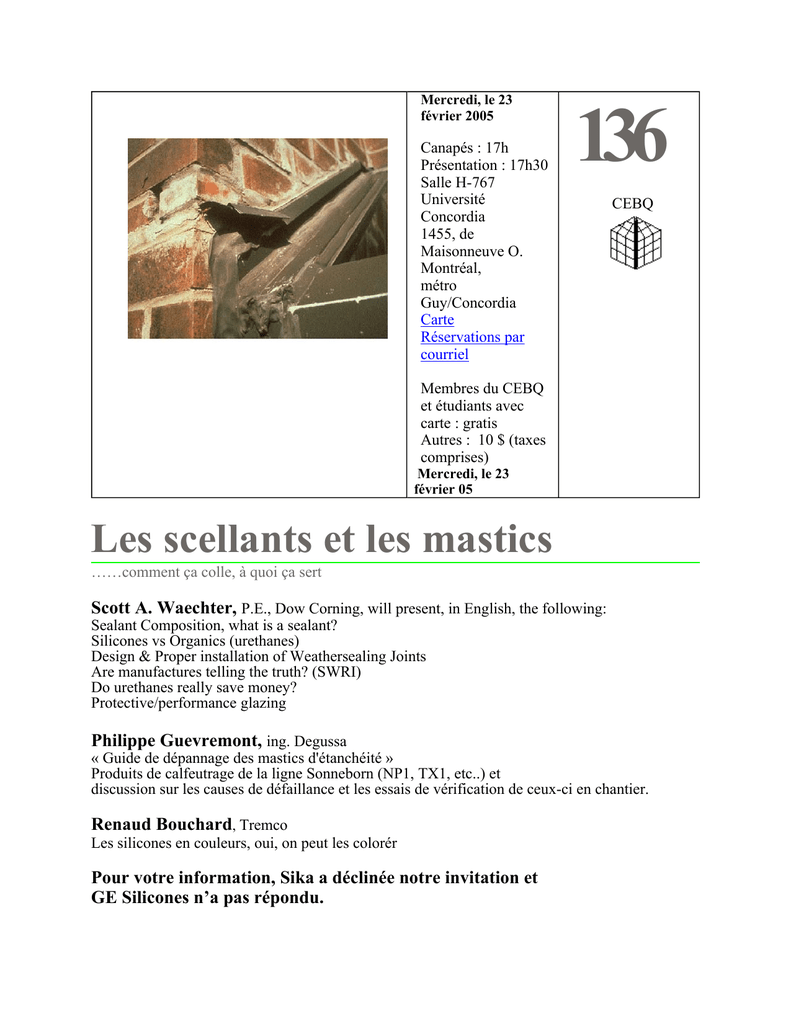 Mercredi, le 23
février 2005
Canapés : 17h
Présentation : 17h30
Salle H-767
Université
Concordia
1455, de
Maisonneuve O.
Montréal,
métro
Guy/Concordia
Carte
Réservations par
courriel
136
CEBQ
Membres du CEBQ
et étudiants avec
carte : gratis
Autres : 10 $ (taxes
comprises)
Mercredi, le 23
février 05
Les scellants et les mastics
……comment ça colle, à quoi ça sert
Scott A. Waechter, P.E., Dow Corning, will present, in English, the following:
Sealant Composition, what is a sealant?
Silicones vs Organics (urethanes)
Design & Proper installation of Weathersealing Joints
Are manufactures telling the truth? (SWRI)
Do urethanes really save money?
Protective/performance glazing
Philippe Guevremont, ing. Degussa
« Guide de dépannage des mastics d'étanchéité »
Produits de calfeutrage de la ligne Sonneborn (NP1, TX1, etc..) et
discussion sur les causes de défaillance et les essais de vérification de ceux-ci en chantier.
Renaud Bouchard, Tremco
Les silicones en couleurs, oui, on peut les colorér
Pour votre information, Sika a déclinée notre invitation et
GE Silicones n'a pas répondu.

* Your assessment is very important for improving the work of artificial intelligence, which forms the content of this project