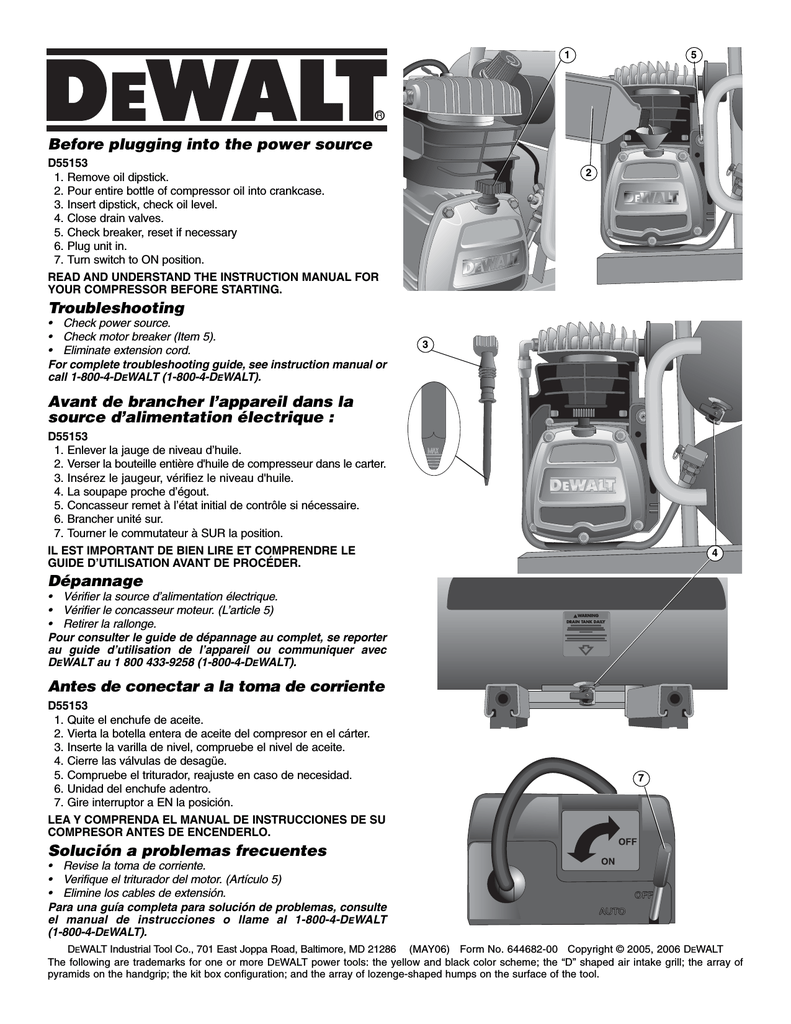 1
5
Before plugging into the power source
D55153
1. Remove oil dipstick.
2. Pour entire bottle of compressor oil into crankcase.
3. Insert dipstick, check oil level.
4. Close drain valves.
5. Check breaker, reset if necessary
6. Plug unit in.
7. Turn switch to ON position.
2
READ AND UNDERSTAND THE INSTRUCTION MANUAL FOR
YOUR COMPRESSOR BEFORE STARTING.
Troubleshooting
• Check power source.
• Check motor breaker (Item 5).
• Eliminate extension cord.
For complete troubleshooting guide, see instruction manual or
call 1-800-4-DEWALT (1-800-4-DEWALT).
3
Avant de brancher l'appareil dans la
source d'alimentation électrique :
D55153
1. Enlever la jauge de niveau d'huile.
2. Verser la bouteille entière d'huile de compresseur dans le carter.
3. Insérez le jaugeur, vérifiez le niveau d'huile.
4. La soupape proche d'égout.
5. Concasseur remet à l'état initial de contrôle si nécessaire.
6. Brancher unité sur.
7. Tourner le commutateur à SUR la position.
IL EST IMPORTANT DE BIEN LIRE ET COMPRENDRE LE
GUIDE D'UTILISATION AVANT DE PROCÉDER.
4
Dépannage
• Vérifier la source d'alimentation électrique.
• Vérifier le concasseur moteur. (L'article 5)
• Retirer la rallonge.
Pour consulter le guide de dépannage au complet, se reporter
au guide d'utilisation de l'appareil ou communiquer avec
DEWALT au 1 800 433-9258 (1-800-4-DEWALT).
WARNING
DRAIN TANK DAILY
Antes de conectar a la toma de corriente
D55153
1. Quite el enchufe de aceite.
2. Vierta la botella entera de aceite del compresor en el cárter.
3. Inserte la varilla de nivel, compruebe el nivel de aceite.
4. Cierre las válvulas de desagüe.
5. Compruebe el triturador, reajuste en caso de necesidad.
6. Unidad del enchufe adentro.
7. Gire interruptor a EN la posición.
7
LEA Y COMPRENDA EL MANUAL DE INSTRUCCIONES DE SU
COMPRESOR ANTES DE ENCENDERLO.
Solución a problemas frecuentes
• Revise la toma de corriente.
• Verifique el triturador del motor. (Artículo 5)
• Elimine los cables de extensión.
Para una guía completa para solución de problemas, consulte
el manual de instrucciones o llame al 1-800-4-DEWALT
(1-800-4-DEWALT).
DEWALT Industrial Tool Co., 701 East Joppa Road, Baltimore, MD 21286 (MAY06) Form No. 644682-00 Copyright © 2005, 2006 DEWALT
The following are trademarks for one or more DEWALT power tools: the yellow and black color scheme; the "D" shaped air intake grill; the array of
pyramids on the handgrip; the kit box configuration; and the array of lozenge-shaped humps on the surface of the tool.

* Your assessment is very important for improving the work of artificial intelligence, which forms the content of this project