TrafficMASTER LPAC91OS User guide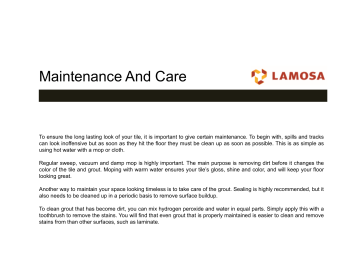 Maintenance And Care
To ensure the long lasting look of your tile, it is important to give certain maintenance. To begin with, spills and tracks
can look inoffensive but as soon as they hit the floor they must be clean up as soon as possible. This is as simple as
using hot water with a mop or cloth.
Regular sweep, vacuum and damp mop is highly important. The main purpose is removing dirt before it changes the
color of the tile and grout. Moping with warm water ensures your tile's gloss, shine and color, and will keep your floor
looking great.
Another way to maintain your space looking timeless is to take care of the grout. Sealing is highly recommended, but it
also needs to be cleaned up in a periodic basis to remove surface buildup.
To clean grout that has become dirt, you can mix hydrogen peroxide and water in equal parts. Simply apply this with a
toothbrush to remove the stains. You will find that even grout that is properly maintained is easier to clean and remove
stains from than other surfaces, such as laminate.

* Your assessment is very important for improving the work of artificial intelligence, which forms the content of this project