Century Vision Plus Riflescope Owner's manual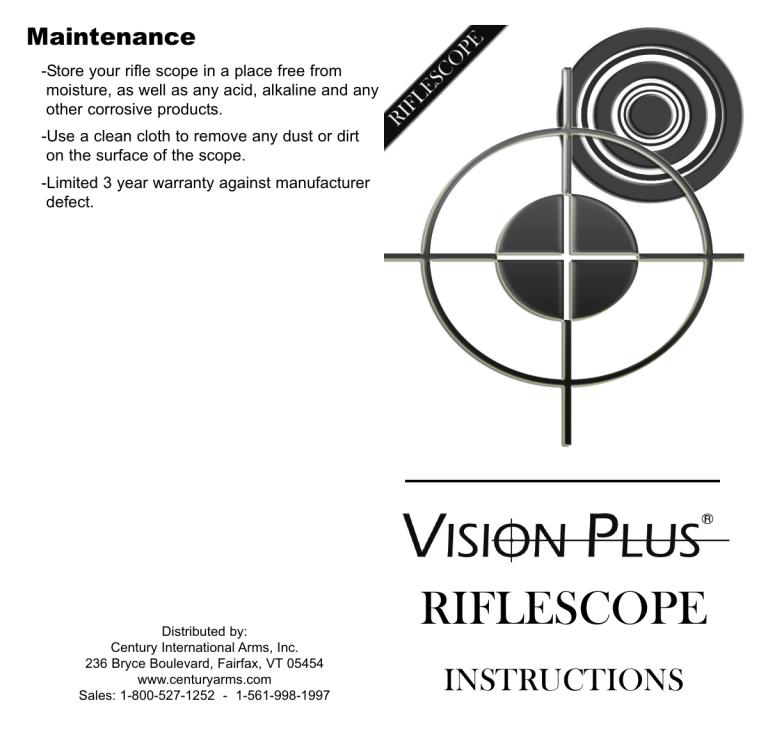 Maintenance
-Store your rifle scope in a place free from
moisture, as well as any acid, alkaline and any
other corrosive products.
-Use a clean cloth to remove any dust or dirt
on the surface of the scope.
-Limited 3 year warranty against manufacturer
defect.
Distributed by:
Century International Arms, Inc.
236 Bryce Boulevard, Fairfax, VT 05454
www.centuryarms.com
Sales: 1-800-527-1252 - 1-561-998-1997
RIFLESCOPE
INSTRUCTIONS
Introduction
Operating Instructions
Vision Plus® scopes have been developed for various rifles
and calibers to meet the needs of both hunters and target
shooters. Our traditional cross hair system will improve
aiming speed, target recognition and delivers high accuracy
on the range and in the field.
Mounting Your Scope
The scope is installed on your firearm by means of a mount and rings;
see the firearm manufacture's recommendation for which mounting
systems are best suited for your model firearm. Use the correct diameter
rings for your model scope. Install the scope within the rings and tighten
softly so that the scope can be rotated by hand to enable fine tuning
before tightening the screws on your rings. Rotate the scope tube so that
the vertical cross hairs are vertical, and the Upper Turret Adjustment for
elevation is at the 12 o'clock position. Ensure that the horizontal cross
hairs are horizontal and that the Right Turret Adjustment for windage is at
the 3 o'clock position. These preparations are critical as they will allow
the operator to fine tune the scope to the shooter's individual needs.
Adjust the distance of the scope's Eye Bell to be 3 or 4 inches from the
shooter's eye for proper eye relief and ensure safety when shooting the
firearm.
Features
1
2
3
1. Eye Bell
4
5
6
2. Lock Ring For Focus
4. Upper Turret adj. cover
3. Magnifications Ring
5. Right Turret adj. cover
Obj-
Field of Weight Lengths
Actual
Prod.
Lens
view
(in)
Magni(ozs)
Code
Aperture
(model) fication
(in)
6. Distance Ring
(if equipped)
Eye
Relief
(in)
Exit
Pupil
(in)
Click
value at
100 yds
(in)
SC1116
4-16x40
4x-16x
1.6
5-1.3
12.5
13.7
2.2-3
.1-.4
1/4
SC1117
3-9x50
3x-9x
2
7.1-2.4
14.7
13
2.8-4.4
.2-.3
1/4
1.6
5.2-1.8
16.3
13.1
2.6-3.2
.13-.4
1/4
SC1118 4X-12X
4-12x40AO
SC1119
4-9x42AE
3X-9X
1.7
7.6-2.55
16.05
12.3
3-3.3
.2-.6
1/4
SC1120
4-9x40
3x-9x
1.6
6.76-2.6
12
12.2
2.7-3.4
.17-.5
1/4
SC1121
4-12x40
4x-12x
1.6
5.2-1.8
14.5
13
2.6-3.2
.13-.4
1/4
Focusing your Scope
With the scope mounted: look through the scope with a distance of 3 to 4
inches from your eye to the Eye Bell lens. If you cannot see the reticle
clearly, then fine tune adjust this sight picture by loosening the knurled
Lock Ring and rotate the Eye Bell until the reticle appears clearest.
After adjustments, tighten the Lock Ring firmly, do not over tighten.
Sighting in your Scope
With the scope mounted on your firearm, you will need to sight in the
scope at the range. Aim at a target 109 yards away and fire at it. If the
impact point deviates from the aiming point, you may correct it by using
the Upper Turret Adjustment which works on vertical adjustment of the
bullet's impact on target. For adjusting horizontal deviations, use the
Right Turret Adjustment which changes the horizontal or "windage"
adjustments. Continue to adjust using these until the bullet group's
impact is at the desirable position. After you have finished all
adjustments, replace the protective covers on the vertical and
horizontal dials.
•One click on the vertical or horizontal adjustment dials is equal to ½
or ¼ inch displacement on the target 109 yards away.
Adjusting Magnification on your Scope
Scopes with variable magnification powers can vary the magnification of
the sight picture by rotating the Magnification Ring.
Adjusting Distance
Some VISION PLUS® riflescopes have a distance adjusting device.
When shooting at known distances, rotate the Distance Ring to the corresponding position.

* Your assessment is very important for improving the work of artificial intelligence, which forms the content of this project