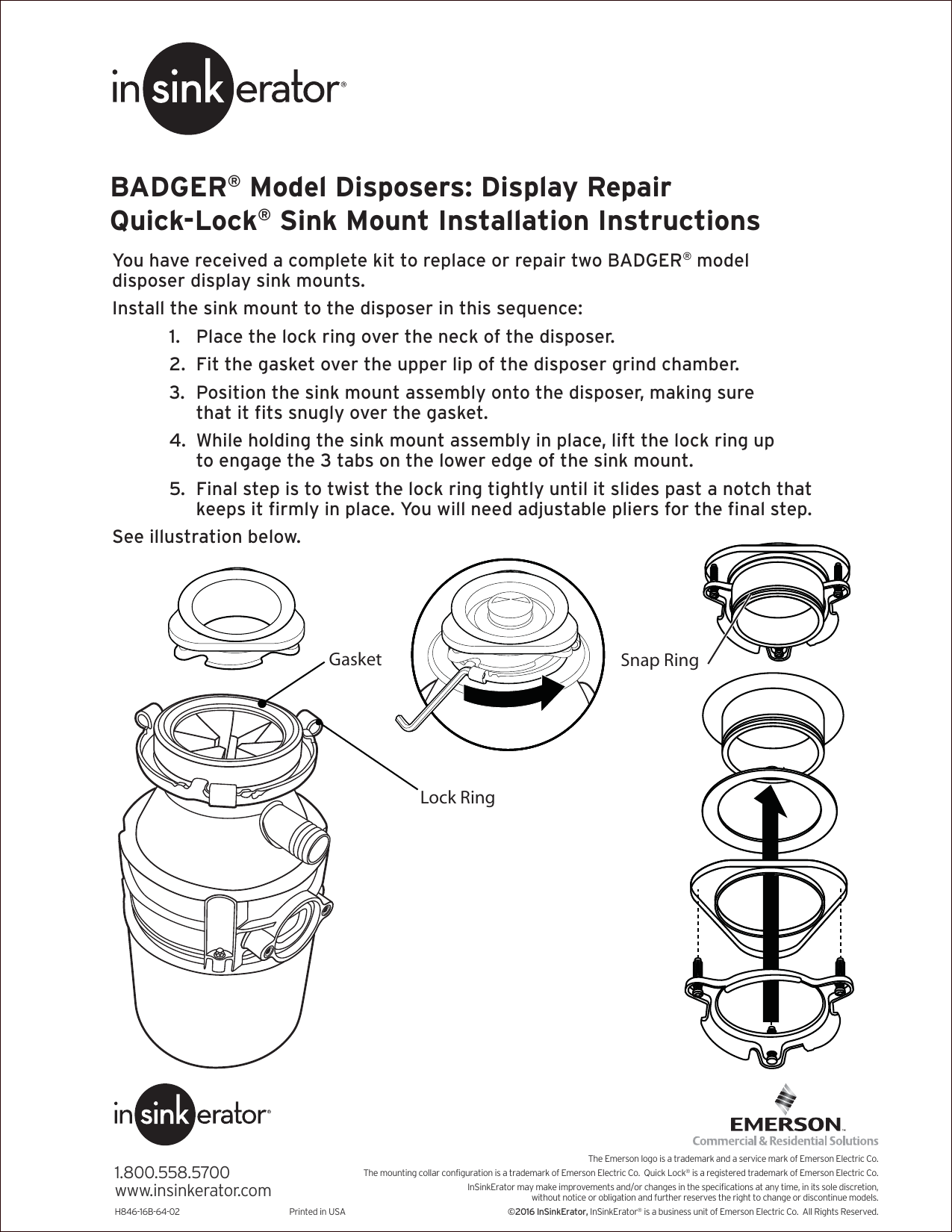 BADGER® Model Disposers: Display Repair
Quick-Lock® Sink Mount Installation Instructions
You have received a complete kit to replace or repair two BADGER® model
disposer display sink mounts.
Install the sink mount to the disposer in this sequence:
1. Place the lock ring over the neck of the disposer.
2. Fit the gasket over the upper lip of the disposer grind chamber.
3. Position the sink mount assembly onto the disposer, making sure
that it fits snugly over the gasket.
4. While holding the sink mount assembly in place, lift the lock ring up
to engage the 3 tabs on the lower edge of the sink mount.
5. Final step is to twist the lock ring tightly until it slides past a notch that
keeps it firmly in place. You will need adjustable pliers for the final step.
See illustration below.
Gasket
Snap Ring
Lock Ring
1.800.558.5700
www.insinkerator.com
H846-16B-64-02
Printed in USA
The Emerson logo is a trademark and a service mark of Emerson Electric Co.
The mounting collar configuration is a trademark of Emerson Electric Co. Quick Lock® is a registered trademark of Emerson Electric Co.
InSinkErator may make improvements and/or changes in the specifications at any time, in its sole discretion,
without notice or obligation and further reserves the right to change or discontinue models.
©2016 InSinkErator, InSinkErator® is a business unit of Emerson Electric Co. All Rights Reserved.

* Your assessment is very important for improving the work of artificial intelligence, which forms the content of this project