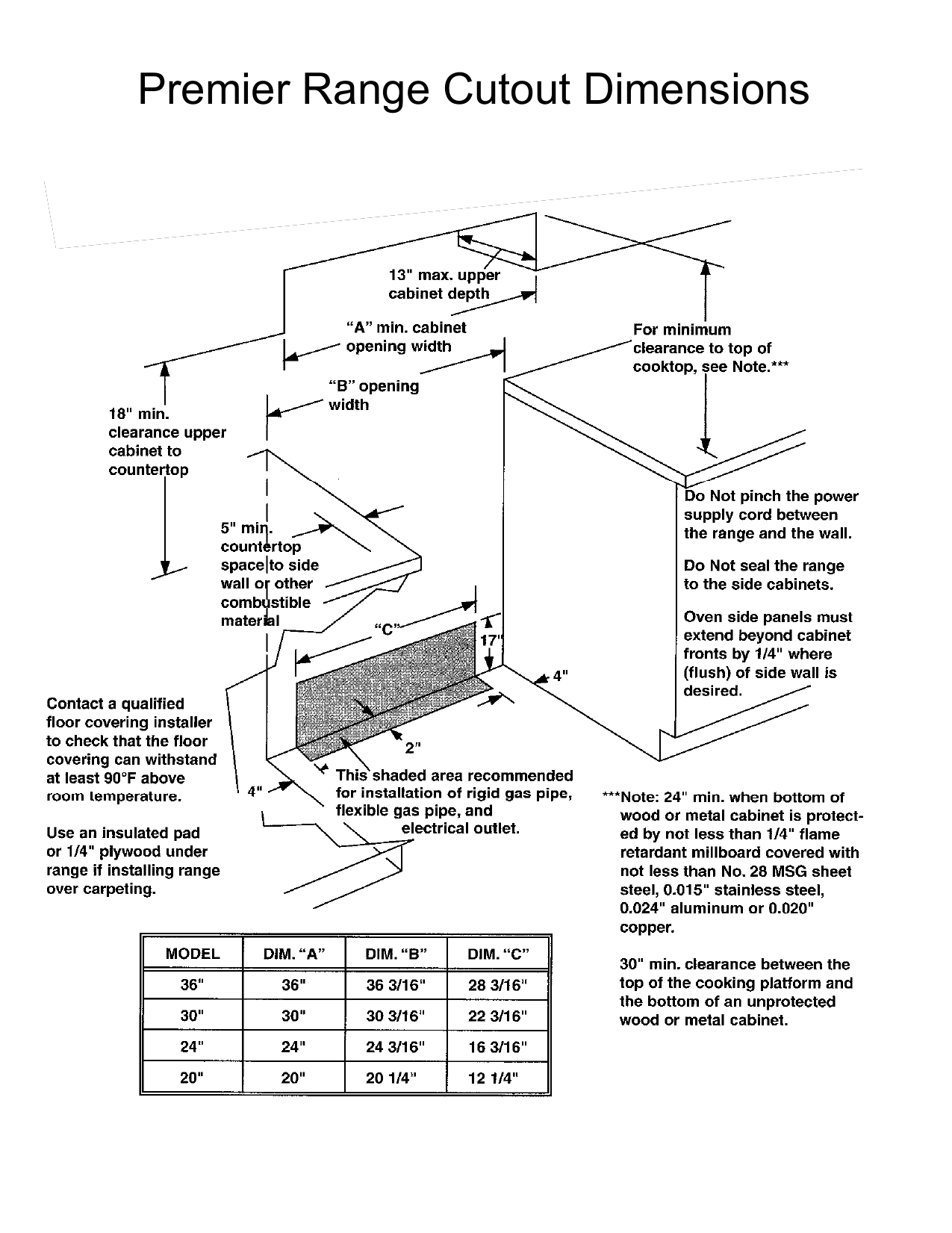 Premier Range Cutout Dimensions
13" max. upper
cabinet depth
"A" min. cabinet
а opening ven 1
"B" opening
18" min. width
clearance upper
cabinet to
countertop TPS
mi, >
countertop
spacelto side
wall or other
combÿstbl
material
Contact a qualified
floor covering installer
to check that the floor
covering can withstand
at least 90°F above
- — — E A ls A a o аа 4
room temperature.
2"
€ This shaded area recommended
far inctaliatinn af risas sac n
El ELLAS EE LE SEE ar Fr
flexible gas pipe, and
electrical outlet.
Use an insulated pad
or 1/4" plywood under
range if installing range
over carpeting.
MODEL DIM. "A" DIM. "B" DIM. "C"
36" 36" 36 3/16" 28 3/16"
30" 30" 30 3/16" 22 3/16"
24" 24" 24 3/16" 16 3/16"
20" 20" 20 1/4" 12 1/4"
+ ale mille
oo т
For minimum
clearance to top of
cooktop, see Note.***
ot a
Do Not pinch the power
supply cord between
the range and the wall.
Do Not seal the range
to the side cabinets.
Oven side panels must
extend beyond cabinet
fronts by 1/4" where
(flush) of side wall is
desired.
Note: 24" min. when botiom of
wood or metal cabinet 15 protect-
ed by not less than 1/4" flame
retardant millboard covered with
hot less than No. 28 MSG sheet
steel, 0.015" stainless steel,
0.024" aluminum or 0.020"
copper.
30" min. clearance between the
top of the cooking platform and
the bottom of an unprotected
wood or metal cabinet.

* Your assessment is very important for improving the work of artificial intelligence, which forms the content of this project