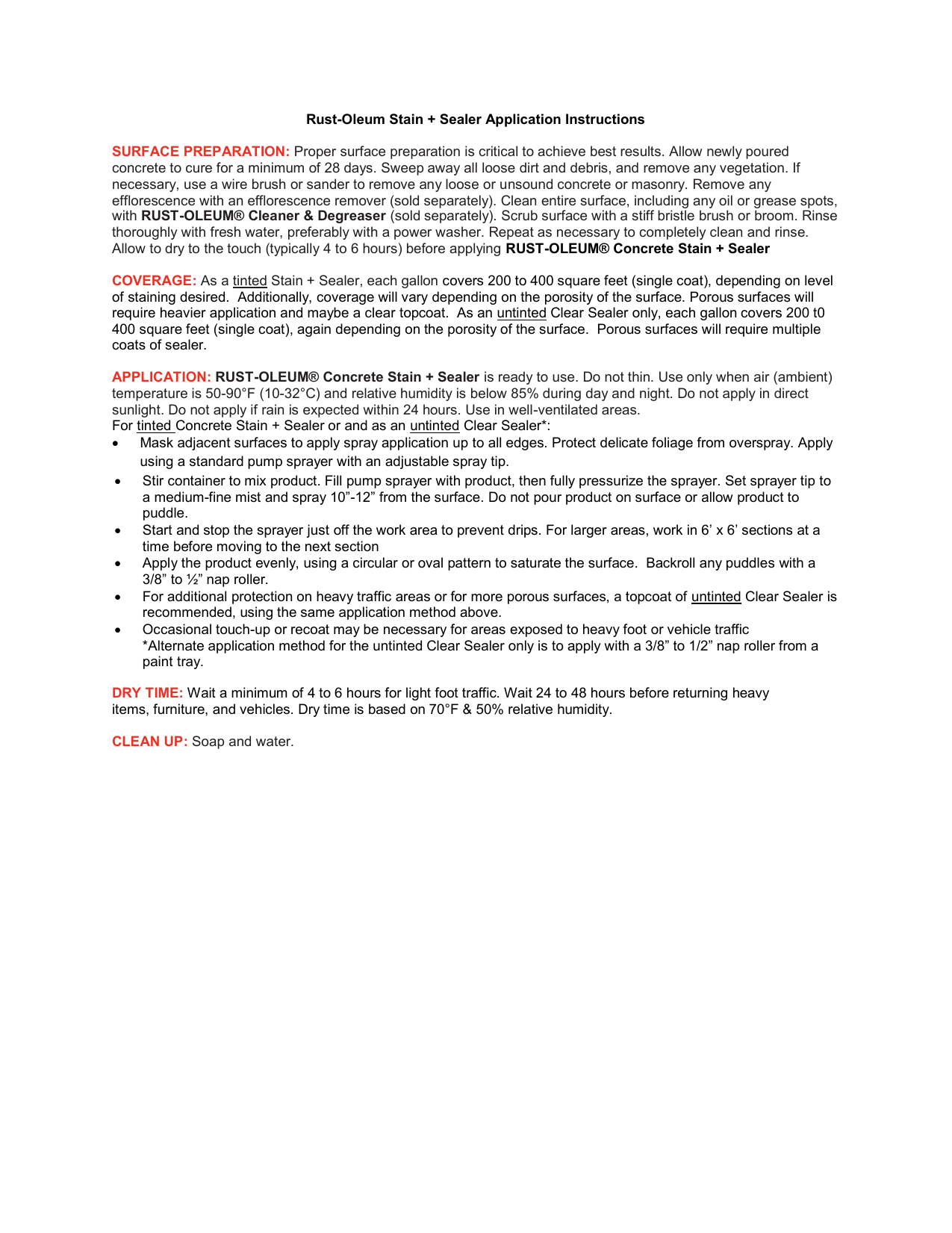 Rust-Oleum Stain + Sealer Application Instructions
SURFACE PREPARATION: Proper surface preparation is critical to achieve best results. Allow newly poured
concrete to cure for a minimum of 28 days. Sweep away all loose dirt and debris, and remove any vegetation. If
necessary, use a wire brush or sander to remove any loose or unsound concrete or masonry. Remove any
efflorescence with an efflorescence remover (sold separately). Clean entire surface, including any oil or grease spots,
with RUST-OLEUM® Cleaner & Degreaser (sold separately). Scrub surface with a stiff bristle brush or broom. Rinse
thoroughly with fresh water, preferably with a power washer. Repeat as necessary to completely clean and rinse.
Allow to dry to the touch (typically 4 to 6 hours) before applying RUST-OLEUM® Concrete Stain + Sealer
COVERAGE: As a tinted Stain + Sealer, each gallon covers 200 to 400 square feet (single coat), depending on level
of staining desired. Additionally, coverage will vary depending on the porosity of the surface. Porous surfaces will
require heavier application and maybe a clear topcoat. As an untinted Clear Sealer only, each gallon covers 200 t0
400 square feet (single coat), again depending on the porosity of the surface. Porous surfaces will require multiple
coats of sealer.
APPLICATION: RUST-OLEUM® Concrete Stain + Sealer is ready to use. Do not thin. Use only when air (ambient)
temperature is 50-90°F (10-32°C) and relative humidity is below 85% during day and night. Do not apply in direct
sunlight. Do not apply if rain is expected within 24 hours. Use in well-ventilated areas.
For tinted Concrete Stain + Sealer or and as an untinted Clear Sealer*:

Mask adjacent surfaces to apply spray application up to all edges. Protect delicate foliage from overspray. Apply
using a standard pump sprayer with an adjustable spray tip.

Stir container to mix product. Fill pump sprayer with product, then fully pressurize the sprayer. Set sprayer tip to
a medium-fine mist and spray 10"-12" from the surface. Do not pour product on surface or allow product to
puddle.

Start and stop the sprayer just off the work area to prevent drips. For larger areas, work in 6' x 6' sections at a
time before moving to the next section

Apply the product evenly, using a circular or oval pattern to saturate the surface. Backroll any puddles with a
3/8" to ½" nap roller.

For additional protection on heavy traffic areas or for more porous surfaces, a topcoat of untinted Clear Sealer is
recommended, using the same application method above.

Occasional touch-up or recoat may be necessary for areas exposed to heavy foot or vehicle traffic
*Alternate application method for the untinted Clear Sealer only is to apply with a 3/8" to 1/2" nap roller from a
paint tray.
DRY TIME: Wait a minimum of 4 to 6 hours for light foot traffic. Wait 24 to 48 hours before returning heavy
items, furniture, and vehicles. Dry time is based on 70°F & 50% relative humidity.
CLEAN UP: Soap and water.

* Your assessment is very important for improving the work of artificial intelligence, which forms the content of this project