Construction Metals LRGSG, GS44B, GS24B, CS34G, CS2418G-26, GEGS24G Instructions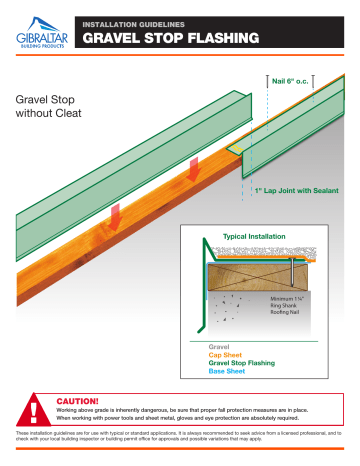 INSTALLATION GUIDELINES
GRAVEL STOP FLASHING
Nail 6" o.c.
Gravel Stop
without Cleat
1" Lap Joint with Sealant
Typical Installation
Minimum 1 ¼"
Ring Shank
Roofing Nail
Gravel
Cap Sheet
Gravel Stop Flashing
Base Sheet
CAUTION!
Working above grade is inherently dangerous, be sure that proper fall protection measures are in place.
When working with power tools and sheet metal, gloves and eye protection are absolutely required.
These installation guidelines are for use with typical or standard applications. It is always recommended to seek advice from a licensed professional, and to
check with your local building inspector or building permit office for approvals and possible variations that may apply.

* Your assessment is very important for improving the work of artificial intelligence, which forms the content of this project