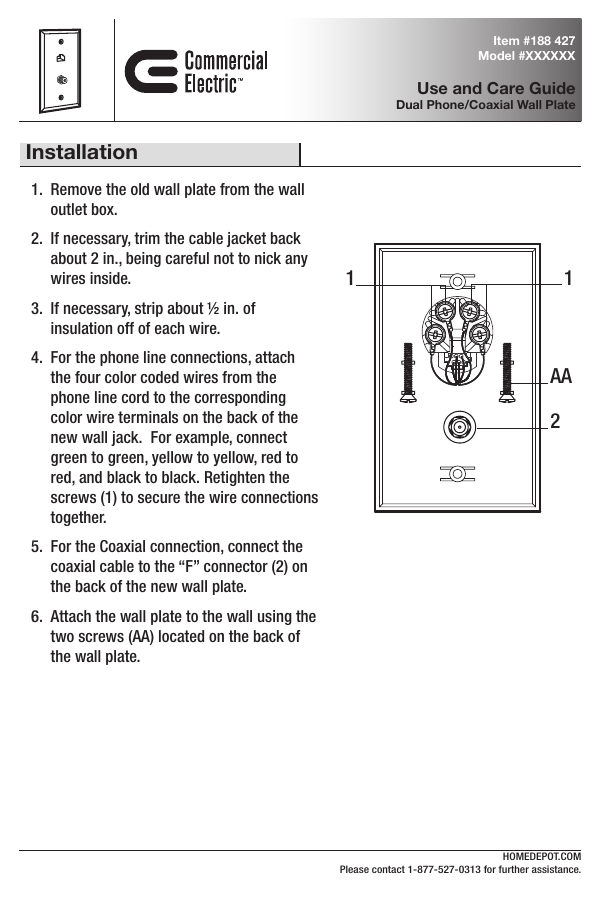 Item #188 427
Model #XXXXXX
Use and Care Guide
Dual Phone/Coaxial Wall Plate
Installation
1. Remove the old wall plate from the wall
outlet box.
2. If necessary, trim the cable jacket back
about 2 in., being careful not to nick any
wires inside.
1
1
3. If necessary, strip about ½ in. of
insulation off of each wire.
4. For the phone line connections, attach
the four color coded wires from the
phone line cord to the corresponding
color wire terminals on the back of the
new wall jack. For example, connect
green to green, yellow to yellow, red to
red, and black to black. Retighten the
screws (1) to secure the wire connections
together.
AA
2
5. For the Coaxial connection, connect the
coaxial cable to the "F" connector (2) on
the back of the new wall plate.
6. Attach the wall plate to the wall using the
two screws (AA) located on the back of
the wall plate.
HOMEDEPOT.COM
Please contact 1-877-527-0313 for further assistance.

* Your assessment is very important for improving the work of artificial intelligence, which forms the content of this project