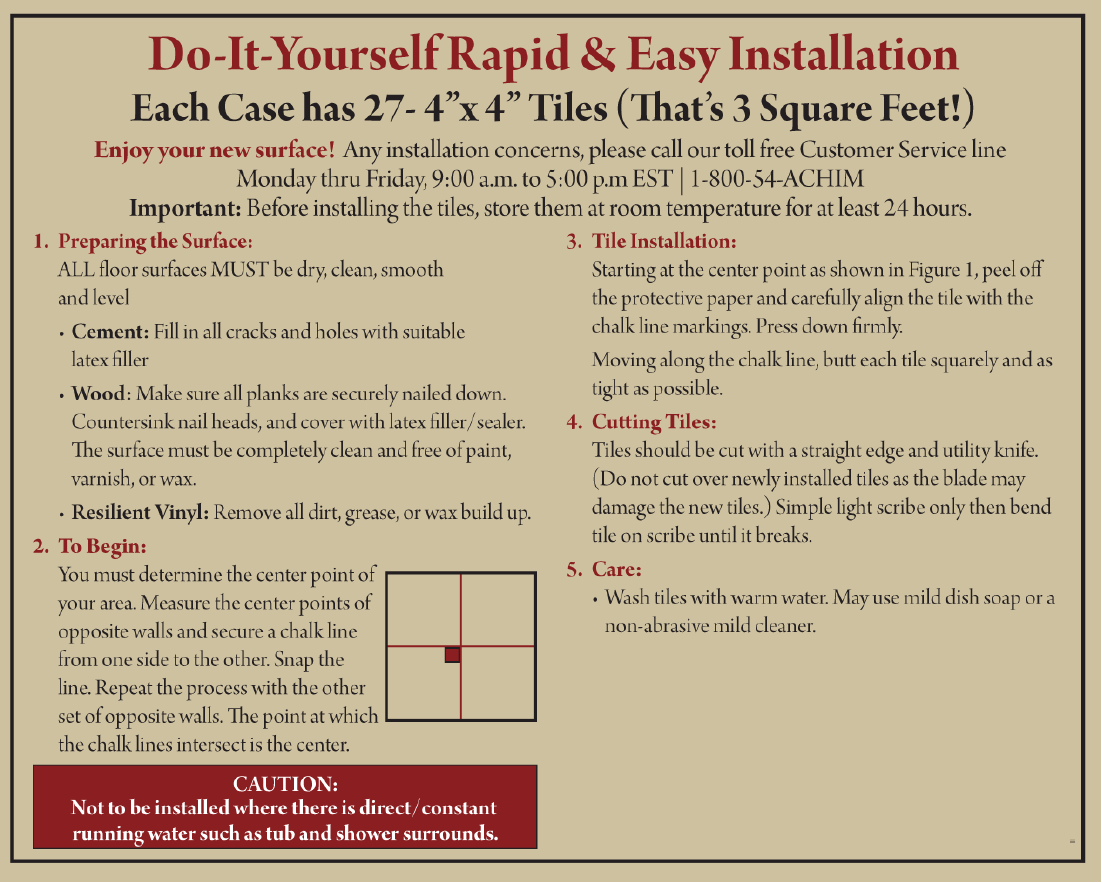 Do-It-Yourself Rapid & Easy Installation
Each Case has 27- 4"x 4" Tiles (That's 3 Square Feet!)
Enjoy your new surface! Any installation concerns, please call our toll free Customer Service line
Monday thru Friday, 9:00 a.m. to 5:00 p.m EST | 1-800-54-ACHIM
Important: Before installing the tiles, store them at room temperature for at least 24 hours.
1. Preparing the Surface:
ALL floor surfaces MUST be dry, clean, smooth
and level
« Cement: Fill in all cracks and holes with suitable
latex filler
- Wood: Make sure all planks are securely nailed down.
Countersink nail heads, and cover with latex filler/sealer.
The surface must be completely clean and free of paint,
varnish, or wax.
» Resilient Vinyl: Remove all dirt, grease, or wax build up.
2. To Begin:
You must determine the center point of
your area. Measure the center points of
opposite walls and secure a chalk line
from one side to the other. Snap the a
line. Repeat the process with the other
set of opposite walls. The point at which
the chalk lines intersect is the center.
Not to be installed where there is direct/ constant
running water such as tub and shower surrounds.
3. Tile Installation:
Starting at the center point as shown in Figure 1, peel off
the protective paper and carefully align the tile with the
chalk line markings. Press down firmly.
Moving along the chalk line, butt each tile squarely and as
tight as possible.
. Cutting Tiles:
Tiles should be cut with a straight edge and utility knife.
(Do not cut over newly installed tiles as the blade may
damage the new tiles.) Simple light scribe only then bend
tile on scribe until it breaks.
S. Care:
Wash tiles with warm water. May use mild dish soap or a
non-abrasive mild cleaner.

* Your assessment is very important for improving the work of artificial intelligence, which forms the content of this project