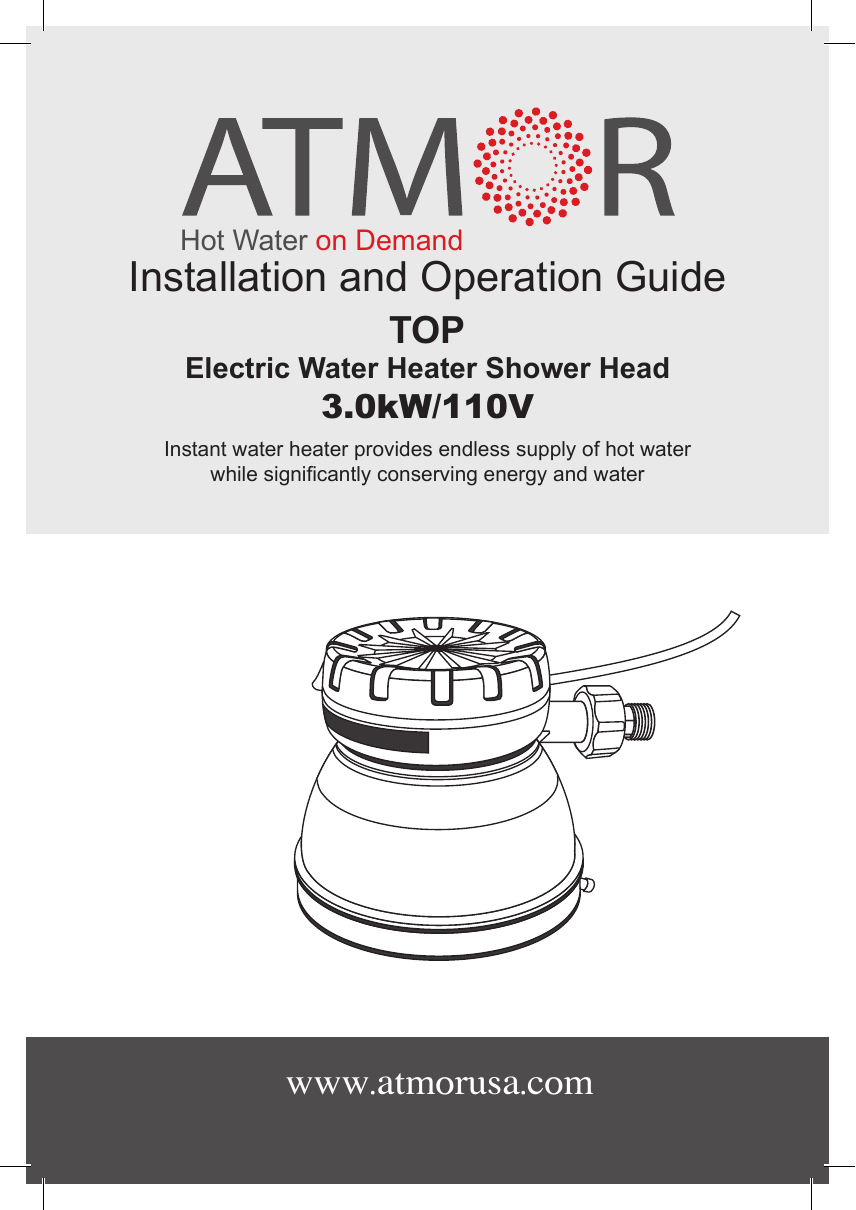 Hot Water on Demand
Installation and Operation Guide
TOP
Electric Water Heater Shower Head
3.0kW/110V
Instant water heater provides endless supply of hot water
while significantly conserving energy and water
www.atmorusa.com
Important Safety Guidelines
General description
High quality and extremely reliable instant water heater. The TOP heater is the result
of meticulous design based on years of experience and know-how. In this heater, 1 kW
increases incoming water temperature by 50°F when water is flowing at a rate of 0.42 gpm.
Easy to use heater. TOP requires no pre-heating or waiting time. The unit starts heating
instantly as soon as the water tap is opened, and stops as soon as the tap is closed. Hot
water never ends – you can have hot water running for as long as you want.
Money saving heater. The TOP heater heats only the water that flows through the unit,
thereby saving electricity, water and time.
Top is safe. The heater is manufactured using advanced technologies and the highest quality
components.
General
•• The main electrical panel must have a current leakage relay.
•• The fuse rating and cabling must be in accordance with the power of the heater.
•• The unit is designed to operate in low water pressure conditions, and can be activated by
the pressure of water flowing from a tank of the roof. Operation requires a minimum water
pressure of 3.7 psi and a minimum flow rate of 0.3 gpm.
•• Warning: Do not use longer than 5 minutes per shower.
Parts & Accessories
1. Cable 3 Ft (1.5m) and Plug
2. Water pipe - Water inlet 12 inch (not supplied)
3. ½‫ ״‬NPT-½‫ ״‬BSP (Optional)
4. Swivel ball joint
5. Cover
6. Power settings switch
7. Filter
8. Main unit
9. Pressure relief valve
10. Tap for water supply
(not supplied)
2
SAVE THESE INSTRUCTIONS
General Installation Instructions
01
02
04
05
Optional 1:
Connect the swivel ball joint to
the inlet (use Teflon tape) before
installing the heater. (Figure 4)
06
07
Make sure the unit is horizontally
level and stable, and the outflow is
downwards.
Install the shower head
heater higher than the
height of the user - not
less than 6½ft. (Figure 1)
To avoid leaks, use
Teflon for all connections.
(Figure 3)
Optional 2:
If necessary use
ֿ½‫ ״‬NPT-½‫ ״‬BSP Adaptor
(Figure 5)
08
Insert the filter to inlet
water unit. (Figure 2)
03
Install the heater around
12 inch from the wall and
ceiling. Use ½" Water pipe
(not supplied). (Figure 3)
After plumbing installation is completed, carefully inspect
the connections for leaks.
Before proceeding to electrical installation, run water
through the heater to flush out any air bubbles from the
system.
3
1
2
12 inch
6 inch
78 inch
3
Use
Teflon
tape
4
Use
Teflon
tape
A
Allen
B Use
key
Swivel Ball joint
Parts
C
5
4
Use
Teflon tape
D
Use
Teflon
tape
E
½‫ ״‬NPT- ½‫ ״‬BSP Adaptor
Use
Teflon
tape
Use
Teflon
tape
Electrical Diagram
1
2
L1
N
P
5
4
3
1. Switch (Option A): Off/On
Switch (Option- B): Off/1/2/3
(1-Medium, 2- High, 3- Very high)
2. Heating element (Option A):
1 Heating element
3. Thermostat set to cut off at 135°F
4. Heating elements (Option- B):
2 Heating elements:
Heating Position 1 – Medium
Heating Position 2 – High
Heating Position 3 – Very High
5. Pressure Switch (Option A):
1 Microswitch
Pressure Switch (Option B):
2 Microswitch
Technical Information
Electrical Specifications
Heating elements
Watts
Voltage
Circuit Breaker Amperage
Plumbing Specifications
2
3,000 W
110 V
30 A
Minimum water flow to activate unit
Working pressure
Water connections
0.3 gpm
3.67-58 psi
1/2" NPT
Physical Dimensions
Height
21/4 inch (58.9 mm)
Width
21/2 inch (62.8 mm)
Depth
21/2 inch (62.8 mm)
5
Starting the System for the First Time
01
03
Select the desired heating level (6):
Setting Off
Setting 1: Low - 1.4 kW
Setting 2: Medium - 1.6 kW
Setting 3: High - 3.0 kW
Select the desired heating
level (6) reference step 1.
6
02
Open the water tap (10)
to a gentle flow. Slowly
increase the flow until
the appliance lamp/s
light up. Wait 15 to 20
seconds for hot water to
flow out. Then adjust the
water temperature by
When finished using the
increasing/decreasing the
appliance, turn the switch to
flow.
the Off position
04
Operation Guide
•• This heater heats water based on flow rate. A lower flow rate produces hotter water. Water
temperature can also be regulated by the Power settings (Off, Low, Medium, High).
•• A pressure relief valve is located on the lower back side of the heater. The value is set to
discharge if pressure exceeds 44 psi. To reset the valve, simply press the valve pin.
•• The spray holes must be cleaned if water is not flowing properly or sprays in the wrong
direction. If dirt or lime deposits accumulate in the water spray holes, the water pressure in
the heater might increase to a level that will cause the pressure relief value to discharge.
•• If water flow decreases unintentionally, open and clean the filter on the water inlet line to
the heater. (Figure 2)
•• Do not place any valves or components on the water outlet that could obstruct water
outflow. Use only the accessories supplied with the unit.
•• If you suspect water has frozen within the unit, do not turn it on until you are certain the
frozen water has melted.
•• If the power cord is damaged, it must be replaced by a qualified electrician or service
agent. During repair, the power supply to the unit must be disconnected.
•• Children, elderly and disabled persons must be monitored while using this heater.
•• The heater should be cleaned with a damp rag only. Avoid cleaning with a wet rag or
detergents.
7
LIMITED WARRANTY
The terms of this warranty is solely subject to the original owner and is at no time transferable. A
transfer of ownership will result in an immediate termination of this warranty. This warranty is valid
only if product is purchased from an authorized reseller.
Atmor warrants to the original owner that our instant water heaters will be free from defect in
workmanship and material for a period of ONE YEAR from the date of purchase. Should any part(s)
prove to be defective during this period, Atmor will be responsible for replacement of the defective
part(s) only. Atmor is not responsible for labor charges or any incidental or consequential expenses.
Atmor's liability is limited to the cost of the product or $1,000.00, whichever is less. Atmor is
not an insurer and the original owner should purchase insurance to cover damage to property or
belongings. The original owner agrees to waive their right to jury trial or to participate in a class
action. In addition, the original owner agrees to waive subordination to the extent a loss is covered
by insurance, so that their insurance company cannot proceed with action against Atmor for recovery
of any claims. Furthermore, all claims must be arbitrated in the state of New Jersey, USA.
Should the owner wish to return the water heater for repair, the owner must first secure a written
authorization from Atmor. The owner shall be required to show proof of purchase date and to pay
all transportation costs to return the defective part(s) or water heater for repair or replacement.
Warranty is void if: (a) water heater has been installed or used improperly; (b) design has been
altered in any way; (c) water heater has been installed and/or serviced by someone other than a
licensed electrician; or (d) if the water heater has been installed or used in contradiction to installation
instructions, applicable laws and/or ordinances.
Distributed by:
PARAGON GROUP USA LLC
Englewood, NJ 07631
USA
Phone: 1-888-783-6082
Email: [email protected]
Web: www.atmorusa.com
P.N. 197465
A full and complete version of this warranty is
available on the online, www.atmorusa.com, or
upon request from an Atmor representative
Agua caliente a petición
Guía de instalación y manejo
TOP
Calentador de agua eléctrico tipo cabezal de ducha
3.0 kW / 110 V
El calentador de agua instantáneo proporciona suministro ilimitado de
agua caliente al mismo tiempo que ahorra energía y agua de manera
considerable
www.atmorusa.com
Pautas de seguridad importantes
Descripción general
Calentador de agua instantáneo de alta calidad y extremadamente confiable. El calentador
TOP es el resultado de un diseño meticuloso basado en años de experiencia y conocimiento. En
este calentador, 1 kW aumenta la temperatura del agua entrante en 10°C (50°F) cuando el agua
fluye a una velocidad de 0.42 gpm.
Calentador fácil de usar. El calentador TOP no requiere tiempo de precalentamiento ni tiempo de
espera. La unidad comienza a calentar de manera instantánea tan pronto como se abre el grifo de
agua, y deja de calentar tan pronto como se cierra el grifo. El agua caliente nunca termina - usted
puede tener agua caliente fluyendo durante tanto tiempo como lo desee.
Calentador que ahorra dinero. El calentador TOP sólo calienta el agua que fluye a través de la
unidad, por lo tanto, ahorrando electricidad, agua y tiempo.
El calentador TOP es seguro. El calentador se fabrica utilizando tecnologías avanzadas y
componentes de la más alta calidad.
Generalidades
Piezas y accesorios
1. Cable de 1.5 m (3 pies) y enchufe
2. Tubo de agua - Entrada de agua de 12 pulg. (no
suministrado)
3. Adaptador BSP de ½‫ ״‬NPT-½‫( ״‬Opcional)
4. Rótula esférica giratoria
5. Cubierta
6. Selector de ajustes de energía
7. Filtro
8. Unidad principal
9. Válvula de alivio de presión
10.Grifo para suministro de agua
al calentador (no suministrado)
2
GUARDE ESTAS INSTRUCCIONES
Instrucciones generales de instalación
01
02
04
05
06
07
Instale el calentador tipo cabezal
de ducha a una altura superior
a la estatura del usuario - no
inferior a 1,83 m (6½pies)
(Figura 1)
Para evitar fugas, utilice cinta de
teflón para todas las conexiones.
(Figura 3)
Opcional 2:
En caso de ser necesario utilice
Adaptador BSP de ½‫ ״‬NPT-½‫״‬
(Figura 5)
08
Inserte el filtro en la entrada de
agua. (Figura 2)
03
Instale el calentador a una
distancia mínima de 31 cm (12
pulgadas) de la pared y el techo.
Utilice tubo de agua de ½" (no
suministrado). (Figura 3)
Opcional 1:
Antes de instalar el calentador, conecte
la rótula esférica giratoria a la conexión
de entrada (utilice cinta de teflón).
(Figura 4)
Verifique que la unidad quede nivelada
horizontalmente y estable, y que el flujo
saliente es hacia abajo.
Después de finalizar la instalación de la tubería, inspeccione
cuidadosamente las conexiones en busca de fugas.
Antes de proceder a la instalación eléctrica, haga fluir agua a través del
calentador para hacer salir cualquier burbuja de aire fuera del sistema.
3
1
2
12 pulg.
6 pulg.
78 pulg.
3
Utilice
cinta de
teflón
4
Utilice
cinta de
teflón
A
B Utilice
llave Allen
Piezas de la rótula
esférica giratoria
C
5
4
Utilice
cinta de
teflón
D
Utilice
cinta de
teflón
E
Adaptador BSP de ½‫ ״‬NPT- ½‫״‬
Utilice
cinta de
teflón
Utilice
cinta de
teflón
Diagrama eléctrico
1
2
L1
N
P
5
4
3
1. Interruptor (opción A): Encendido/
Apagado
Interruptor (opción B): Apagado/1/2/3
(1-Medio, 2- Alto, 3- Muy alto)
2. Elemento de calentamiento (opción A):
1 elemento de calentamiento
3. Termostato ajustado para desconectar
a 57°C (135°F)
4. Elementos de calentamiento (opción B):
2 elementos de calentamiento:
Posición de calentamiento 1 – Medio
Posición de calentamiento 2 – Alto
Posición de calentamiento 3 – Muy alto
5. Interruptor de presión (opción A):
1 micro-interruptor
Interruptor de presión (opción B):
2 micro-interruptores
Información técnica
Especificaciones eléctricas
Elementos de
calentamiento
Watts
Voltaje
Amperaje del interruptor
automático
Especificaciones de la tubería de agua
2
3.000 W
110 V
Flujo de agua mínimo para activar
la unidad
Presión de trabajo
Conexiones de agua
0.3 gpm
3.67-58 psi
1/2" NPT
30 A
Dimensiones físicas
Altura
21/4 pulg. (58.9 mm)
Ancho
21/2 pulg. (62.8 mm)
Profundidad
21/2 pulg. (62.8 mm)
5
Puesta en funcionamiento del sistema por primera vez
01
03
Seleccione el nivel de calentamiento
deseado (6).
Posición 'Apagado' (Off)
Posición 1: Bajo - 1.4 kW
Posición 2: Medio - 1.6 kW
Posición 3: Alto - 3.0 kW
Seleccione el nivel de
calentamiento deseado (6),
vea el paso 1.
6
04
Cuando termine de utilizar
el aparato, gire el interruptor
hasta la posición 'Apagado'
(Off).
02
Abra el grifo de agua
(10) para un flujo suave.
Aumente lentamente el
flujo hasta que se encienda
el(los) foco(s) del aparato.
Espere 15 a 20 segundos
para que salga agua
caliente. Luego, ajuste
la temperatura de agua
aumentando / disminuyendo
el flujo.
Guía de manejo
•• Este calentador calienta agua con base en el caudal. Un caudal menor produce agua más
caliente. La temperatura del agua también se puede controlar utilizando los ajustes de
Energía (Apagado, Bajo, Medio, Alto) (Off, Low, Medium, High).
•• Hay una válvula de alivio de presión en la parte trasera inferior del calentador. El valor
se ajusta para descarga de alivio si la presión supera 44 psi. Para restablecer la válvula,
simplemente presione el pasador de la válvula.
•• Los orificios de rociado se deben limpiar si el agua no está fluyendo apropiadamente o
si se rocía en la dirección equivocada. Si se acumula suciedad o depósitos de cal en los
orificios de rociado de agua, la presión del agua en el calentador podría aumentar hasta
un nivel que causará que la válvula de alivio de presión se descargue.
•• Si el flujo de agua disminuye inadvertidamente, abra y limpie el filtro ubicado en el tubo de
entrada de agua al calentador. (Figura 2)
•• No coloque válvulas o componentes en la salida de agua que pudieran obstruir el flujo
saliente de agua. Sólo utilice los accesorios suministrados con la unidad.
•• Si usted sospecha que el agua se ha congelado dentro de la unidad, no la encienda hasta
que esté seguro que el agua congelada se ha derretido.
•• Si el cable de suministro de energía está dañado, éste debe ser reemplazado por un
electricista calificado o un agente de servicio. Durante cualquier reparación, se debe
desconectar el suministro de energía hacia la unidad.
•• Los niños, ancianos y personas discapacitadas deben ser supervisados mientras utilizan
este calentador.
•• El calentador sólo se debe limpiar con un trapo húmedo. Evite limpiar con un trapo mojado
o con detergentes.
7
GARANTÍA LIMITADA
Las condiciones de esta garantía sólo están sujetas al propietario original y no son transferibles en ningún
momento. La transferencia de propiedad resultará en la terminación inmediata de esta garantía. Esta
garantía es válida sólo si el producto se compra a un distribuidor autorizado.
Atmor garantiza al propietario original que nuestros calentadores de agua instantáneos estarán libres de
defectos de manufactura y material durante un período de UN (1) AÑO a partir de la fecha de compra. En
caso que alguna pieza(s) resulte estar defectuosa durante este período, Atmor sólo será responsable del
reemplazo de la(s) pieza(s) defectuosa(s). Atmor no es responsable de los cobros de mano de obra o de
cualquier gasto secundario o consiguiente. La responsabilidad de Atmor se limita al costo del producto o
USD$1.000, lo que sea menor. Atmor no es una empresa aseguradora y el propietario original debería
comprar un seguro para cubrir los daños a la propiedad o las pertenencias. El propietario original acepta
abandonar su derecho a proceso judicial ante jurado o a participar en una demanda judicial colectiva.
Además, el propietario original acepta renunciar al sometimiento hasta el punto donde una pérdida está
cubierta por un seguro, de modo que su empresa aseguradora no puede realizar un proceso judicial
contra Atmor para la recuperación de cualquier reclamación. Además, todas las reclamaciones deben ser
arbitradas en el estado de Nueva Jersey, EE. UU.
Si el propietario desea devolver el calentador de agua para reparación, el propietario primero debe
obtener una autorización escrita de parte de Atmor. Se requerirá que el propietario muestre la fecha
del comprobante de compra y que pague todos los gastos de transporte para devolver la(s) pieza(s)
o el calentador de agua defectuosos para reparación o reemplazo. La garantía se anula si: (a) el
calentador de agua ha sido instalado o utilizado inapropiadamente; (b) el diseño ha sido alterado de
cualquier manera; (c) el calentador de agua ha
sido instalado y/o recibido mantenimiento por
alguien que no sea un electricista con licencia;
ó (d) si el calentador de agua ha sido instalado
o utilizado en contradicción con las instrucciones
de instalación, las leyes aplicables y/o decretos.
Una versión completa y completa de esta garantía
está disponible por Internet, www.atmorusa.com,
o a petición de un representante de Atmor.
!PARE¡
¡Primero llámenos y permita que nuestro grupo de
servicio le ayude!
NO DEVOLVER A LA TIENDA
Distribuido por:
PARAGON GROUP USA LLC
Englewood, NJ 07631
EE. UU.
Teléfono: 1-888-783-6082
Email: [email protected]
Web: www.atmorusa.com
Por favor llame al:
1-888-783-6082
o envíe correo electrónico a:
[email protected]
Nuestro personal está listo para brindarle ayuda.
Lunes a viernes, 9AM a 5PM, Hora Estándar del Este
N.º de pieza 197465
¿Tiene preguntas acerca de su unidad o necesita
servicio?