Commercial Electric 216 8C, B2168C002 Installation guide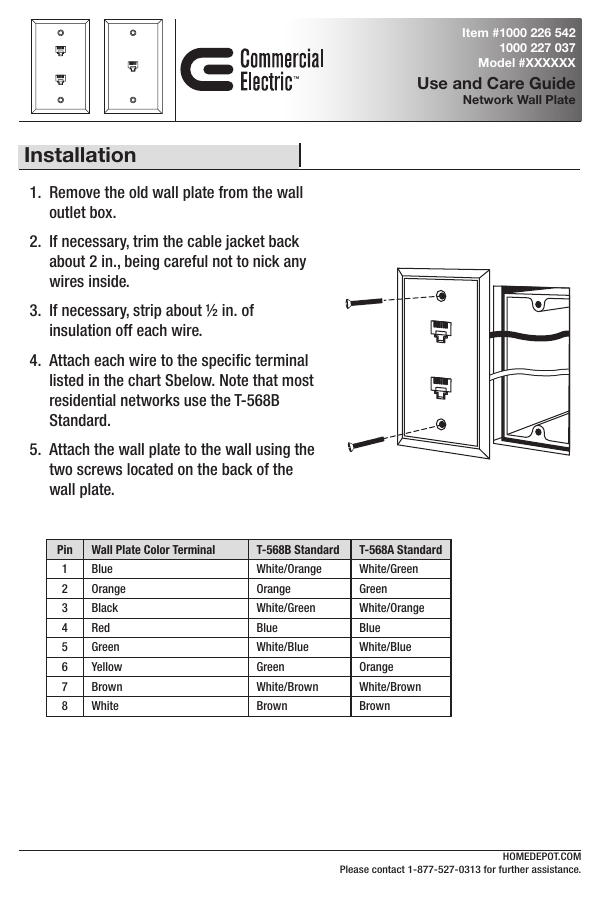 Item #1000 226 542
1000 227 037
Model #XXXXXX
Use and Care Guide
Network Wall Plate
Installation
1. Remove the old wall plate from the wall
outlet box.
2. If necessary, trim the cable jacket back
about 2 in., being careful not to nick any
wires inside.
3. If necessary, strip about ½ in. of
insulation off each wire.
4. Attach each wire to the specific terminal
listed in the chart Sbelow. Note that most
residential networks use the T-568B
Standard.
5. Attach the wall plate to the wall using the
two screws located on the back of the
wall plate.
Pin
Wall Plate Color Terminal
T-568B Standard
1
Blue
White/Orange
T-568A Standard
White/Green
2
Orange
Orange
Green
White/Orange
3
Black
White/Green
4
Red
Blue
Blue
5
Green
White/Blue
White/Blue
6
Yellow
Green
Orange
7
Brown
White/Brown
White/Brown
8
White
Brown
Brown
Homedepot.com
Please contact 1-877-527-0313 for further assistance.

* Your assessment is very important for improving the work of artificial intelligence, which forms the content of this project