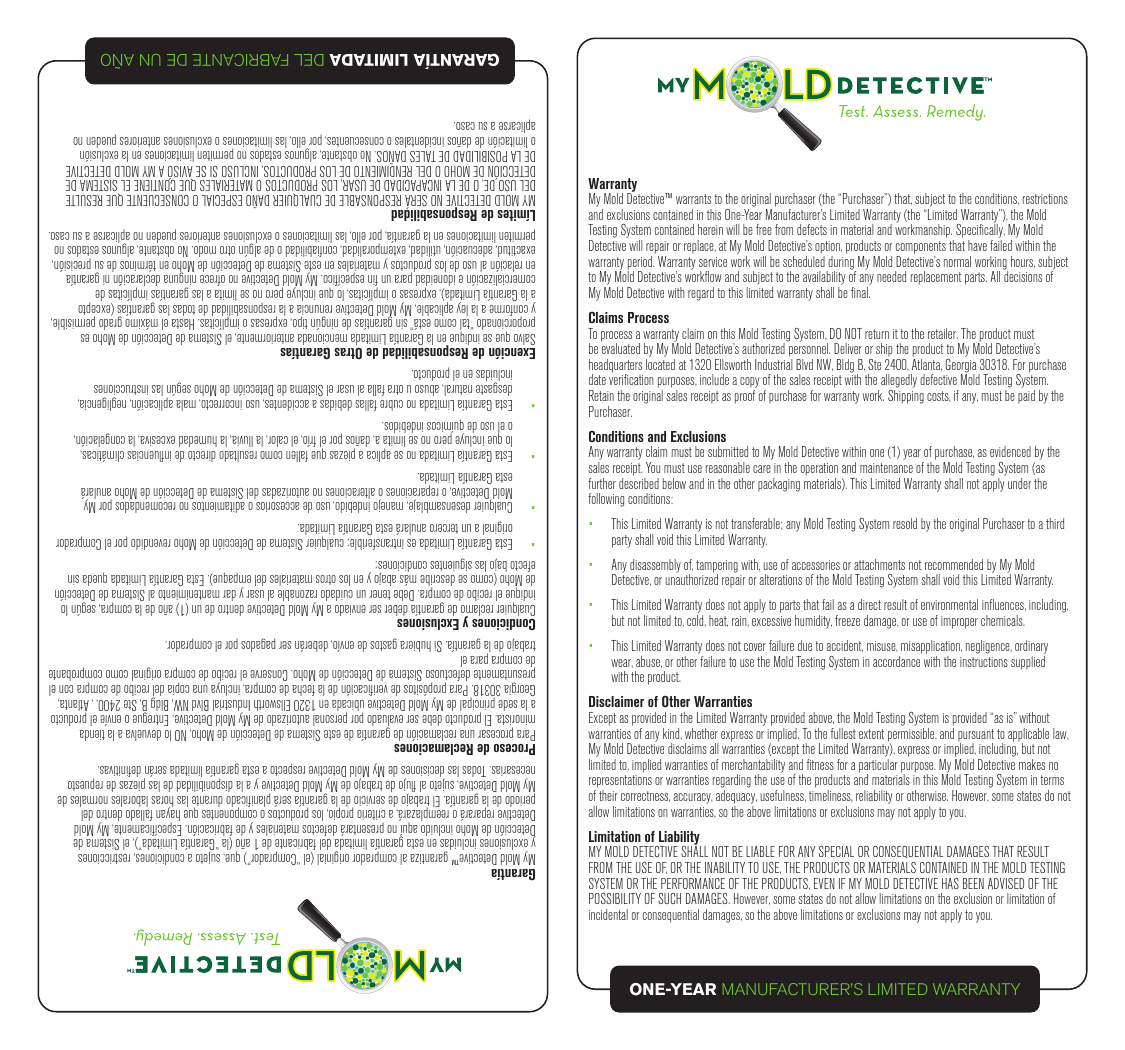 ONE-YEAR MANUFACTURER'S LIMITED WARRANTY
Limitation of Liability
MY MOLD DETECTIVE SHALL NOT BE LIABLE FOR ANY SPECIAL OR CONSEQUENTIAL DAMAGES THAT RESULT
FROM THE USE OF, OR THE INABILITY TO USE, THE PRODUCTS OR MATERIALS CONTAINED IN THE MOLD TESTING
SYSTEM OR THE PERFORMANCE OF THE PRODUCTS, EVEN IF MY MOLD DETECTIVE HAS BEEN ADVISED OF THE
POSSIBILITY OF SUCH DAMAGES. However, some states do not allow limitations on the exclusion or limitation of
incidental or consequential damages, so the above limitations or exclusions may not apply to you.
Disclaimer of Other Warranties
Except as provided in the Limited Warranty provided above, the Mold Testing System is provided "as is" without
warranties of any kind, whether express or implied. To the fullest extent permissible, and pursuant to applicable law,
My Mold Detective disclaims all warranties (except the Limited Warranty), express or implied, including, but not
limited to, implied warranties of merchantability and fitness for a particular purpose. My Mold Detective makes no
representations or warranties regarding the use of the products and materials in this Mold Testing System in terms
of their correctness, accuracy, adequacy, usefulness, timeliness, reliability or otherwise. However, some states do not
allow limitations on warranties, so the above limitations or exclusions may not apply to you.
•
This Limited Warranty is not transferable; any Mold Testing System resold by the original Purchaser to a third
party shall void this Limited Warranty.
•
Any disassembly of, tampering with, use of accessories or attachments not recommended by My Mold
Detective, or unauthorized repair or alterations of the Mold Testing System shall void this Limited Warranty.
•
This Limited Warranty does not apply to parts that fail as a direct result of environmental influences, including,
but not limited to, cold, heat, rain, excessive humidity, freeze damage, or use of improper chemicals.
•
This Limited Warranty does not cover failure due to accident, misuse, misapplication, negligence, ordinary
wear, abuse, or other failure to use the Mold Testing System in accordance with the instructions supplied
with the product.
Conditions and Exclusions
Any warranty claim must be submitted to My Mold Detective within one (1) year of purchase, as evidenced by the
sales receipt. You must use reasonable care in the operation and maintenance of the Mold Testing System (as
further described below and in the other packaging materials). This Limited Warranty shall not apply under the
following conditions:
Claims Process
To process a warranty claim on this Mold Testing System, DO NOT return it to the retailer. The product must
be evaluated by My Mold Detective's authorized personnel. Deliver or ship the product to My Mold Detective's
headquarters located at 1320 Ellsworth Industrial Blvd NW, Bldg B, Ste 2400, Atlanta, Georgia 30318. For purchase
date verification purposes, include a copy of the sales receipt with the allegedly defective Mold Testing System.
Retain the original sales receipt as proof of purchase for warranty work. Shipping costs, if any, must be paid by the
Purchaser.
Warranty
My Mold Detective™ warrants to the original purchaser (the "Purchaser") that, subject to the conditions, restrictions
and exclusions contained in this One-Year Manufacturer's Limited Warranty (the "Limited Warranty"), the Mold
Testing System contained herein will be free from defects in material and workmanship. Specifically, My Mold
Detective will repair or replace, at My Mold Detective's option, products or components that have failed within the
warranty period. Warranty service work will be scheduled during My Mold Detective's normal working hours, subject
to My Mold Detective's workflow and subject to the availability of any needed replacement parts. All decisions of
My Mold Detective with regard to this limited warranty shall be final.
Garantía
My Mold Detective™ garantiza al comprador originial (el "Comprador") que, sujeto a condiciones, restricciones
y exclusiones incluidas en esta garantía limitada del fabricante de 1 año (la "Garantía Limitada"), el Sistema de
Detección de Moho incluido aquí no presentará defectos materiales y de fabricación. Específicamente, My Mold
Detective reparará o reemplazará, a criterio propio, los productos o componentes que hayan fallado dentro del
periodo de la garantía. El trabajo de servicio de la garantía será planificado durante las horas laborales normales de
My Mold Detective, sujeto al flujo de trabajo de My Mold Detective y a la disponibilidad de las piezas de repuesto
necesarias. Todas las decisiones de My Mold Detective respecto a esta garantía limitada serán definitivas.
Proceso de Reclamaciones
Para procesar una reclamación de garantía de este Sistema de Detección de Moho, NO lo devuelva a la tienda
minorista. El producto debe ser evaluado por personal autorizado de My Mold Detective. Entregue o envíe el producto
a la sede principal de My Mold Detective ubicada en 1320 Ellsworth Industrial Blvd NW, Bldg B, Ste 2400, , Atlanta,
Georgia 30318. Para propósitos de verificación de la fecha de compra, incluya una copia del recibo de compra con el
presuntamente defectuoso Sistema de Detección de Moho. Conserve el recibo de compra original como comprobante
de compra para el
trabajo de la garantía. Si hubiera gastos de envío, deberán ser pagados por el comprador.
Condiciones y Exclusiones
Cualquier reclamo de garantía deber ser enviado a My Mold Detective dentro de un (1) año de la compra, según lo
indique el recibo de compra. Debe tener un cuidado razonable al usar y dar mantenimiento al Sistema de Detección
de Moho (como se describe más abajo y en los otros materiales del empaque). Esta Garantía Limitada queda sin
efecto bajo las siguientes condiciones:
• Esta Garantía Limitada es intransferible; cualquier Sistema de Detección de Moho revendido por el Comprador
original a un tercero anulará esta Garantía Limitada.
• Cualquier desensamblaje, manejo indebido, uso de accesorios o aditamientos no recomendados por My
Mold Detective, o reparaciones o alteraciones no autorizadas del Sistema de Detección de Moho anulará
esta Garantía Limitada.
• Esta Garantía Limitada no se aplica a piezas que fallen como resultado directo de influencias climáticas,
lo que incluye pero no se limita a, daños por el frío, el calor, la lluvia, la humedad excesiva, la congelación,
o el uso de químicos indebidos.
• Esta Garantía Limitada no cubre fallas debidas a accidentes, uso incorrecto, mala aplicación, negligencia,
desgaste natural, abuso u otra falla al usar el Sistema de Detección de Moho según las instrucciones
incluidas en el producto.
Exención de Responsabilidad de Otras Garantías
Salvo que se indique en la Garantía Limitada mencionada anteriormente, el Sistema de Detección de Moho es
proporcionado "tal como está" sin garantías de ningún tipo, expresas o implícitas. Hasta el máximo grado permisible,
y conforme a la ley aplicable, My Mold Detective renuncia a la responsabilidad de todas las garantías (excepto
a la Garantía Limitada), expresas o implícitas, lo que incluye pero no se limita a las garantías implícitas de
comercialización e idoneidad para un fin específico. My Mold Detective no ofrece ninguna declaración ni garantía
en relación al uso de los productos y materiales en este Sistema de Detección de Moho en términos de su precisión,
exactitud, adecuación, utilidad, extemporalidad, confiabilidad o de algún otro modo. No obstante, algunos estados no
permiten limitaciones en la garantía, por ello, las limitaciones o exclusiones anteriores pueden no aplicarse a su caso.
Límites de Responsabilidad
MY MOLD DETECTIVE NO SERÁ RESPONSABLE DE CUALQUIER DAÑO ESPECIAL O CONSECUENTE QUE RESULTE
DEL USO DE, O DE LA INCAPACIDAD DE USAR, LOS PRODUCTOS O MATERIALES QUE CONTIENE EL SISTEMA DE
DETECCIÓN DE MOHO O DEL RENDIMIENTO DE LOS PRODUCTOS, INCLUSO SI SE AVISÓ A MY MOLD DETECTIVE
DE LA POSIBILIDAD DE TALES DAÑOS. No obstante, algunos estados no permiten limitaciones en la exclusión
o limitación de daños incidentales o consecuentes, por ello, las limitaciones o exclusiones anteriores pueden no
aplicarse a su caso.
GARANTÍA LIMITADA DEL FABRICANTE DE UN AÑO
Indemnización
Al usar el sistema de detección de moho, usted acuerda indemnizar, defender y eximir de responsabilidad a
My Mold Detective™, a sus ejecutivos, directores, empleados, representantes, concedentes de licencias y proveedores
de y contra todas las pérdidas, gastos (incluyendo gastos médicos y demandas por lesiones), daños y costos,
incluyendo honorarios razonables de los abogados, que resulten de (a) cualquier violación a estos términos y
condiciones, (b) cualquier falla al usar el Sistema de Detección de Moho o cualquier parte según las instrucciones
aquí incluidas, (c) cualquier falla al enviar las muestras al laboratorio recomendado por My Mold Detective para
realizar pruebas, (d) cualquier mal uso o uso no intencionado del producto, y (e) su negligencia o conducta dolosa
intencional.
Este Sistema de Detección de Moho del Aire debe usarse como primer paso para identificar las condiciones elevadas
de moho en tu hogar u oficina. Por consiguiente, al usar este Sistema de Detección de Moho del Aire, expresamente
convienes en cumplir con las Instrucciones de Seguridad incluidas a continuación.
ADVERTENCIA: Para evitar incendios, lesiones o la muerte, debes observar las instrucciones de seguridad básicas,
incluyendo las siguientes.
*LEE Y SIGUE TODAS LAS INSTRUCCIONES DE SEGURIDAD*
1. Para un uso seguro y efectivo del Sistema de Detección de Moho del Aire, es importante entender la bomba
y cumplir con todas las advertencias y estas instrucciones de seguridad antes de usarlo. No hacerlo puede
resultar en incendio, causar lesiones o dañar la bomba.
2. PELIGRO. Se debe tener cuidado para evitar una posible descarga eléctrica. En cada una de las siguientes
situaciones, no intentes usar la bomba o reparar el conducto tú mismo. En cada caso, devuelve la bomba al
fabricante para que la arregle o la descarte.
A. NO la sumerjas en agua. Si la bomba se cae al agua, ¡NO intentes alcanzarla! Primero, desconéctala
y luego recupérala. Si los componentes eléctricos de la bomba se mojan, desconéctala de inmediato.
B. No uses ninguna bomba con un cable o enchufe dañados, o si no funciona correctamente, o si se ha
caído o roto por cualquier otra razón.
C. (Apagado Automático) Desconecta la bomba si permanece encendida y funciona por más de cinco
(5) minutos.
3. La bomba no debe ser usada por niños menores de 18 años.
4. Para evitar lesiones, no entres en contacto con las piezas en movimiento o calientes como la bomba,
el ventilador, etc.
5. Desconecta siempre la bomba del tomacorriente cuando no esté en uso. Nunca tires del cable para
desconectar el enchufe del tomacorriente. Agarra el enchufe y hálalo para desconectarlo.
6. No uses una bomba para una función distinta de la original. El uso de accesorios que no sean los
recomendados o vendidos por el fabricante de la bomba puede causar condiciones inseguras.
7. Nunca bloquees las tomas de aire de la bomba o la coloques sobre una superficie suave, como una cama
o sillón, donde podrían bloquearse las salidas de aire. Mantén las salidas de aire libres de pelusa, pelo
y similares.
8. No instales o almacenes la bomba en un lugar donde quedará expuesta a la intemperie o a temperaturas
por debajo del punto de congelación.
9. Antes de usarla, asegúrate de que la bomba esté ubicada sobre una superficie seca y nivelada.
10. Lee y respeta las etiquetas de advertencia y los avisos importantes en la bomba.
B. Do not operate any pump if it has a damaged cord or plug, or if it is malfunctioning or if it is dropped
or damaged in any manner.
11. Uso recomendado- 120v/60Hz de fuerza solamente.
12. NO uses convertidores de corriente, adaptadores de corriente universales o cualquier otra variación de corriente.
13. Si un cable de extensión es necesario, debes usar uno con la clasificación apropiada. Si usas un cable clasificado para
menos amperios o watts que la clasificación de la bomba, es posible que se recaliente. Debes tener cuidado al colocar el
cable para que no se tropiecen con el mismo o sea halado.
14. Para mantener un nivel de confianza en la operación de su bomba del muestreo de aire,
MyMoldDetective® recomiende a devolver la bomba a MyMoldDetective® cada 12 meses para
inspección and recalibración. Cargos adicionales son requeridos.
15. Puedes visitar www.MyMoldDetective.com para obtener más recenté información sobre los productos y
los términos y condiciones de MyMoldDetective®.
*GUARDA ESTAS INSTRUCCIONES*
A. DO NOT immerse in water. If the pump falls into the water, DON'T reach for it! First unplug it and then
retrieve it. If electrical components of the pump get wet, unplug the pump immediately.
INSTRUCCIONES DE SEGURIDAD
SAFETY INSTRUCTIONS
*SAVE THESE INSTRUCTIONS*
15. Please visit www.MyMoldDetective.com for the most up to date information on MMD's products and terms & conditions.
14. In order to maintain a high degree of confidence in the operation of your MyMoldDetective® Air Sampling Pump,
MMD recommends that the pump be returned to MMD every 12 months for inspection and re-calibration. Additional fees
apply. Please contact MMD for details.
C. (Auto-Shut Off) Unplug the pump if it remains on and runs for longer than five (5) minutes.
3. The pump should not be used by minor children under the age of 18.
4. To avoid injury, do not contact moving parts or hot parts such as the pump, fan, etc.
5. Always unplug a pump from an outlet when not in use. Never yank the cord to pull the plug from the outlet.
Grasp the plug and pull it to disconnect.
6. Do not use a pump for other than intended use. The use of attachments not recommended or sold by the
pump manufacturer may cause an unsafe condition.
7. Never block the air openings of the pump or place it on a soft surface, such as a bed or couch, where the air
openings may be blocked. Keep the air openings free of lint, hair, and the like.
8. Do not install or store the pump where it will be exposed to weather or to temperatures below freezing.
9. Ensure the pump is placed on a level and dry surface before operating.
10. Read and observe all the warning labels and important notices on the pump.
11. Recommended use - 60 Hz 120v power only.
12. DO NOT use with power converters, universal power adapters or any other power variations.
13. If an extension cord is necessary, a cord with a proper rating should be used. A cord rated for less amperes or watts
than the pump rating may overheat. Care should be taken to arrange the cord so that it will not be tripped over or pulled.
2. DANGER. To avoid possible electrical shock, special care must be taken. For each of the following situations, do not
attempt to use the pump or conduct repairs yourself. In each such case, return the pump to the manufacturer for
service or discard the pump.
1. For safe and effective use of the Mold Air Testing System, it is imperative to understand the pump and observe all
warnings and these Safety Instructions before using. Failure to do so may result in fire, injury or damage to the pump.
*READ AND FOLLOW ALL SAFETY INSTRUCTIONS*
WARNING: To guard against fire, injury or death, basic safety precautions must be observed, including the following.
This Mold Air Testing System should be used as the first step in identifying elevated mold conditions in your home or office.
Accordingly, by using this Mold Air Testing System, you expressly agree to adhere to the Safety Instructions provided below.
Indemnification
By using this Mold Testing System you agree to indemnify, defend, and hold harmless My Mold Detective™, its
officers, directors, employees, agents, licensors and suppliers from and against all losses, expenses (including
medical expenses and personal injury claims), damages and costs, including reasonable attorneys' fees, resulting
from (a) any violation of these terms and conditions, (b) any failure to use the Mold Testing System or any portion
thereof in accordance with the instructions contained herein, (c) any failure to submit the samples to My Mold
Detective's recommended laboratory for testing, (d) any misuse or unintended use of the product, and (e) your
negligent or willful misconduct.