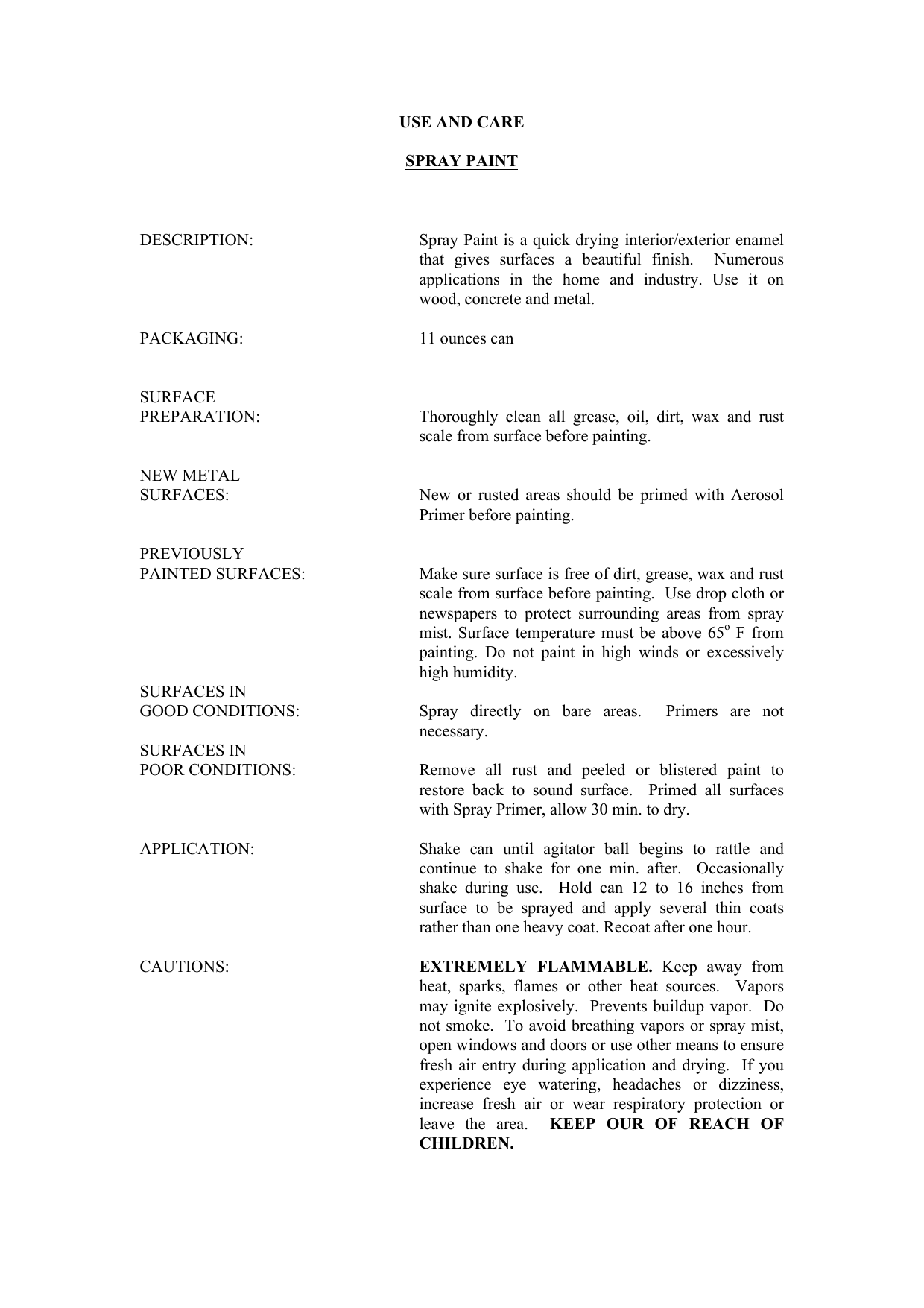 USE AND CARE
SPRAY PAINT
DESCRIPTION:
Spray Paint is a quick drying interior/exterior enamel
that gives surfaces a beautiful finish. Numerous
applications in the home and industry. Use it on
wood, concrete and metal.
PACKAGING:
11 ounces can
SURFACE
PREPARATION:
NEW METAL
SURFACES:
PREVIOUSLY
PAINTED SURFACES:
SURFACES IN
GOOD CONDITIONS:
SURFACES IN
POOR CONDITIONS:
Thoroughly clean all grease, oil, dirt, wax and rust
scale from surface before painting.
New or rusted areas should be primed with Aerosol
Primer before painting.
Make sure surface is free of dirt, grease, wax and rust
scale from surface before painting. Use drop cloth or
newspapers to protect surrounding areas from spray
mist. Surface temperature must be above 65o F from
painting. Do not paint in high winds or excessively
high humidity.
Spray directly on bare areas.
necessary.
Primers are not
Remove all rust and peeled or blistered paint to
restore back to sound surface. Primed all surfaces
with Spray Primer, allow 30 min. to dry.
APPLICATION:
Shake can until agitator ball begins to rattle and
continue to shake for one min. after. Occasionally
shake during use. Hold can 12 to 16 inches from
surface to be sprayed and apply several thin coats
rather than one heavy coat. Recoat after one hour.
CAUTIONS:
EXTREMELY FLAMMABLE. Keep away from
heat, sparks, flames or other heat sources. Vapors
may ignite explosively. Prevents buildup vapor. Do
not smoke. To avoid breathing vapors or spray mist,
open windows and doors or use other means to ensure
fresh air entry during application and drying. If you
experience eye watering, headaches or dizziness,
increase fresh air or wear respiratory protection or
leave the area. KEEP OUR OF REACH OF
CHILDREN.

* Your assessment is very important for improving the work of artificial intelligence, which forms the content of this project