Perfect aire 2PAMSHQC36, 2PAMSHCQ18, 2PAMSHQC12, 4PNC8000, 5SAC10000, PORT8000 Manual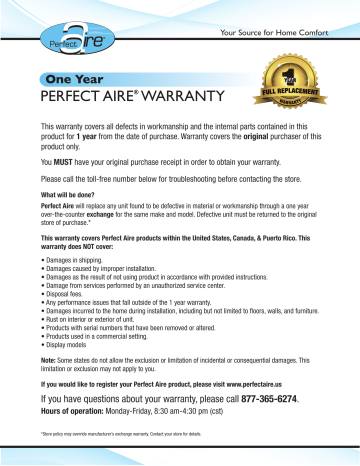 Your Source for Home Comfort
ONE YEAR
One Year
PERFECT AIRE® WARRANTY
FULL REPLACEMENT
WA R
RA NTY
This warranty covers all defects in workmanship and the internal parts contained in this
product for 1 year from the date of purchase. Warranty covers the original purchaser of this
product only.
You MUST have your original purchase receipt in order to obtain your warranty.
Please call the toll-free number below for troubleshooting before contacting the store.
What will be done?
Perfect Aire will replace any unit found to be defective in material or workmanship through a one year
over-the-counter exchange for the same make and model. Defective unit must be returned to the original
store of purchase.*
This warranty covers Perfect Aire products within the United States, Canada, & Puerto Rico. This
warranty does NOT cover:
• Damages in shipping.
• Damages caused by improper installation.
• Damages as the result of not using product in accordance with provided instructions.
• Damage from services performed by an unauthorized service center.
• Disposal fees.
• Any performance issues that fall outside of the 1 year warranty.
• Damages incurred to the home during installation, including but not limited to floors, walls, and furniture.
• Rust on interior or exterior of unit.
• Products with serial numbers that have been removed or altered.
• Products used in a commercial setting.
• Display models
Note: Some states do not allow the exclusion or limitation of incidental or consequential damages. This
limitation or exclusion may not apply to you.
If you would like to register your Perfect Aire product, please visit www.perfectaire.us
If you have questions about your warranty, please call 877-365-6274.
Hours of operation: Monday-Friday, 8:30 am-4:30 pm (cst)
*Store policy may override manufacturer's exchange warranty. Contact your store for details.

* Your assessment is very important for improving the work of artificial intelligence, which forms the content of this project