Jeffrey Court 96496 Specification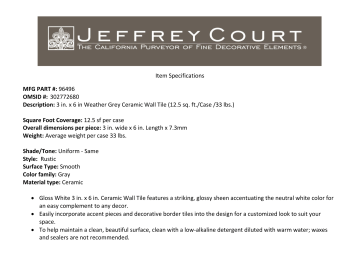 Item Specifications
MFG PART #: 96496
OMSID #: 302772680
Description: 3 in. x 6 in Weather Grey Ceramic Wall Tile (12.5 sq. ft./Case /33 lbs.)
Square Foot Coverage: 12.5 sf per case
Overall dimensions per piece: 3 in. wide x 6 in. Length x 7.3mm
Weight: Average weight per case 33 lbs.
Shade/Tone: Uniform - Same
Style: Rustic
Surface Type: Smooth
Color family: Gray
Material type: Ceramic
• Gloss White 3 in. x 6 in. Ceramic Wall Tile features a striking, glossy sheen accentuating the neutral white color for
an easy complement to any decor.
• Easily incorporate accent pieces and decorative border tiles into the design for a customized look to suit your
space.
• To help maintain a clean, beautiful surface, clean with a low-alkaline detergent diluted with warm water; waxes
and sealers are not recommended.

* Your assessment is very important for improving the work of artificial intelligence, which forms the content of this project