Soil Separator 36150SSF-6 User manual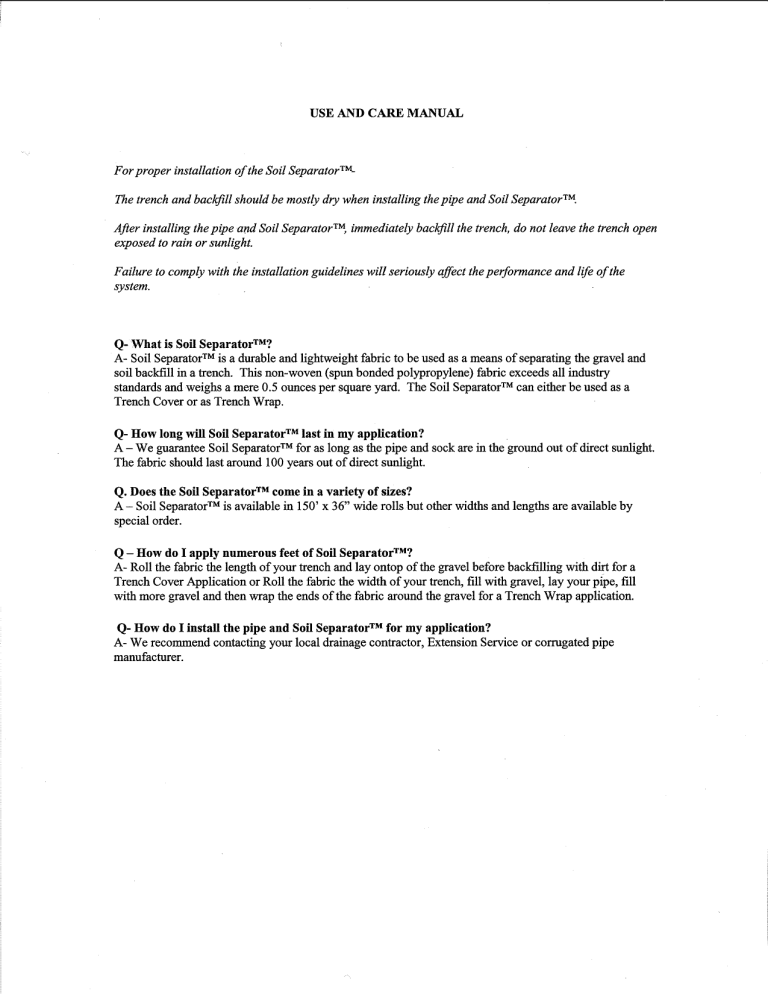 USE AND CARE MANUAL
For proper installation ofthe Soil SeparatorrMThe trench and bacffill should be mostly dry when instølling the pipe and Soil Separatorrv.
After instølling the pipe aqd Soil SepøratorrM, immediately bacffill the trench, do not leave the trench open
exposed to rain or sunlight.
Failure to comply with the installqtion guidelines will seriously affect the pedorrnance and tife of the
svstem.
Q- What is Soil SeparatorrM?
A- Soil SeparatorrM is a durable and lightweight fabric to be used as a means of separating the gravel and
soil baclfill in a trench. This non-woven (spun bonded polypropylene) fabric exceeds all industry
standardsand weighs a mere 0.5 ouncesper squareyard. The Soil SeparatorrMcan either be used as a
Trench Cover or as Trench Wrap.
Q- How long will SoÍl SeparatorrM last in my application?
A - We guarantee Soil SeparatorrM for as long as the pipe and sock are in the ground out of direct sunlight.
The fabric should last around 100 years out ofdirect sunlight.
Q. Does the Soil SeparatorrM come in a variety of sizes?
A - Soil SeparatorrMis available in 150' x 36" wide rolls but other rvidths and lengths are available by
special order.
Q - How do I apply numerous feet of Soil SeparatorrM?
A- Roll the fabric the length of your trench and lay ontop of the gravel before backfilling with dirt for a
Trench Cover Application or Roll the fabric the width of your trench, fill with gravel, lay your pipe, fill
with more gravel and then wrap the ends of the fabric around the gravel for a Trench Wrap application.
Q- How do I install the pipe and Soil SeparatorrM for my application?
A- We recommend contacting your local drainagecontractor, Extension Service or comrgated pipe
manufacturer.

* Your assessment is very important for improving the work of artificial intelligence, which forms the content of this project