Danby DDY060WDB Specification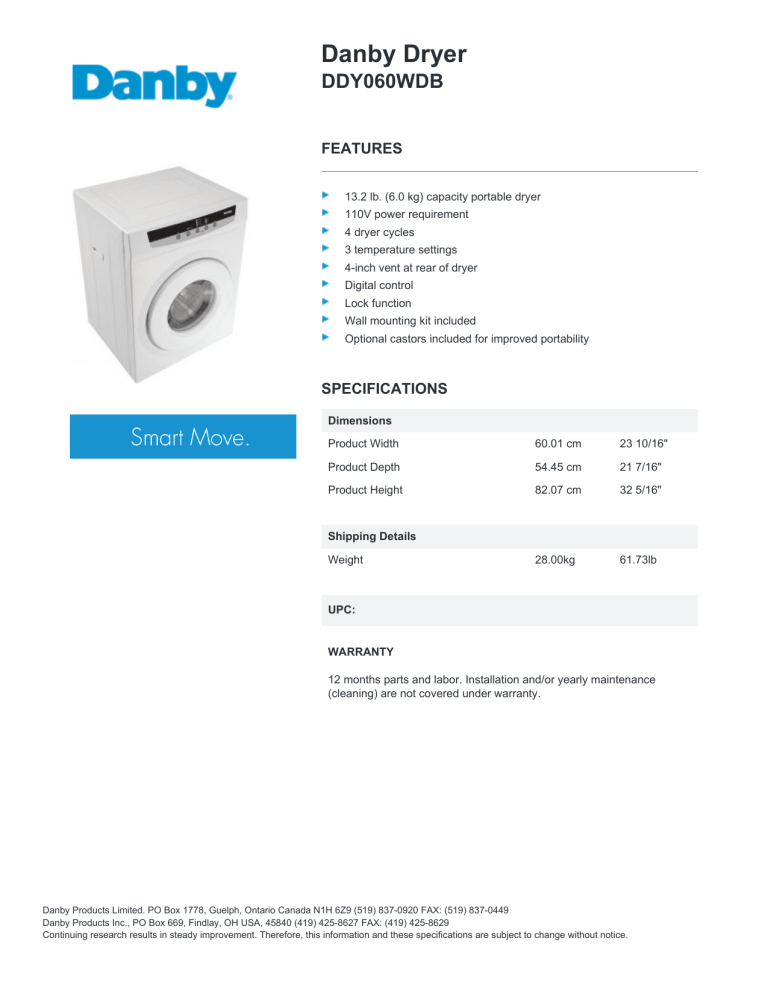 Danby Dryer
DDY060WDB
FEATURES
13.2 lb. (6.0 kg) capacity portable dryer
110V power requirement
4 dryer cycles
3 temperature settings
4-inch vent at rear of dryer
Digital control
Lock function
Wall mounting kit included
Optional castors included for improved portability
SPECIFICATIONS
Dimensions
Product Width
60.01 cm
23 10/16"
Product Depth
54.45 cm
21 7/16"
Product Height
82.07 cm
32 5/16"
28.00kg
61.73lb
Shipping Details
Weight
UPC:
WARRANTY
12 months parts and labor. Installation and/or yearly maintenance
(cleaning) are not covered under warranty.
Danby Products Limited. PO Box 1778, Guelph, Ontario Canada N1H 6Z9 (519) 837-0920 FAX: (519) 837-0449
Danby Products Inc., PO Box 669, Findlay, OH USA, 45840 (419) 425-8627 FAX: (419) 425-8629
Continuing research results in steady improvement. Therefore, this information and these specifications are subject to change without notice.

* Your assessment is very important for improving the work of artificial intelligence, which forms the content of this project