Renogy RNG-CTRL-BT-1 User manual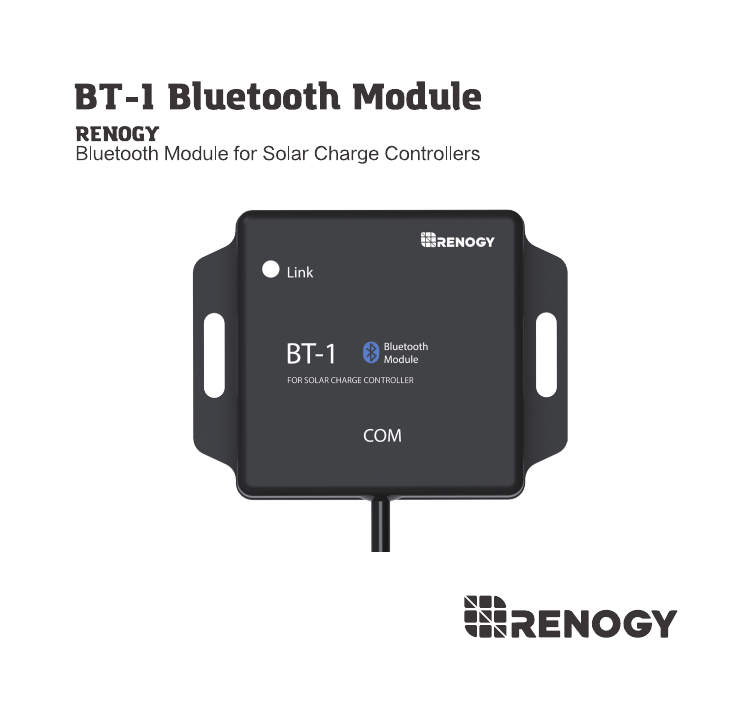 BT-1 Bluetooth Module
RENOGY
Bluetooth Module for Solar Charge Controllers
SET e102 4
O Link
BT | Bluetooth
= Module
FOR SOLAR CHARGE CONTROLLER
COM
A
Ll |
1 14
RENOGY
General Information
The Renogy BT-1 is a new generation of Bluetooth module for Renogy solar
charge controllers. The BT-1 provides wireless monitoring of the system data
and sets up operating parameters through smart phone App.
Key Features
Wirelessly monitor and control compatible solar charge controllers via Bluetooth
Connect to user—friendly smartphone app, Renogy BT to keep track of your system
Embedded exclusive Bluetooth chip with high efficiency and low energy
consumption
With Bluetooth 4.0 and BLE technology, it features fast and uninterrupted
communication
Powered directly through RJ12 communication port
Signal range is up to 82 ft
Identification of Parts
Communication
Status Indicator
SIRENOGY
O Link
A BT-1 PD Mounting Hole
Product Model U FOR SOLAR CHARGE CONTROLLER
COM
<
Communication Cord
Hl Connection
Connects the BT—1 Bluetooth o
module to any Renogy solar ==
charge controller with RJ12 Too de
port and RS232 ===
communication protocol. es
a E L.
Link Indicator Flashing(Blue) | Communicating
off | Stand by
HE Compatible Models
Compatible Models ! All Renogy Controllers with RJ12 port
Communication Protocol : RS232
mm me me ee em me em mm mmm mn] Ee me me eee о=о=о=о=о=о=о=о=о=о=о=о=о=о=о=о=о=о=о=о=о=о= = = = = = = = = = = = = = = =
Port Type | RJ12
Technical Specifications
Parameter
Weight
120 g (4.202)
To Download App
1. The Android version is available to download from our company website and
Google Play Store.
On Renogy website, follow these steps: LEARN—DOWNLOADS—SOFTWARE
DOWNLOADS—Renogy BT. You can download the software to your computer,
then send it to your Android devices to install.
In Google Play Store, simply search "Renogy BT" to download.
2. For ios version,simply search "Renogy BT" in App store to download.
e The admin password in App is 135790123
SIRENOGY
2775 E. Philadelphia St, Ontario, CA 91761
1-800-330-8678
Renogy reserves the right to change the contents of this manual without notice.

* Your assessment is very important for improving the work of artificial intelligence, which forms the content of this project