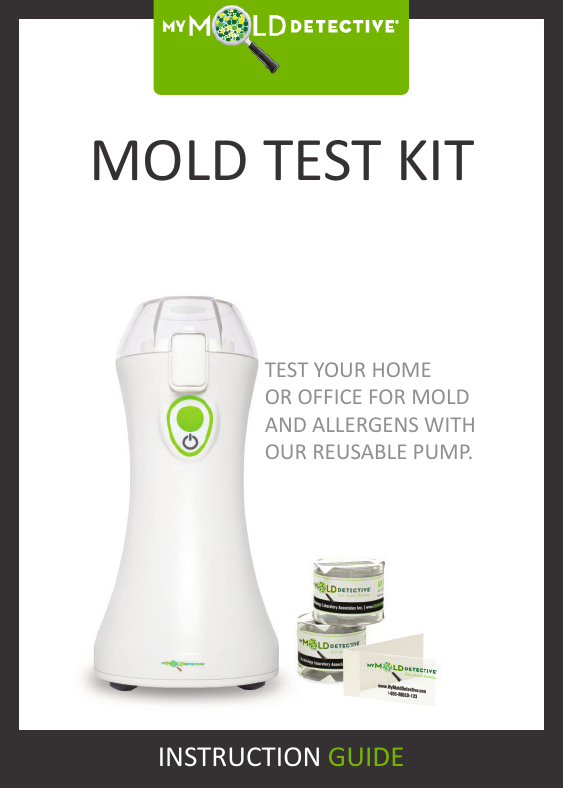 MOLD TEST KIT
TEST YOUR HOME
OR OFFICE FOR MOLD
AND ALLERGENS WITH
OUR REUSABLE PUMP.
INSTRUCTION GUIDE
UNIT FEATURES
Lid
Lid Clasp
Air Sample
Inlet Tray
Start Button
Rubber Feet
Contact Us
[email protected] | www.MyMoldDetective.com
WELCOME & RECOMMENDATIONS
Thank you for purchasing My Mold
Detective®. For best results, please
read and follow instructions carefully.
Testing Instructions Start Here: Customize your report
RECOMMENDED STEP:
Take digital photos of your sampling locations in
action. Upload your photos to your online report
during the registration process. This will provide
a more customized and documented report.
U.S. Patent | Made in China | Assembled in the U.S.A.
1-Year Manufacturer's Limited Warranty
STEP 1: TAKE AIR SAMPLES
a
Outdoor Air Sample:
• On one cassette, mark
the box labeled "Outdoor
Sample." (This will be your
"required" control sample.)
• Ensure you have a power
outlet to plug in to. You may
need an extension cord.
• Take sample when it's not
raining or snowing, in an
open area 10 ft. away from
the structure and overhangs,
3 to 5 ft. off the ground. (Use a chair to set the pump on.)
b
• Remove the tape flap on
the top and bottom of the
air cassette. (Save flaps for
resealing cassettes.)
• Open the pump lid. (This will
remain open during testing.)
• Insert cassette onto the air
sample inlet tray and secure
firmly in place.
c
• Push the green button to
start the sample, a red light
will illuminate during
testing. The pump will shut
off automatically after
5-minute sample is complete.
d
• Reseal top and bottom of air
cassette with tape flaps after
air sampling is complete.
Indoor Air Sample:
• Mark the remaining air cassette(s) with the room name. All indoor
sample(s) should be taken in the middle of the room, 3 to 5 ft. off
the ground.
• Repeat steps (b) through (d) outlined in Outdoor Air Sample section.
Note: Air Cassette limited to one use. Do not reuse
cassettes.
STEP 2: TAKE SURFACE SAMPLES
a
• Write the surface location
name on the tape label.
• If present: use the serial
number on the back of the
tape lift when registering
your sample online.
c
• Firmly press the tape onto the
suspected surface.
b
• Peel off the translucent cover
slip to expose the tape's
tacky surface.
d
• Close the tape onto the white
backing and place into the
small envelope provided.
• One tape lift per small
envelope provided.
Note: Only one surface sample per tape lift
STEP 3: REGISTER ONLINE
Visit MyMoldDetective.com to register your samples
Click the "Register Samples" button at the top
of the homepage and follow the instructions.
Create a new account
Complete payment for the lab analysis and note
your confirmation number.
STEP 4: MAIL SAMPLES
a
FEDEX EXPRESS SHIPPING: 1-2 days to reach the laboratory
FedEx Express Shipping is trackable and convenient. For your
convenience, call 1.800.GoFedEx to schedule a FedEx pick up
from your location.
b
• Insert air samples and surface samples into the FedEx mailing
envelope provided. * Note: Sending more than one envelope or package may cause
samples to arrive to lab
separately and cause possible delays with analysis.
KIT DE PRUEBA
DE MOHO
HAGA UNA PRUEBA
EN SU HOGAR U
OFICINA PARA
EL MOHO Y LOS
ALERGÉNOS CON
NUESTRA BOMBA
REUTILIZABLE
GUÍA DE INSTRUCCIONES
CARACTERISTICAS DE UNIDADES
Tapa
Cierre de la tapa
Bandeja de
entrada de
la muestra
de aire
Botón de inicio
Patas de goma
Contáctenos
[email protected] | www.MyMoldDetective.com
BIENVENIDA Y RECOMENDACIONES
Gracias por comprar My Mold Detective. Para
lograr mejores resultados por favor leer y seguir
cuidadosamente las instrucciones.
Instrucciones de prueba comienzan aquí: Personalizar su reporte
PASO RECOMENDADO:
Tome fotos digitales de su punto de muestreo en acción
y subirlo a su informe digitales durante el proceso de
registro para un informe más detallado.
Patente de EE.UU | Hecho en China | Ensamblada en EE.UU.
Garantía Limitada del Fabricante de 1 año
PASO 1: TOMA MUESTRAS DEL AIRE
a
Muestra del Aire Exterior:
• Marca la caja que dice "Outdoor
Sample" sobre el cartucho para
muestras de aire (Esto sera su muestra de control obligatorio.)
• Asegúrate de tener un
tomacorriente para enchufar. Una extensión eléctrica puede ser
necesaria.
• No tomes la muestra del aire si
está lloviendo o nevando en una
área abierta y despejada que esté
a 10 pies de distancia de la
estructura y los voladizos y 3 a 5
pies sobre el suelo. (Utilizar una
silla para poner la bomba en.)
b
• Despega la solapa de le cinta
desde la parte superior e inferior
del cartucho. (Salvar las solapas
para volver a sellar.)
• Abre la tapa de la bomba para
el muestreo del aire. [La tapa
permanecerá abierta mientras
la bomba esté funcionando.]
• Inserta el cartucho en la bandeja
de entrada de la muestra de aire,
asegúralo con firmeza en su lugar.
c
• Presiona el boton verde para
empezar la muestr de aire. Una
luz rojo se encenderá durante
la prueba. La bomba se
apagará automáticamente
después de 5 minutos aun
cuando la prueba está completa.
d
• Vuele a sellar la cinta en la parte superior e inferior del cartucho cuando la prueba
está completa.
Muestra del Aire Interior:
• Marcar el cartucho para la muestra de aire restante con el nombre
del lugar de la habitación donde se tomará la muestra. La muestra
en el interior debe tomarse en el medio de la habitación y de 3 a 5
pies aproximadamente del suelo.
• Repite pasos (b) a (d) detallado en la sección "Muestra del
Aire Exterior."
Nota: Cartucho limitado a un uso. No vuelva a utilizar
cartuchos.
PASO 2: TOMAR MUESTRAS DE LA SUPERFICIE
a
• Escribe el nombre del lugar en la etiqueta de la cinta para muestras. Si está presente, utilizar el número de serie encontrado detrás de la etiqueta de la cinta.
c
• Presiona esta adhesiva sobre la
superficie sospechoso.
b
• Despega la funda que la cubre
para exponer la superficie.
d
• Cierra la cinta sobre el espaldo
blanco y poner en sobrecito incluido.
Nota: Solo una muestra de la superficie por cada sobre
PASO 3: REGISTRATE POR INTERNET
Visitar MyMoldDetective.com para registrar sus muestras
Haz clic en el icono "Register Samples" en la parte superior de la
página de inicio y sigue las instrucciones.
Crear una cuenta nueva
Completar el pago para el análisis de laboratorio
PASO 4: ENVIA LAS MUESTRAS
a
FEDEX EXPRESS SHIPPING: 1 - 2 días para llegar al
laboratorio.
FedEx Express es rastreable y conveniente. Por su
conveniencia, llame 1.800.GoFedEx para programar una
recolección.
b
• Poner cartuchos de muestras en el sobre incluido y enviarlo por correo al laboratorio.
* Él envió de más de un sobre o
paquete puede causar muestras
a llegar al laboratorio separados
y causar retrasos en el análisis.

* Your assessment is very important for improving the work of artificial intelligence, which forms the content of this project