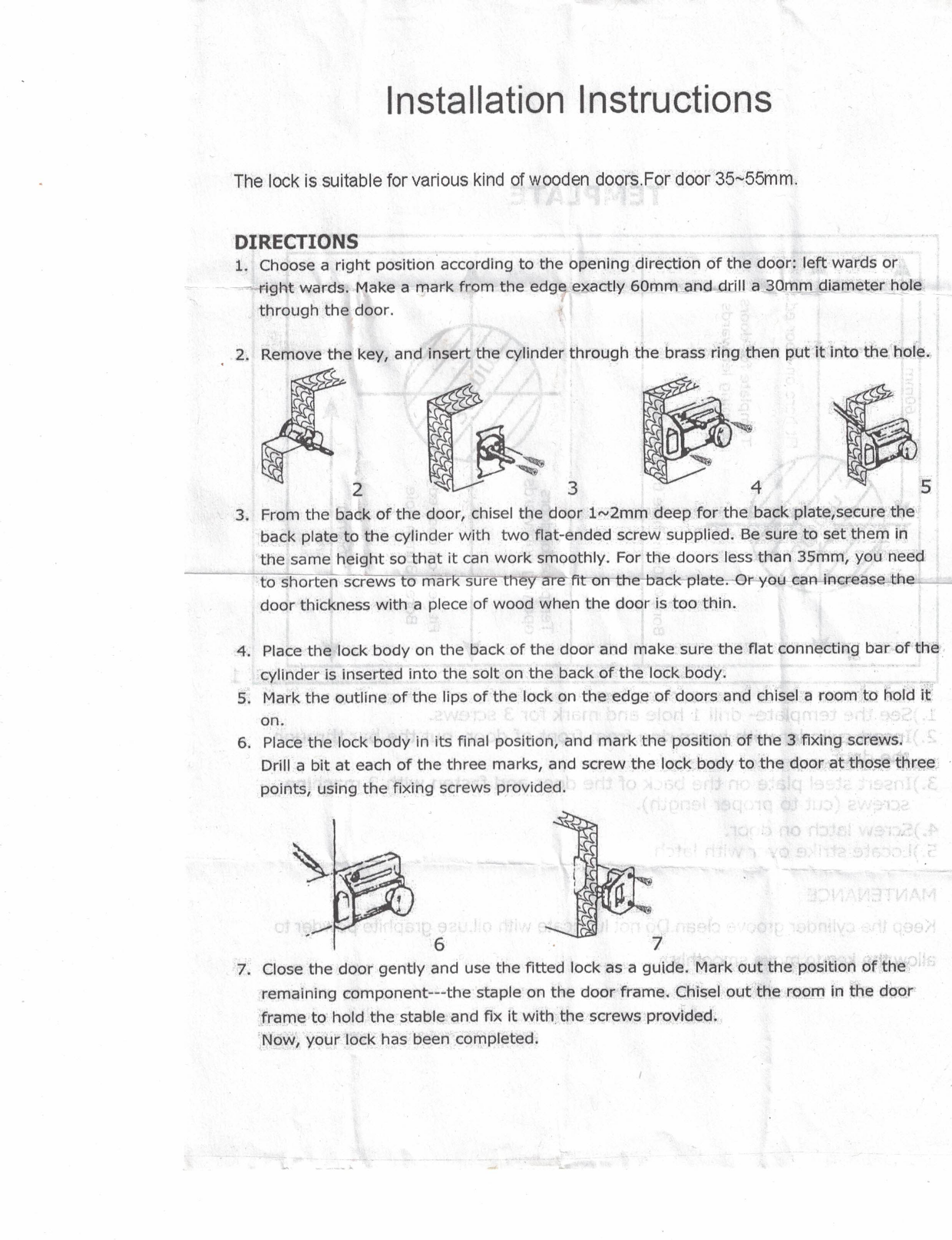 Installation Instructions
The lock is suitable for various kind of wooden doors.For door 35-55mm.
DIRECTIONS |
1. Choose a right position according to the opening direction of the door: left wards or
—right wards. Make a mark from the edge exactly 60mm and.drill a 30mm diameter hole
through the door. |
3. From the back of the door, chisel the door 1~2mm deep for the back plate,secure the
'back plate to the cylinder with two flat-ended screw supplied. Be sure to set them in
the same height so that it can work smoothly. For the doors less than 35mm, you need
to shorten screws to mark sure they are fit on the back plate. Or you can increase the —
door thickness with a plece of wood when the door is too thin.
4. Place the lock body on the back of the door and make sure the flat connecting bar of the
cylinder is inserted into the solt on the back of the lock body. A sl
5, Mark the outline of the lips of the lock on the edge of doors and chisel à room to hold it
on. | "<i
6. Place the lock body in its final position, and mark the position of the 3 fixing screws.
Drill a bit at each of the three marks, and screw the lock body to the door at those three
points, using the fixing screws provided. |
7. Close the door gently and use the fitted lock as a guide. Mark out the position of the
remaining component---the staple on the door frame. Chisel out the room in the door
frame to hold the stable and fix it with the screws provided.
Now, your lock has been completed.
TEMPLATE
ón
< Pu
QU Oo TO
= ос
2 ©
© 5
= с " y
о y
5 о De 5
= 52 ©
add
iT - © =
=
Е « y
5 no о ©
a Lu о ©
— ©
© 8 LS E
E AL Lo O ©
LO = D
E Le Co
O Y сл о ©
Ca SE v: 8
© ar D U
U = "a
Г U O
O Va +=. 0)
с =O i
Y Y
1.)See the template- drill 1 hole and mark for 3 screws.
2.)Insert cylinder with brass ring from front of door. put the bar through
the door.
3.)Insert steel plate on the back of the door and fasten with 2 machine
screws (cut to proper length).
4.)Screw latch on door.
5.)Locate strike over with latch.
MANTENANCE
Keep the cylinder groove clean.Do not lubricate with oil.use graphite powder to
allow the key to move smoothly.

* Your assessment is very important for improving the work of artificial intelligence, which forms the content of this project