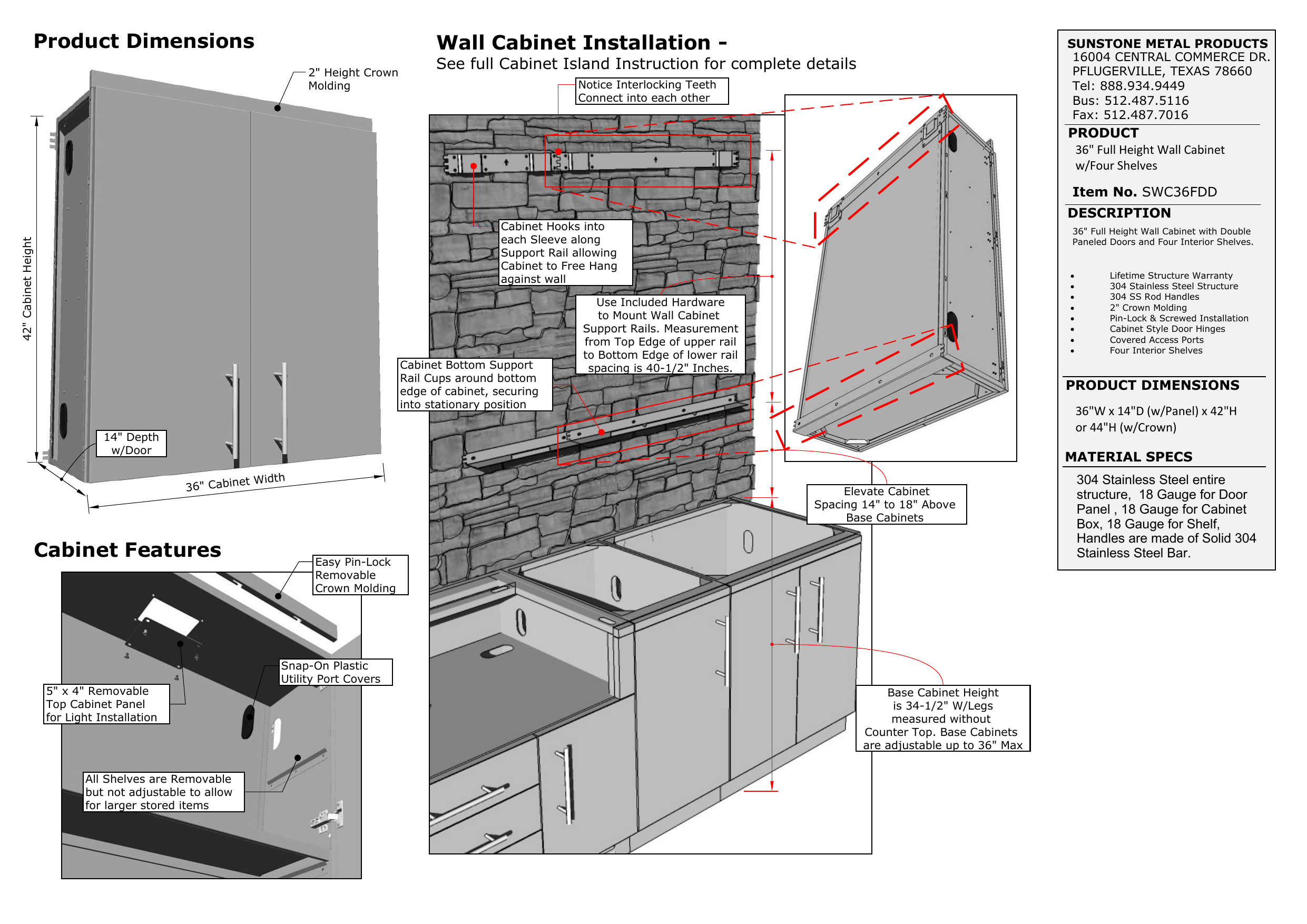 Product Dimensions
Wall Cabinet Installation 2" Height Crown
Molding
SUNSTONE METAL PRODUCTS
16004 CENTRAL COMMERCE DR.
PFLUGERVILLE, TEXAS 78660
Tel: 888.934.9449
Bus: 512.487.5116
Fax: 512.487.7016
See full Cabinet Island Instruction for complete details
Notice Interlocking Teeth
Connect into each other
PRODUCT
36" Full Height Wall Cabinet
w/Four Shelves
Item No. SWC36FDD
DESCRIPTION
42" Cabinet Height
Cabinet Hooks into
each Sleeve along
Support Rail allowing
Cabinet to Free Hang
against wall
Cabinet Bottom Support
Rail Cups around bottom
edge of cabinet, securing
into stationary position
36" Full Height Wall Cabinet with Double
Paneled Doors and Four Interior Shelves.
•
•
•
•
•
•
•
•
Use Included Hardware
to Mount Wall Cabinet
Support Rails. Measurement
from Top Edge of upper rail
to Bottom Edge of lower rail
spacing is 40-1/2" Inches.
Lifetime Structure Warranty
304 Stainless Steel Structure
304 SS Rod Handles
2" Crown Molding
Pin-Lock & Screwed Installation
Cabinet Style Door Hinges
Covered Access Ports
Four Interior Shelves
PRODUCT DIMENSIONS
36"W x 14"D (w/Panel) x 42"H
or 44"H (w/Crown)
14" Depth
w/Door
MATERIAL SPECS
et Width
36" Cabin
Cabinet Features
Elevate Cabinet
Spacing 14" to 18" Above
Base Cabinets
Easy Pin-Lock
Removable
Crown Molding
Snap-On Plastic
Utility Port Covers
5" x 4" Removable
Top Cabinet Panel
for Light Installation
All Shelves are Removable
but not adjustable to allow
for larger stored items
Base Cabinet Height
is 34-1/2" W/Legs
measured without
Counter Top. Base Cabinets
are adjustable up to 36" Max
304 Stainless Steel entire
structure, 18 Gauge for Door
Panel , 18 Gauge for Cabinet
Box, 18 Gauge for Shelf,
Handles are made of Solid 304
Stainless Steel Bar.

* Your assessment is very important for improving the work of artificial intelligence, which forms the content of this project