MR Direct STUK Specification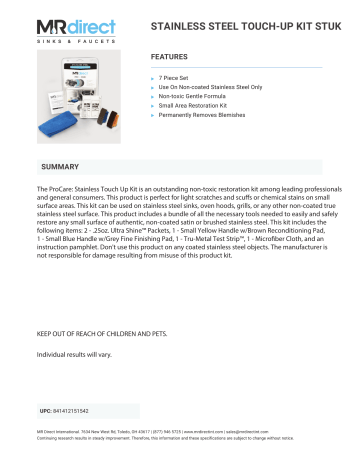 STAINLESS STEEL TOUCH-UP KIT STUK
S I N K S
&
F A U C E T S
FEATURES
7 Piece Set
Use On Non-coated Stainless Steel Only
Non-toxic Gentle Formula
Small Area Restoration Kit
Permanently Removes Blemishes
SUMMARY
The ProCare: Stainless Touch Up Kit is an outstanding non-toxic restoration kit among leading professionals
and general consumers. This product is perfect for light scratches and scuffs or chemical stains on small
surface areas. This kit can be used on stainless steel sinks, oven hoods, grills, or any other non-coated true
stainless steel surface. This product includes a bundle of all the necessary tools needed to easily and safely
restore any small surface of authentic, non-coated satin or brushed stainless steel. This kit includes the
following items: 2 - .25oz. Ultra Shine™ Packets, 1 - Small Yellow Handle w/Brown Reconditioning Pad,
1 - Small Blue Handle w/Grey Fine Finishing Pad, 1 - Tru-Metal Test Strip™, 1 - Microfiber Cloth, and an
instruction pamphlet. Don't use this product on any coated stainless steel objects. The manufacturer is
not responsible for damage resulting from misuse of this product kit.
KEEP OUT OF REACH OF CHILDREN AND PETS.
Individual results will vary.
UPC: 841412151542
MR Direct International. 7634 New West Rd, Toledo, OH 43617 | (877) 946 5725 | www.mrdirectint.com | [email protected]
Continuing research results in steady improvement. Therefore, this information and these specifications are subject to change without notice.

* Your assessment is very important for improving the work of artificial intelligence, which forms the content of this project