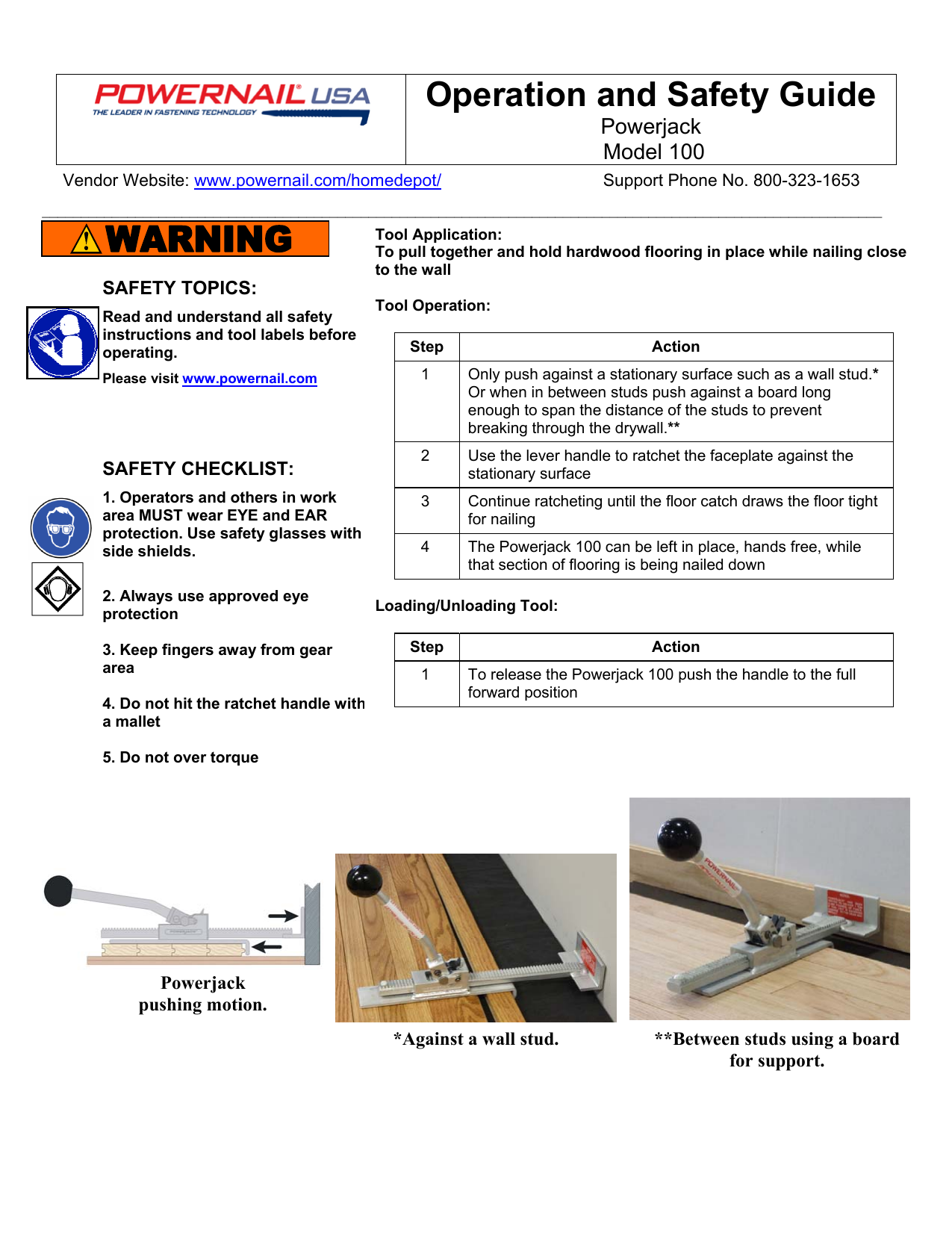 Operation and Safety Guide
Powerjack
Model 100
Vendor Website: www.powernail.com/homedepot/
Support Phone No. 800-323-1653
____________________________________________________________________________________________________________
Tool Application:
To pull together and hold hardwood flooring in place while nailing close
to the wall
SAFETY TOPICS:
Read and understand all safety
instructions and tool labels before
operating.
Please visit www.powernail.com
SAFETY CHECKLIST:
1. Operators and others in work
area MUST wear EYE and EAR
protection. Use safety glasses with
side shields.
2. Always use approved eye
protection
3. Keep fingers away from gear
area
4. Do not hit the ratchet handle with
a mallet
Tool Operation:
Step
Action
1
Only push against a stationary surface such as a wall stud.*
Or when in between studs push against a board long
enough to span the distance of the studs to prevent
breaking through the drywall.**
2
Use the lever handle to ratchet the faceplate against the
stationary surface
3
Continue ratcheting until the floor catch draws the floor tight
for nailing
4
The Powerjack 100 can be left in place, hands free, while
that section of flooring is being nailed down
Loading/Unloading Tool:
Step
1
Action
To release the Powerjack 100 push the handle to the full
forward position
5. Do not over torque
Powerjack
pushing motion.
*Against a wall stud.
**Between studs using a board
for support.

* Your assessment is very important for improving the work of artificial intelligence, which forms the content of this project