Volume Lighting V8650-79 Specification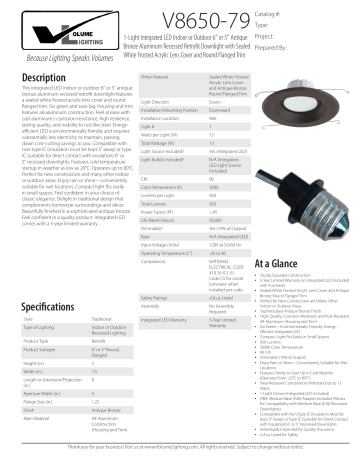 V8650-79
Because Lighting Speaks Volumes
Catalog #:
Type:
1-Light Integrated LED Indoor or Outdoor 6" or 5" Antique Project:
Bronze Aluminum Recessed Retrofit Downlight with Sealed Prepared By:
White Frosted Acrylic Lens Cover and Round Flanged Trim
Description
This integrated LED indoor or outdoor 6" or 5" antique
bronze aluminum recessed retrofit downlight features
a sealed white frosted acrylic lens cover and round
flanged trim. Go green and save big. Housing and trim
features all-aluminum construction. Feel at ease with
cast aluminum's corrosion-resistance, high resilience,
lasting quality, and inability to rust like steel. Energyefficient LED is environmentally friendly and requires
substantially less electricity to maintain, passing
down cost-cutting savings to you. Compatible with
non-type IC (insulation must be kept 3" away) or type
IC (suitable for direct contact with insulation) 6" or
5" recessed downlights. Features cold temperature
startup in weather as low as 20°C. Operates up to 80°C.
Perfect for new construction and many other indoor
or outdoor areas. Enjoy rain or shine—conveniently
suitable for wet locations. Compact light fits easily
in small spaces. Feel confident in your choice of
classic elegance. Delight in traditional design that
complements homestyle surroundings and décor.
Beautifully finished in a sophisticated antique bronze.
Feel confident in a quality product. Integrated LED
comes with a 5-year limited warranty.
Specifications
Style
Traditional
Type of Lighting
Indoor or Outdoor
Recessed Lighting
Product Type
Retrofit
Product Subtype
6" or 5" Round,
Flanged
Height (in.)
3
Width (in.)
7.5
Length or Extension/Projection
(in.)
8
Aperture Width (in.)
5
Flange Size (in.)
1.25
Finish
Antique Bronze
Main Material
All-Aluminum
Construction
(Housing and Trim)
Other Material
Sealed White Frosted
Acrylic Lens Cover
and Antique Bronze
Round Flanged Trim
Light Direction
Down
Installation/Mounting Position
Downward
Installation Location
Wet
Light #
1
Watts per Light (W)
13
Total Wattage (W)
13
Light Source Included?
Yes (Integrated LED)
Light Bulb(s) Included?
N/A (Integrated
LED Light Source
Included)
CRI
90
Color Temperature (K)
3000
Lumens per Light
950
Total Lumens
950
Power Factor (Pf )
>.95
Life Rated (Hours)
50,000
Dimmable?
Yes (10% of Output)
Base
N/A (Integrated LED)
Input Voltage (Volts)
120V at 50/60 Hz
Operating Temperature (C°)
-20 to 80
Compliances
NATIONAL
ELECTRICAL CODE
410.16 (C1-5):
Code C5 for closet
luminaire when
installed per code.
Safety Ratings
cULus Listed
Assembly
No Assembly
Required
Integrated LED Warranty
5-Year Limited
Warranty
At a Glance
▪▪ Sturdy, Exquisite Construction
▪▪ 5-Year Limited Warranty on Integrated LED (Included
with Purchase)
▪▪ Sealed White Frosted Acrylic Lens Cover and Antique
Bronze Round Flanged Trim
▪▪ Perfect for New Construction and Many Other
Indoor or Outdoor Areas
▪▪ Sophisticated Antique Bronze Finish
▪▪ High-Quality, Corrosion-Resistant, and Rust-Resistant
All-Aluminum (Housing and Trim)
▪▪ Go Green—Environmentally Friendly, EnergyEfficient Integrated LED
▪▪ Compact Light Fits Easily in Small Spaces
▪▪ 950 Lumens
▪▪ 3000K Color Temperature
▪▪ 90 CRI
▪▪ Dimmable (10% of Output)
▪▪ Enjoy Rain or Shine—Conveniently Suitable for Wet
Locations
▪▪ Features Ability to Start Up in Cold Weather
(Operates From -20°C to 80°C)
▪▪ Heat-Resistant Components Withstand Up to 13
Watts
▪▪ 1-Light Fixture (Integrated LED Included)
▪▪ FREE Medium Base (E26) Adapter Included (Allows
for Compatibility with Medium Base [E26] Recessed
Downlights)
▪▪ Compatible with Non-Type IC (Insulation Must Be
Kept 3" Away) or Type IC (Suitable for Direct Contact
with Insulation) 6" or 5" Recessed Downlights
▪▪ Individually Inspected for Quality Assurance
▪▪ cULus Listed for Safety
Thank you for your business! Visit us at www.VolumeLighting.com. All rights reserved. Subject to change without notice.

* Your assessment is very important for improving the work of artificial intelligence, which forms the content of this project