Q-See QTH41-4DG-1 Specification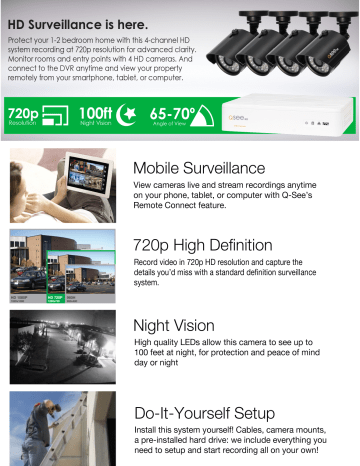 HD Surveillance is here.
Protect your 1-2 bedroom home with this 4-channel HD
system recording at 720p resolution for advanced clarity.
Monitor rooms and entry points with 4 HD cameras. And
connect to the DVR anytime and view your property
remotely from your smartphone, tablet, or computer.
720p
Resolution
= — | 100ft x 65-70° see.
Night Vision Angle of View о В & Ya
Mobile Surveillance
View cameras live and stream recordings anytime
on your phone, tablet, or computer with Q-See's
Remote Connect feature.
/20p High Definition
Record video in 720p HD resolution and capture the
details you'd miss with a standard definition surveillance
system.
Night Vision
High quality LEDs allow this camera to see up to
100 feet at night, for protection and peace of mind
day or night
Do-It-Yourself Setup
Install this system yourself! Cables, camera mounts,
a pre-installed hard drive: we include everything you
need to setup and start recording all on your own!

* Your assessment is very important for improving the work of artificial intelligence, which forms the content of this project