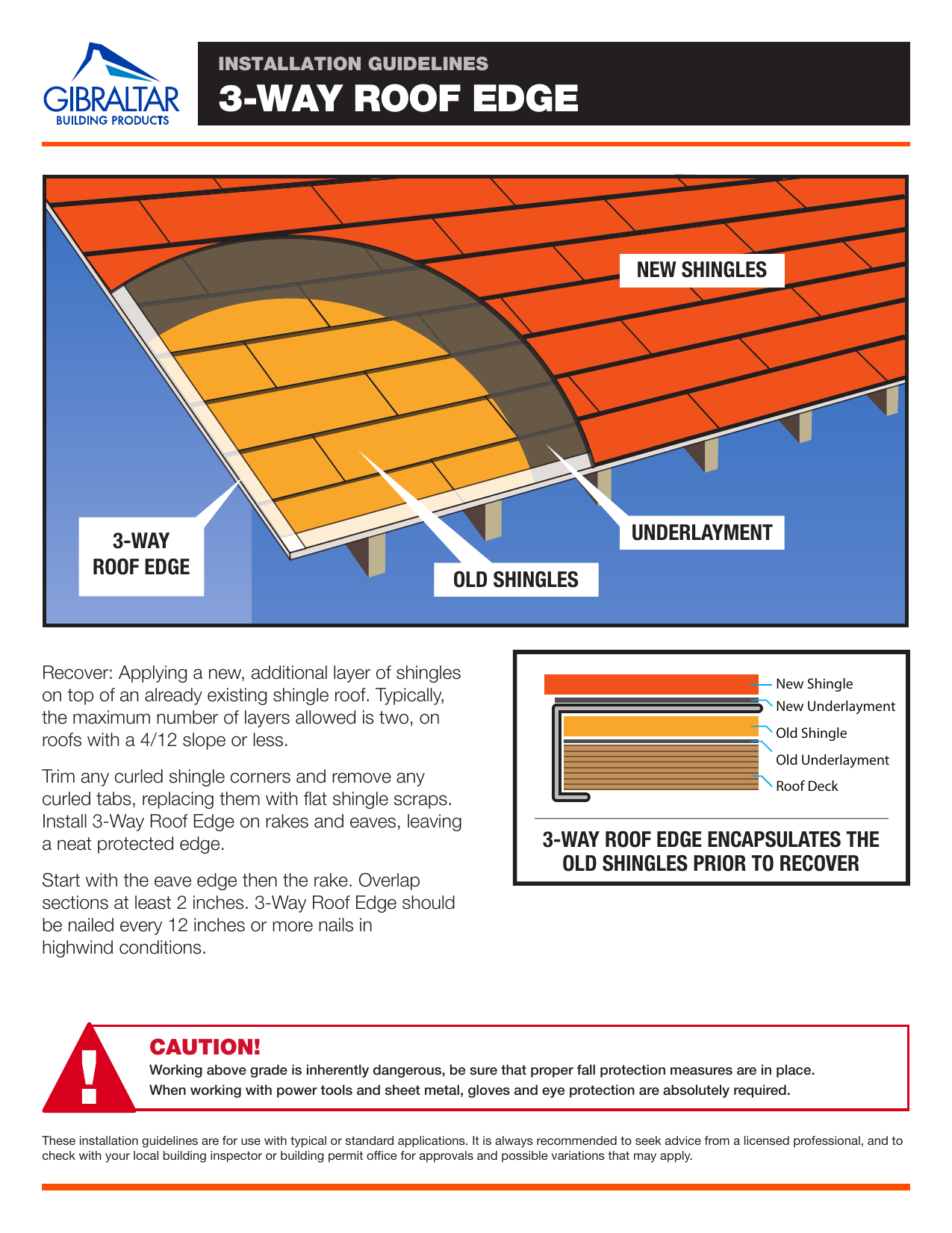 INSTALLATION GUIDELINES
3-WAY ROOF EDGE
NEW SHINGLES
3-WAY
ROOF EDGE
UNDERLAYMENT
OLD SHINGLES
Recover: Applying a new, additional layer of shingles
on top of an already existing shingle roof. Typically,
the maximum number of layers allowed is two, on
roofs with a 4/12 slope or less.
Trim any curled shingle corners and remove any
curled tabs, replacing them with flat shingle scraps.
Install 3-Way Roof Edge on rakes and eaves, leaving
a neat protected edge.
Start with the eave edge then the rake. Overlap
sections at least 2 inches. 3-Way Roof Edge should
be nailed every 12 inches or more nails in
highwind conditions.
New Shingle
New Underlayment
Old Shingle
Old Underlayment
Roof Deck
3-WAY ROOF EDGE ENCAPSULATES THE
OLD SHINGLES PRIOR TO RECOVER
CAUTION!
Working above grade is inherently dangerous, be sure that proper fall protection measures are in place.
When working with power tools and sheet metal, gloves and eye protection are absolutely required.
These installation guidelines are for use with typical or standard applications. It is always recommended to seek advice from a licensed professional, and to
check with your local building inspector or building permit office for approvals and possible variations that may apply.

* Your assessment is very important for improving the work of artificial intelligence, which forms the content of this project