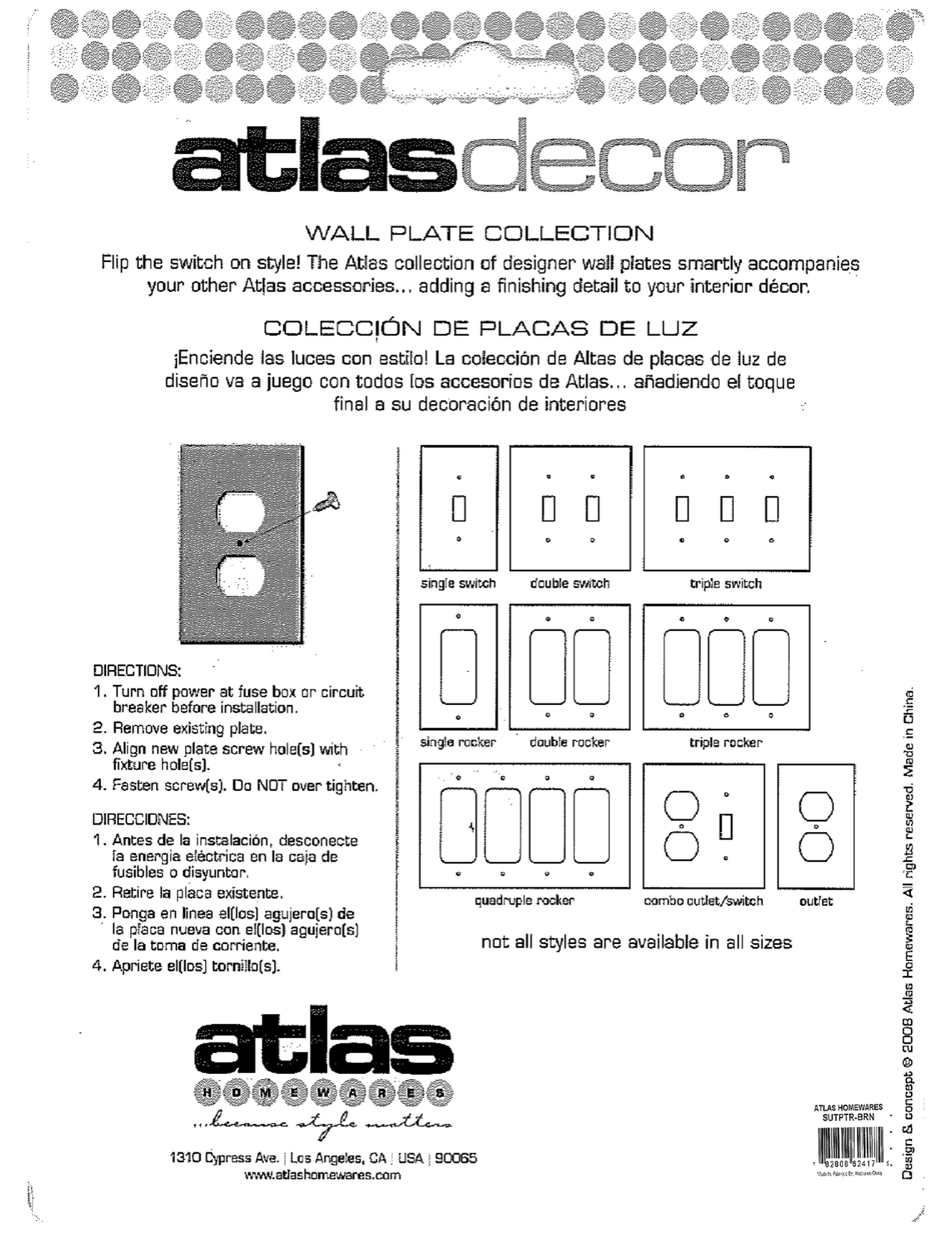 HR
al aa
WALL PLATE COLLECTION
Flip the switch on style! The Atlas collection of designer wall plates smartly accompanies
your other Atlas accessories... adding a finishing detail to your interior décor.
COLECCION DE PLACAS DE LUZ
¡Enciende las luces con estila! La colección de Altas de placas de luz de
diseño va a juego con tados los accesorios de Atlas... añadiendo el toque
final a su decoración de interiores
DIRECTIONS:
1. Turn off power at fuse box or circuit
breaker befare installation.
2. Remove existing plate.
3. Align new plate screw hole(s) with
fixture hole(s). '
4. Fasten screw(s). Da NOT over tighten,
DIRECCIONES:
1. Antes de la instalaciôn, desconecte
la energía eléctrica en la caja de
fusibles o disvuntor.
2. Retire la placa existente.
3. Ponga en linea el(los] agujero(s) de
la placa nueva con elllos) aguiero(s)
de la toma de corriente,
4. Apriete ellos) tornillo(s).
©
|
О 0
9 © ® © 6
single switch double switch triple switch
© o ® 9
a o 9 6 9
single rocker double rocker triple rocker
JC
cuadruple rocker
combo cutlet/switeh
o
O
outiet
not all styles are available in all sizes
1310 Cypress Ave. | Los Angeles, CA | USA : 90065
www.atlashomewsres.com
ATLAS HOMEVIARES
SUTPTR-BRN
MEN
805 67417
|
Wali by Farag Br, Machina Shy
Design £ concept 6 2008 Atlas Homewares. All rights reserved. Made in China.

* Your assessment is very important for improving the work of artificial intelligence, which forms the content of this project