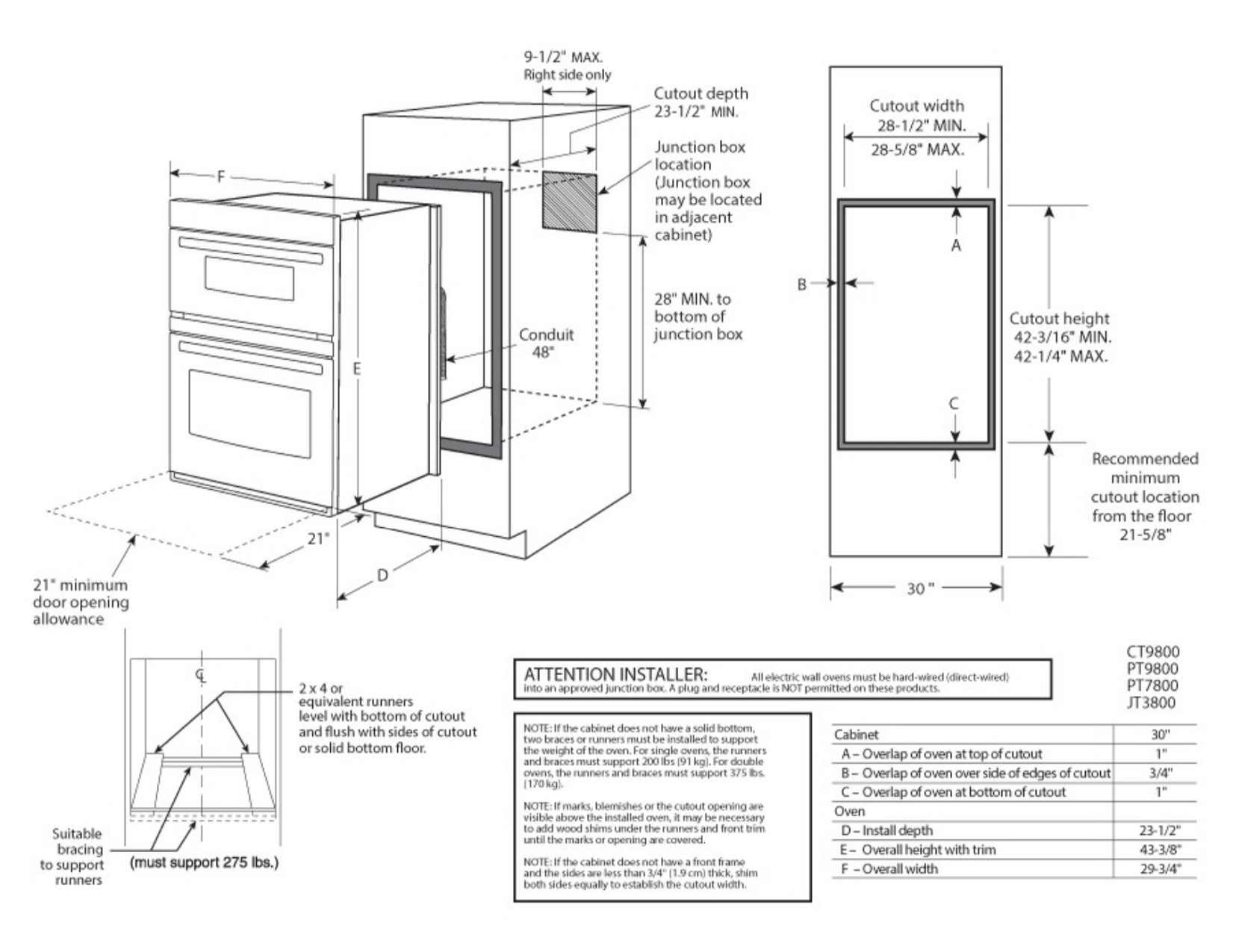 21" minimum
door opening
allowance
suitable
bracing
to support
runners
=
"E
9-1/2" MAX
Right side only
a Cutout depth
5 23-1/2" MIN.
—,
a
a
dé
— ZX 4 Or
equivalent runners
level with bottom of cutout
and flush with sides of cutout
or solid bottom floor.
(must support 275 Ibs.)
—_— "
Junction box
~~ location
(Junction box
may be located
in adjacent
; cabinet}
28" MIN. to
bottom of
junction box
ña
Q
= 7
EL e
=
=
Er EEE EE EE EET
Cutout width
I, 28-1/2" MIN. |
Bs
"
| 28-5/8" MAX,
Cutout height
42-3/16" MIN,
42-1/4" MAX.
+
| ATTENTION INSTALLER:
into an approved junction bos & plug and receptacle is NOT permittecl orrtfrese prociiscts,
NOTE: If the cabinel does not have a solid bottom,
tv braces or runner must be installed ho supr>ort
the weight af the owen. For single ovens, the runners
and braces must support 200 lbs (91 kg), For double
cwens, he rnmers and braces mais! support 375 Es
[170 gh.
METE: If marks, bleméstes or the cubuit operino are
visible above the installed owen, it may be necessary
bo adel vence sivens uincer Eve rusimers anel front Bim
wribil the marks or opening are covered.
NOTE: lÉ the cabdrmat dess not have à frant frame
and the sides are less than 354° [1.9 om thick, shim
Бе) Нек в аби у to establish he Cubo vid,
Recommended
minimum
cutout location
from the floor
21-5/8"
Y
a 30)" — — —
CT9800
All bad tric wall ovens must be hand -wirad (dire ct-winsl| Fas
JT3800
Cabinet 30"
A — Overlap of oven at top of cutout | 1"
B- Overlap of oven over side of edges of cutout] 3/4"
C = Overlap of oven at bottom of cutout 1"
Owen _— MER
D - Install depth 23-12"
E= Overall height with trim 43-48
F = Overall width 29-34"

* Your assessment is very important for improving the work of artificial intelligence, which forms the content of this project