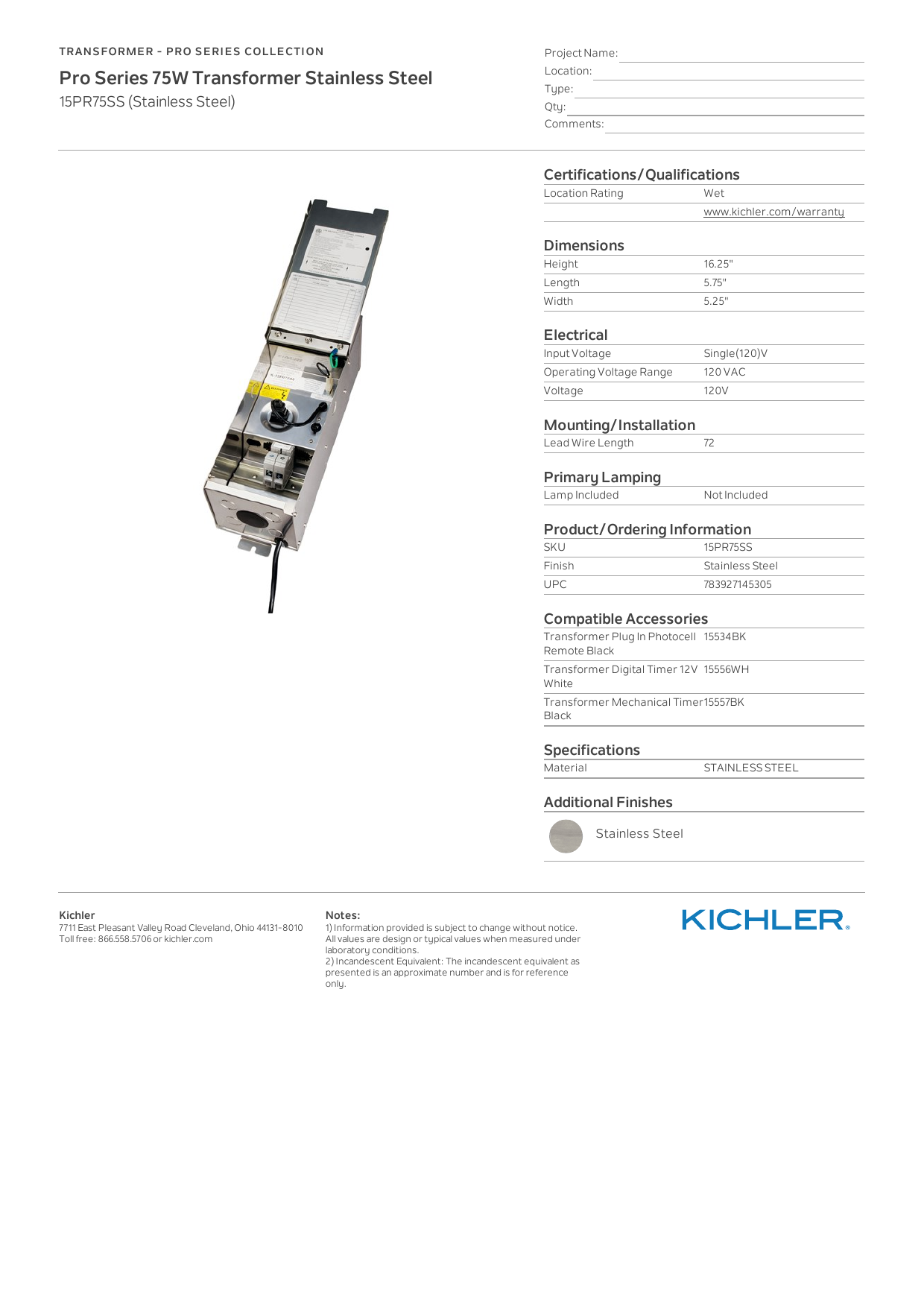 TRANS FORMER - PRO S ERI ES COLLECTI ON
Pro Series 75W Transformer Stainless Steel
15PR75SS (Stainless Steel)
Project Name:
Location:
Type:
Qty:
Comments:
Certifications/Qualifications
Location Rating
Wet
www.kichler.com/warranty
Dimensions
Height
Length
Width
16.25"
5.75"
5.25"
Electrical
Input Voltage
Operating Voltage Range
Voltage
Single(120)V
120 VAC
120V
Mounting/Installation
Lead Wire Length
72
Primary Lamping
Lamp Included
Not Included
Product/Ordering Information
SKU
Finish
UPC
15PR75SS
Stainless Steel
783927145305
Compatible Accessories
Transformer Plug In Photocell 15534BK
Remote Black
Transformer Digital Timer 12V 15556WH
White
Transformer Mechanical Timer 15557BK
Black
Specifications
Material
STAINLESS STEEL
Additional Finishes
Stainless Steel
Kichler
Notes:
7711 East Pleasant Valley Road Cleveland, Ohio 44131-8010
Toll free: 866.558.5706 or kichler.com
1) Information provided is subject to change without notice.
All values are design or typical values when measured under
laboratory conditions.
2) Incandescent Equivalent: The incandescent equivalent as
presented is an approximate number and is for reference
only.

* Your assessment is very important for improving the work of artificial intelligence, which forms the content of this project