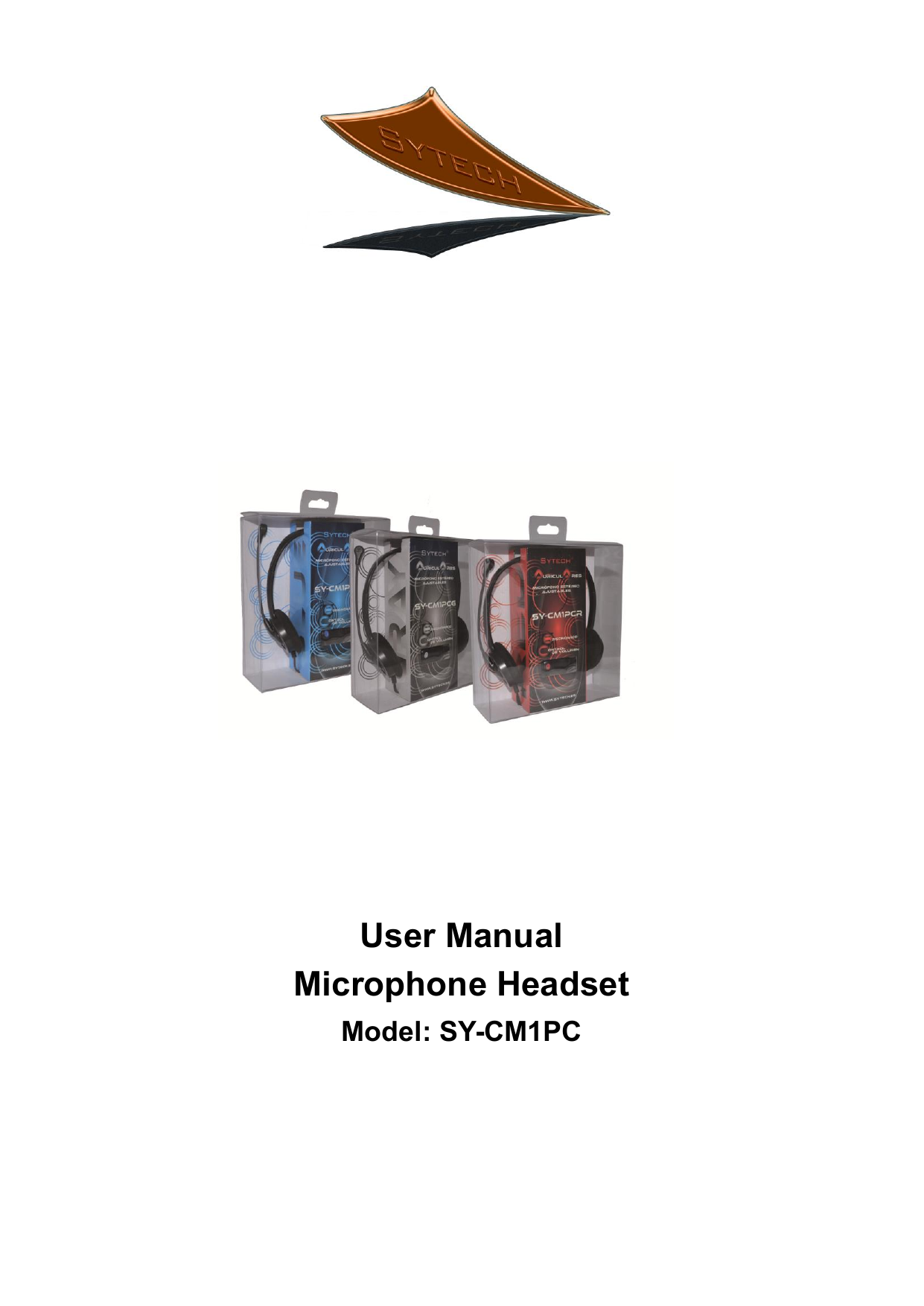 User Manual
Microphone Headset
Model: SY-CM1PC
Welcome
Congratulations on the purchase of your new Microphone Headset SY-CM1PC.
We hope you enjoy your new product thoroughly. Please read the instructions
below carefully and always store in a safe place for future reference.
Warning
Headset
Speaker diameter: 40mm
Frequency Response: 20Hz - 20 KHz
Rating Power: 20mW
Power Capability: 30mW
Impedance: 32ohm ±15% (1 KHz)
Cable length: ~ 2.2m
Jack: 3.5mm
Microphone
Sensitivity: -52dB ± 3dB
Impedance: 2.2kΩ
Frequency response range: 50Hz to 16,000 Hz
Jack: 3.5mm
Warning



The prolonged use of earphones or headphones at loud volume levels may
cause permanent hearing damage.
Do not use the headphones while driving or cycling for safety.
Do not apply weight or pressure on the headphones.
How to Use the SY-CM1PC




Adjust the head band into a suitable size to fit the users head.
Place the headphones over your head according to the markings on the
sides - R on your right ear and L on your left ear.
Connect the headphone to the computer by inserting the microphone jack
(orange) into the microphone slot on your computer/laptop, and the
Headphone jack (green) into the headphone slot on your computer/laptop.
To adjust the volume to a comfortable level use the volume control button
located on the cable.
Precaution




Clean the headphones with a soft dry cloth
Always keep the jacks clean and free from dust.
Don't expose the headphones to direct sunlight, heat, and moisture.
If for any reasons you feel uneasy, drowsy or experience a headache,
immediately stop using the headphones.

* Your assessment is very important for improving the work of artificial intelligence, which forms the content of this project