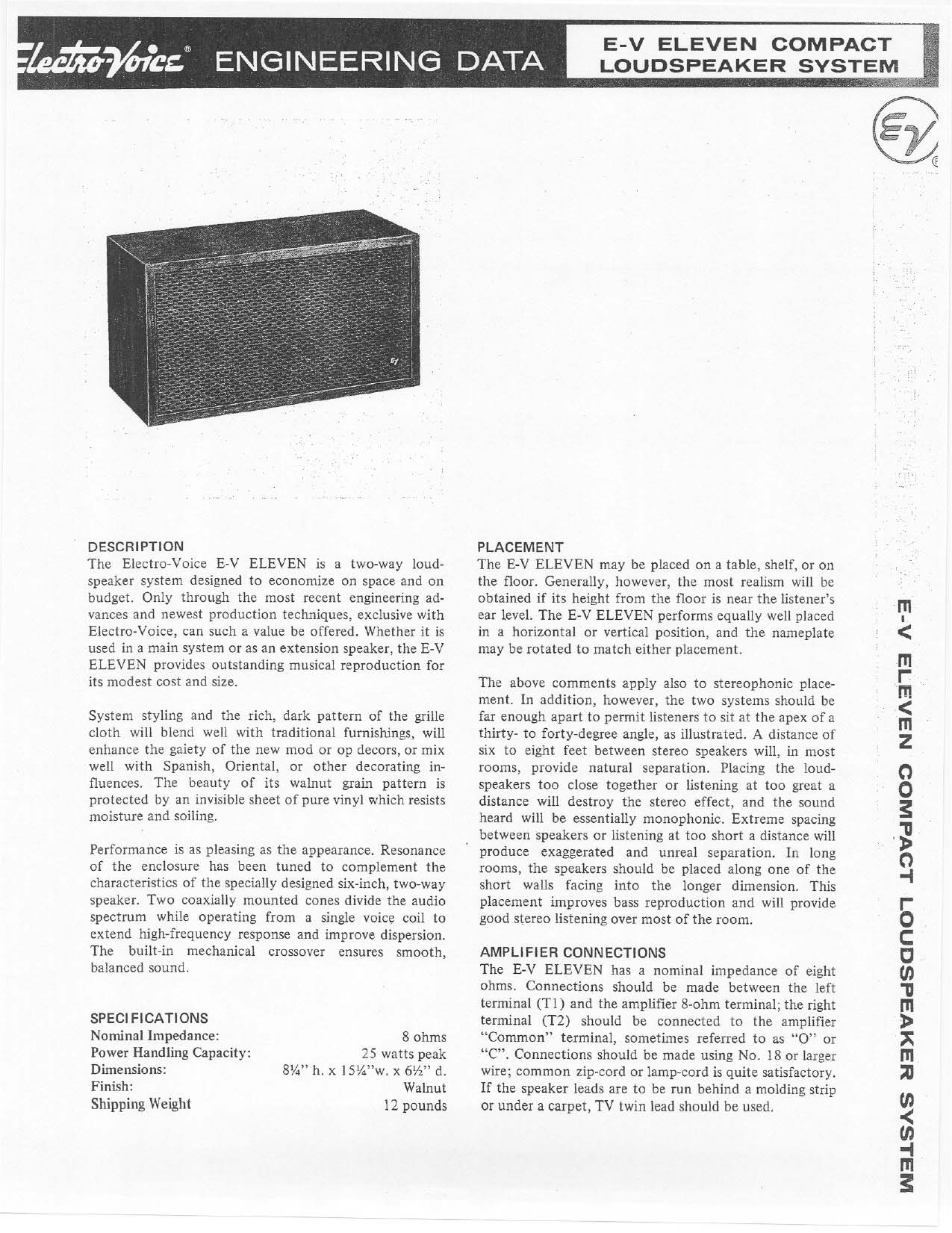 E-V ELEVEN COMPACT
LOUDSPEAKER SYSTEM
ere] sie pen
eh
lecho Yotes" ENGINEERING DATA
NC,
ATA
DESCRIPTION
The Electro-Voice E-V ELEVEN is a two-way loud-
speaker system designed to economize on space and on
budget. Only through the most recent engineering ad-
vances and newest production techniques, exclusive with
Electro-Voice, can such a value be offered. Whether it is
used in a main system or as an extension speaker, the E-V
ELEVEN provides outstanding musical reproduction for
its modest cost and size.
System styling and the rich, dark pattern of the grille
cloth will blend well with traditional furnishings, will
enhance the gaiety of the new mod or op decors, or mix
well with Spanish, Oriental, or other decorating in-
fluences. The beauty of ifs walnut grain pattern is
protected by an invisible sheet of pure vinyl which resists
moisture and soiling.
Performance is as pleasing as the appearance. Resonance
of the enclosure has been tuned to complement the
characteristics of the specially designed six-inch, two-way
speaker. Two coaxially mounted cones divide the audio
spectrum while operating from a single voice coil to
extend high-frequency response and improve dispersion.
The built-in mechanical crossover ensures smooth,
balanced sound.
SPECIFICATIONS
Nominal Impedance:
Power Handling Capacity:
5 ohms
25 watts peak
Dimensions: 844" h, x 1544"w, x 614" d.
Finish: Walnut
Shipping Weight 12 pounds
PLACEMENT
The E-V ELEVEN may be placed on a table, shelf, or on
the floor, Generally, however, the most realism will be
obtained if its height from the floor is near the listener's
ear level. The E-V ELEVEN performs equally well placed
in a horizontal or vertical position, and the nameplate
may be rotated to match either placement.
The above comments apply also to stereophonic place-
ment. In addition, however, the two systems should be
far enough apart to permit listeners to sit at the apex of a
thirty- to forty-degree angle, as illustrated. A distance of
six to eight feet between stereo speakers will, in most
rooms, provide natural separation. Placing the loud-
speakers too close together or listening at too great a
distance will destroy the stereo effect, and the sound
heard will be essentially monophonic. Extreme spacing
_ between speakers or listening at too short a distance will
produce exaggerated and unreal separation. In long
rooms, the speakers should be placed along one of the
short walls facing into the longer dimension. This
placement improves bass reproduction and will provide
good stereo listening over most of the room.
AMPLIFIER CONNECTIONS
The E-V ELEVEN has a nominal impedance of eight
ohms. Connections should be made between the left
terminal (11) and the amplifier 8-ohm terminal; the right
terminal (T2) should be connected to the amplifier
"Common" terminal, sometimes referred to as "O" or
"C". Connections should be made using No. 18 or larger
wire; common zip-cord or lamp-cord is quite satisfactory.
If the speaker leads are to be run behind a molding strip
or under a carpet, TV twin lead should be used.
WILSAS HE3MYadSGNOT LIYAdINOD малата A-3
Part Nn 414677
CUSTOMER SERVICE
Your E-V ELEVEN system has been packed to provide
protection well in excess of shipping requirements of the
Interstate Commerce Commission. If shipping damage has
occured, contact the carrier or the dealer from whom the
unit was purchased, and request full inspection and
further instructions.
WARRANTY
The Electro-Voice E-V ELEVEN is guaranteed against
defects in original workmanship and materials. If it
becomes damaged or develops faulty operation from
unusual conditions of use, write to the Electro-Voice
Service Department requesting return authorization and
shipping instructions. Be sure to mention the make and
model number of the other components used in vour
system, as well as the nature of the trouble.
"HOLE IN THE
MIDDLE"
909
m
[es ne
eee
E
LISTENING
POSITION
SOUND BECOMES
MONAURAL AT
GREATER DISTANCES
Placement for Stereo
ELECTRO-VOICE, INC. / Buchanan, Michigan 968
a A Subsidiarv of Guiton Industries. Inc.
Litho in U.S.A.

* Your assessment is very important for improving the work of artificial intelligence, which forms the content of this project