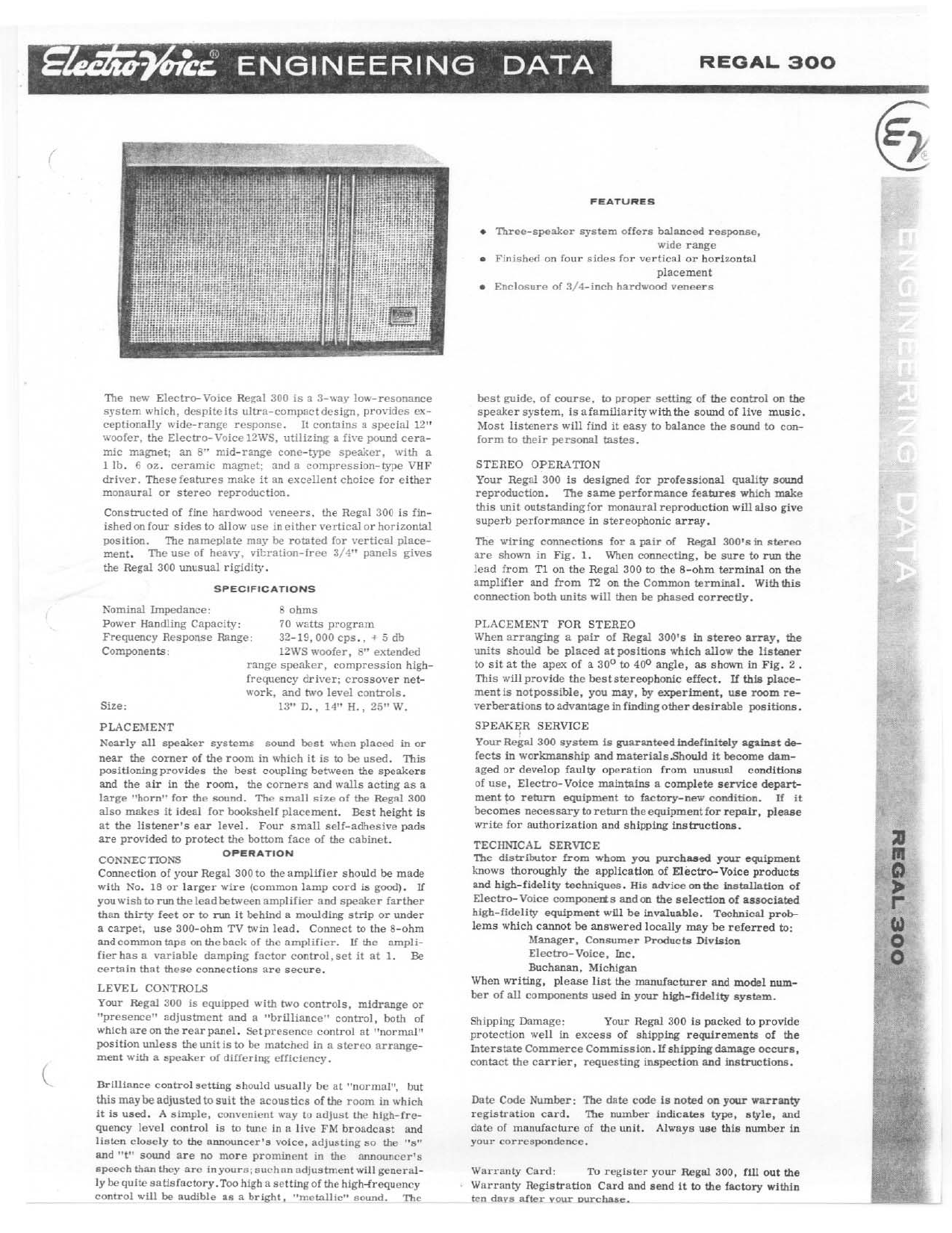 =
i
po i
The new Electro- Voice Regal 300 is a 3-way low-resonance
system which, despite its ultra-compact design, provides ex-
ceptionally wide-range response. It contains a special 12"
woofer, the Electro- Voice 12WS, utilizing a five pound cera-
mic magnet; an 5" mid-range cone-type speaker, with a
llb. 6 oz. ceramic magnet; and a compression-type VHF
driver. These features make it an excellent choice for either
monaural or stereo reproduction.
Constructed of fine hardwood veneers, the Regal 300 is fin-
ished on four sides to allow use in either vertical or horizontal
position. The nameplate may be rotated for vertical place-
ment. The use of heavy, viktration-iree 3/4" panels gives
the Regal 300 unusual rigidity.
SPECIFICATIONS
Nominal Impedance: 8 ohms
Power Handling Capacity: T0 watts program
Frequency Response Range: 32-19, 000 cps., + 5 db
Components: 12WS5 woofer, 5" extended
range speaker, compression high-
frequency driver; crossover net-
work, and two level controls.
Size: 13" D., 14" H., 25" W,
PLACEMENT
Nearly all speaker systems sound best when placed in or
near the corner of the room in which it is to be used. This
positioning provides the best coupling between the speakers
and the air in the room, the corners and walls acting as a
large "horn" for the sound. The small size of the Rezal 300
also makes it ideal for bookshelf placement. Best height is
at the listener's ear level. Four small self-adhesive pads
are provided to protect the bottom face of the cabinet.
OPERATION
CONNECTIONS +
Connection of your Regal 300 to the amplifier should be made
with No. 18 or larger wire (common lamp cord is good). If
you wish to run the lead between amplifier and speaker farther
than thirty feet or to run it behind a moulding strip or under
a carpet, use 300-0hm TV twin lead. Connect to the 8-ohm
and common taps on theback of the amplifier. If the ampli-
fier has a variable damping factor control,set it at 1. Be
certain that these connections are secure.
LEVEL CONTROLS
Your Regal 300 is equipped with two controls, midrange or
"presence" adjustment and a "brilliance" control, both of
which are on the rear panel. Set presence control at "normal"
position unless the unit is to be matched in a stereo arrange-
ment with a speaker of differing efficiency,
Brilliance control setting should usually be at "normal", but
this may be adjusted to suit the acoustics of the room in which
it is used. A simple, convenient way to adjust the high-fre-
quency level control is to tune in a live FM broadcast and
listen closely to the announcer's voice, adjusting so the "в"
and "t" sound are no more prominent in the announcer's
speech than they are inyours; such an adjustment will general-
ly be quite satisfactory. Too high a setting of the high-frequency
control will be audible as a bright, "metallic" sound. The
FEATURES
¢ Three-speaker system offers balanced response,
wide range
e Finished on four sides for vertical or horizontal
placement
* Enclosure of 3/4-inch hardwood veneers
best guide, of course, to proper setting of the control on the
speaker system, is a familiarity with the sound of live music.
Most listeners will find it easy to balance the sound to con-
form to their personal tastes.
STEREO OPERATION
Your Regal 300 is designed for professional quality sound
reproduction. The same performance features which make
this unit outstanding for monaural reproduction will also give
superb performance in stereophonic array.
The wiring connections for a pair of Regal 300's in stereo
are shown in Fig. 1. When connecting, be sure to run the
lead from T1 on the Regal 300 to the 8-ohm terminal on the
amplifier and from T2 on the Common terminal. With this
connection both units will then be phased correctly.
PLACEMENT FOR STEREO
When arranging a pair of Regal 300's in stereo array, the
units should be placed at positions which allow the listener
to sit at the apex of a 30° to 40° angle, as shown in Fig. 2.
This will provide the best stereophonic effect. If this place-
ment is notpossible, you may, by experiment, use room re-
verberations to advantage in finding other desirable positions.
SPEAKER SERVICE
Your Regal 300 system is guaranteed indefinitely against de-
fects in workmanship and materials.Should it become dam-
aged or develop faulty operation from unusual conditions
of use, Electro-Voice maintains a complete service depart-
ment to return equipment to factory-new condition. If it
becomes necessary to return the equipment for repair, please
write for authorization and shipping instructions.
TECHNICAL SERVICE
The distributor from whom you purchased your equipment
knows thoroughly the application of Electro-Voice products
and high-fidelity techniques. His advice on the installation of
Electro- Voice components and on the selection of associated
high-fidelity equipment will be invaluable. Technical prob-
lems which cannot be answered locally may be referred to:
Manager, Consumer Products Division
Electro- Voice, Inc,
Buchanan, Michigan
When writing, please list the manufacturer and model num-
ber of all components used in your high-fidelity system.
Shipping Damage: Your Regal 300 is packed to provide
protection well in excess of shipping requirements of the
Interstate Commerce Commission. If shipping damage occurs,
contact the carrier, requesting inspection and instructions.
Date Code Number: The date code is noted on your warranty
registration card. The number indicates type, style, and
date of manufacture of the unit. Always use this number in
your correspondence.
Warranty Card: To register your Regal 300, fill out the
Warranty Registration Card and send it to the factory within
ten days after vour purchase.
REGAL 300
"HOLE IN THE
MIDDLE"
Y]
REGAL REGAL
A / BEST
N LISTENING
POSITION
SOUND BECOMES
MONAURAL AT
LONGER DISTANCES
Figure 1 — Stereo Connection Figure 2 — Placement for Stereo
SILVER > i
Figure 3 — Schematic
Part No.530354 Ep) ELECTRO -VOICE, INC. / BUCHANAN, MICHIGAN Litho in U.S. A.