Electro-Voice DH1506 Owner's manual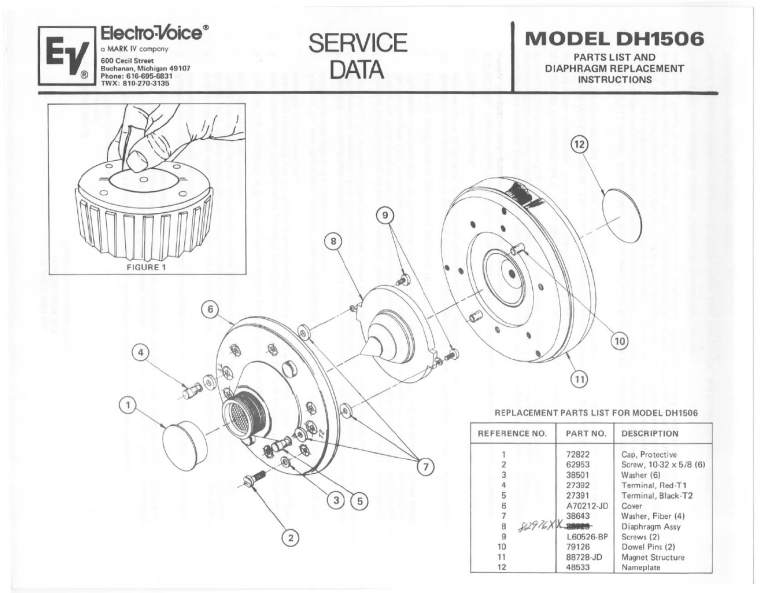 Eleclroloice®
a MARK IV company
600 Cecil Street
Buchanan, Michigan 49107
Phone: 616-695-6831
TWX: 810-270-3135
SERVICE
DATA
MODEL DH1506
PARTS LIST AND
DIAPHRAGM REPLACEMENT
INSTRUCTIONS
REPLACEMENT PARTS LIST FOR MODEL DH1506
REFERENCE NO. PART NO. DESCRIPTION
1 72822 Cap, Protective
2 62953 Screw, 10-32 x 56/8 (6)
3 38501 Washer (6)
4 27392 Terminal, Red-T 1
5 27391 Terminal, Black-T2
6 A70212-JD | Cover
7 38643 Washer, Fiber (4)
8 ДАРЕК Diaphragm Assy
9 L60526-BP | Screws (2)
10 79126 Dowel Pins (2)
11 88728-JD Magnet Structure
12 48533 Nameplate
MODEL DH1506
DIAPHRAGM KIT
Replacement Instructions
TOOLS REQUIRED
Screwdriver
# 1 Phillips Screwdriver
NOTE: Care must be exercised to avoid dust, dirt, etc. from collecting on the replacement diaphragm.
1. Clean outside of driver with a damp cloth to remove any dust or magnetic particles, etc. Before disassembly
make certain that the immediate work area is clear of magnetic particles which might be attracted to the air
gap after the driver is disassembled.
2. Remove screws (2) securing front cover and diaphragm assembly (6) & (8) to the magnet structure (11) and
separate the two assemblies.
3. Inspect the magnet structure air gap with a high intensity light or flashlight. If required, clean air gap with a
folded piece of tape (masking tape) with the adhesive surface facing out (Figure 1). Repeat this step with a
fresh piece of tape at least three times, or until air gap is clean. On units with burned voice coils, this
procedure 1s doubly important.
4. Cover air gap completely with tape to prevent further particles from entering.
5. Next, disassemble the diaphragm assembly from the front cover by removing the two Phillips head terminal
mounting screws (9) and lift the diaphragm assembly (8) from the front cover. Clean and check front cover
assembly (6) for dust, etc.
6. Remove the new diaphragm assembly from packaging and visually inspect for prior damage. Notice the
different width tabs at the connector terminals.
7. Place the new diaphragm assembly (8) in the front cover, observing proper location of the tabs and assemble
the connector terminals (4) & (5) and screws (9) in the appropriate locations of the front cover (red connector
terminal to T-1 position).
8. Remove tape protecting air gap and assemble front cover assembly (6) to magnet structure (11) as follows:
Notice the blind holes in the front cover assembly (they do not extend through the cover). These holes are for
the locating pins (10) extending from the magnet structure. Carefully position the front cover assembly on
the magnet structure with the blind holes aligned with the locating pins (10) and the mating surfaces parallel.
9. Lower the front cover to the magnet structure. DO NOT USE FORCE.
10. Secure the two assemblies by installing the screws (2) finger tight. Tighten the screws evenly. Do not tighten
any one screw all the way, but alternate opposite screws until they are snug.
11. Check acoustic quality.
SERVICING. Electro-Voice public address drivers have been carefully designed to assure maximum trouble-free
service, keeping in mind greatest ease of repair if required.
Send all price requests, parts orders, and requests for instructions on return for repair and locations of authorized
service facilities to: Service Department, Electro-Voice, Inc., 600 Cecil Street, Buchanan, Michigan 49107
(Phone: 616/695-6831) or Electro-Voice West, 8234 Doe Ave., Visalia, CA 93277 (Phone: 209/625-1330.-1).
VOICE COIL DC RESISTANCE. Model DH1506 driver may be tested directly with an ohm meter to check voice
coil and solder connections. Voice coil DC resistance is 4.31 to 5.49 ohms.
ACOUSTIC QUALITY CHECK. The acoustic quality of the Model DH1506 may be checked by applying 4 volts
RMS to the voice coil and frequency sweep from 100 Hz to 3 kHz without horn load. Listen for obvious rubs or
buzzes.
WARRANTY (Limited). Electro-Voice Professional Sound Reinforcement Loudspeakers and Accessories are
guaranteed for five years from date of original purchase against malfunction due to defects in workmanship and
materials. If such malfunction occurs, unit will be repaired or replaced (at our option) without charge for materials
or labor if delivered prepaid to the proper Electro-Voice service facility. Unit will be returned prepaid. Warranty
does not cover finish or appearance items or malfunction due to abuse or operation at other than specified
conditions. Repair by other than Electro-Voice or its authorized service agencies will void this guarantee.
Electro-Voice also maintains complete facilities for non-warranty service.
Service and repair address for this product: Electro-Voice, Inc., 600 Cecil St., Buchanan, Michigan 49107.
Specifications subject to change without notice.
Part No. 53240 Litho in U.S.A.

* Your assessment is very important for improving the work of artificial intelligence, which forms the content of this project