LEC TS48112 Owner's manual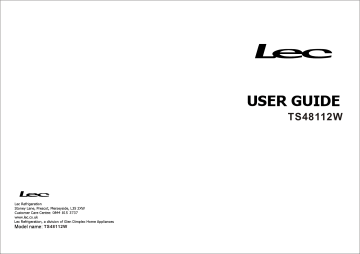 TS48112W
TS48112W
3
2
WARNING:Keep
ventilation openings, in the appliance enclosure or in the built-in
structure, clear of obstruction.
WARNING: Do not damage the refrigerant circuit.
WARNING: Do not store explosive substances such as aerosol cans with a
flammable propellant in this appliance.
WARNING:
When positioning the appliance ensure the supply cord
is not trapped or damaged.
WARNING: Do not locate extension sockets or charging transformers/
power supplies adjacent to the compressor as they could
overheat.

* Your assessment is very important for improving the work of artificial intelligence, which forms the content of this project