Mastech MS8360G User manual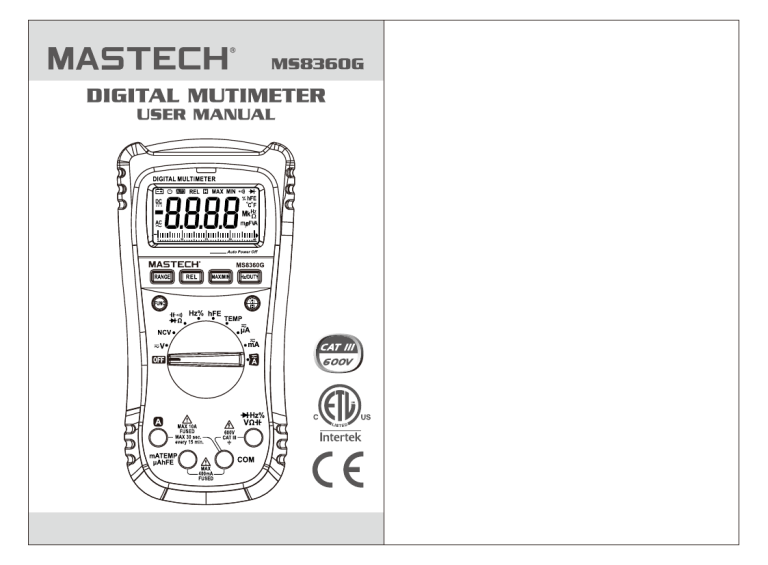 5.3 Replacing Test Leads ..........................28
Note-Important safety information, refer to the
instruction manual.
Caution, possibility of electric shock
Equipment protected throughout by double
insulation or reinforced insulation.
Conforms to UL STD. 61010-1, 61010-2-032,
61010-2-033; Certified to CSA STD C22.2 NO.
61010-1, 61010-2-032,61010-2-033
Complies with European (EU) safety standards
Earth (ground) TERMINAL
Direct current
Alternating current
CAT III: MEASUREMENT CATEGORY III is applicable to
test and measuring circuits connected to the distribution
part of the building's low-voltage MAINS installation.
50±20Ω
188x92x50mm.
3.0V
50±20Ω
3
/
-4°F~32°F
2
15
0.1°C/F
33°F~752°F
753°F~1832°F
±(5.0% of rdg +7 digit)
±(1.0% of rdg +3 digit) /
±(2.0% of rdg +4 digit)
/1°F
/
±(2.0% of rdg +4 digit)
5.3 Replacing Test Leads
Replace test leads if leads become damaged or worn.
WARNING
Use meet EN 61010-031 standard, rated CAT III 600V, or
better test leads.

* Your assessment is very important for improving the work of artificial intelligence, which forms the content of this project