Steren TEMP-24H Owner's manual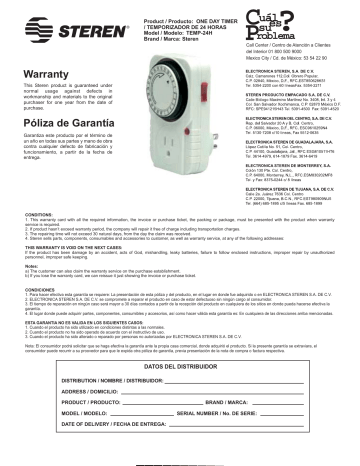 Product / Producto: ONE DAY TIMER
/ TEMPORIZADOR DE 24 HORAS
Model / Modelo: TEMP-24H
Brand / Marca: Steren
Call Center / Centro de Atención a Clientes
del Interior 01 800 500 9000
Mexico City / Cd. de México: 53 54 22 90
Warranty
This Steren product is guaranteed under
normal usage against defects in
workmanship and materials to the original
purchaser for one year from the date of
purchase.
Póliza de Garantía
Garantiza este producto por el término de
un año en todas sus partes y mano de obra
contra cualquier defecto de fabricación y
funcionamiento, a partir de la fecha de
entrega.
CONDITIONS:
1. This warranty card with all the required information, the invoice or purchase ticket, the packing or package, must be presented with the product when warranty
service is required.
2. If product hasn't exceed warranty period, the company will repair it free of charge including transportation charges.
3. The repairing time will not exceed 30 natural days, from the day the claim was received.
4. Steren sells parts, components, consumables and accessories to customer, as well as warranty service, at any of the following addresses:
THIS WARRANTY IS VOID ON THE NEXT CASES:
If the product has been damage by an accident, acts of God, mishandling, leaky batteries, failure to follow enclosed instructions, improper repair by unauthorized
personnel, improper safe keeping.
Notes:
a) The customer can also claim the warranty service on the purchase establishment.
b) If you lose the warranty card, we can reissue it just showing the invoice or purchase ticket.
CONDICIONES
1. Para hacer efectiva esta garantía se requiere: La presentación de esta póliza y del producto, en el lugar en donde fue adquirido o en ELECTRONICA STEREN S.A. DE C.V.
2. ELECTRONICA STEREN S.A. DE C.V. se compromete a reparar el producto en caso de estar defectuoso sin ningún cargo al consumidor.
3. El tiempo de reparación en ningún caso será mayor a 30 días contados a partir de la recepción del producto en cualquiera de los sitios en donde pueda hacerse efectiva la
garantía.
4. El lugar donde puede adquirir partes, componentes, consumibles y accesorios, así como hacer válida esta garantía es: En cualquiera de las direcciones arriba mencionadas.
ESTA GARANTIA NO ES VALIDA EN LOS SIGUIENTES CASOS:
1. Cuando el producto ha sido utilizado en condiciones distintas a las normales.
2. Cuando el producto no ha sido operado de acuerdo con el instructivo de uso.
3. Cuando el producto ha sido alterado o reparado por personas no autorizadas por ELECTRONICA STEREN S.A. DE C.V.
Nota: El consumidor podrá solicitar que se haga efectiva la garantía ante la propia casa comercial, donde adquirió el producto. Si la presente garantía se extraviara, el
consumidor puede recurrir a su proovedor para que le expida otra póliza de garantía, previa presentación de la nota de compra o factura respectiva.
DATOS DEL DISTRIBUIDOR
DISTRIBUTION / NOMBRE / DISTRIBUIDOR:
ADDRESS / DOMICILIO:
PRODUCT / PRODUCTO:
MODEL / MODELO:
DATE OF DELIVERY / FECHA DE ENTREGA:
BRAND / MARCA:
SERIAL NUMBER / No. DE SERIE:
INSTRUCTIVO DE USO DE TEMPORIZADOR DE 24 HORAS
INSTRUCTION MANUAL FOR ONE DAY TIMER
Modelo: TEMP-24H
Marca: Steren
Model: TEMP-24H
Brand: Steren
Antes de utilizar su nuevo Temporizador lea este instructivo para
evitar cualquier mal funcionamiento. Guárdelo para futuras
referencias.
Before using your new One Day Timer please read this instruction
manual to prevent any damage. Put it away in a safe place for future
references.
Su nuevo temporizador le permite programar el encendido o apagado de
equipos eléctricos o electrónicos hasta por 24 horas con intervalos de 15
minutos entre cada evento. La potencia máxima soportada es de 1 760W
Your new timer allows you to power on or off your electrical and electronic
devices, automatically, with intervals of 15 minutes each hour up to 24
hours. The maximum power is 1 760W
IMPORTANTE
Siempre utilice un paño suave, limpio y seco para limpiar el equipo.
No intente abrir el equipo, puede ocasionar malfuncionamiento y
anulación de la garantía.
No use ni almacene este equipo en lugares donde existan goteras o
salpicaduras de agua.
IMPORTANT
Do not try to open the equipment, may cause malfunction and warranty
repeal.
Do not use or store the equipment near wet places. May cause
malfunction or shock hazard.
Clean with a soft, dry cloth.
CONTROLES
1.- Pestañas de programación de minutos
2.- Encendido Permanente / Temporizador (On / T)
3.- Perilla de selección de hora
4.- Enchufe
CONTROLS
1.- Minutes Programming Eyelashes
2.- Power On /Timer (On/T)
3.- Hour selection knob
4.- A/C Outlet
Las pestañas de programación de minutos (1) están identificadas con
color negro, cuenta con 96 pestañas que equivalen -cada una- a un
intervalo de programación de 15 minutos de encendido o de apagado
(para un total de 24 horas). Si se encuentran las pestañas deslizadas
hacia abajo significa que ese intervalo de tiempo se encenderá su
aparato; si se encuentran deslizadas hacia arriba significa que ese
intervalo de tiempo estará apagado su equipo (1 pestaña= 15 minutos, 2
pestañas= 30 minutos, etc.) La posición normal de las pestañas es hacia
arriba.
The minutes programming eyelashes (1) are identified with black color,
there are 96 eyelashes that are equivalent - each one - to a programming
interval of 15 minutes that activate or deactivate a device (for a total of 24
hours). If the eyelashes slip downwards, it means that time interval will
turn the device on; but if the eyelashes slip upwards, it means that time
interval will turn the device off (1 eyelash= 15 minutes, 2 eyelashes= 30
minutes, etc.) The normal position of the eyelashes are upwards.
COMO PROGRAMAR EL TEMPORIZADOR
1.- Gire la perilla de selección de hora (3) en sentido de las manecillas del
reloj para establecer la hora actual. El triángulo negro debe estar en la
posición de la hora actual. Ejemplo: si en su reloj son las 6:00 PM, deberá
ubicar la perilla en la posición 18 (Fig. 1).
HOW TO PROGRAM THE TIMER
1.- Turn the knob (3) clockwise until position the local hour over the black
triangle. (i.e. if your watch shows 6:00 pm, you will set the knob in the
position with the number 18) (Fig. 1).
Fig. 1
2.- Para programar un intervalo determinado de encendido, sólo deslice
hacia abajo las pestañas de programación (1) en los minutos exactos que
desee que se encienda su aparato.
(Ejemplo: si desea que su aparato se encienda a las 11 de la noche
durante 30 minutos, ubique las pestañas correspondientes a la hora (23) y
deslice 2 pestañas (2 pestañas= 30 minutos) hacia abajo (Fig. 2). Su
aparato encenderá en la hora especificada, durante 30 minutos.
2.- To program a specific activating interval, just slip the eyelashes
downwards in the precise minutes that you want to activate the equipment.
(e.g. If you want to turn the device on at 11:00 pm during 30 minutes,
locate the eyelash over the corresponding hour (23) and slip the eyelash
downward (two eyelashes for a period of 30 minutes) (Fig. 2) The timer will
turn the device on at the specific hour, during 30 minutes.
Fig. 2
3.- Si un equipo está encendido todo el día y desea que se apague a las 6
de la mañana por 45 minutos, deslice todas las pestañas (1) hacia abajo
a excepción de la hora correspondiente de apagado (6) así como los
minutos que desee que se apague (3 pestañas equivalen a 45 minutos)
(Fig. 3)
3.- If your device is in use all day and you want to turn it off at 6:00 am
during 45 minutes, slip all the eyelashes (1) downward, except the
corresponding time off eyelash (6) (hour and minutes) (3 eyelash means
45 minutes) (Fig. 3).
Fig. 3
4.- Deslice el botón de encendido (On / T) (2) a la posición T si desea
activar la función de temporizador. Si desea la función de encendido
permanente deslice el botón de encendido (On / T) (2) a la posición ON.
5.- Conecte el temporizador al tomacorriente.
6.- Conecte el aparato que desea programar al enchufe del
temporizador (4).
4.- If you want to use the timer function, slip the Power On / Timer switch
(2) to T position. If you want to use the Power On function, slip the Power
On / Timer switch (2) to ON position.
5.- Plug the timer into an AC household outlet.
6.- Plug in the device on the timer's A/C Outlet (4).
Notas:
Es necesario que ajuste el temporizador a la hora actual, debido a que de
esa forma se sincroniza para encender o apagar sus equipos a la hora
que programó. La sincronización comienza en el momento que conecta el
equipo a un contacto.
La función de encendido permanente, permite que utilice el equipo como
un contacto normal.
Se recomienda que utilice un objeto puntiagudo para deslizar las pestañas
de programación correspondientes.
Las horas están en formato de 24h.
Cada pestaña significa un intervalo con una duración de 15 minutos cada
una.
El sistema del equipo es electromécanico. Puede haber desfases en el
tiempo de programación.
Notes:
You must set the current hour on the timer in order to synchronize the
equipment and turn on or turn off the electronic / electrical devices on
time. Remember, to synchronize the equipment you must connect it into
an AC household outlet.
The Power On function allows you to use the timer such as normal
outlet.
We suggest you use a pointed object to slip the corresponding
programming eyelashes.
The time format is 24h.
Each eyelash means an interval of 15 minutes of duration.
The equipment has been made with an electromechanical system. Out of
phase may occur on the programs.
ESPECIFICACIONES
Entrada: 120V~
60Hz
Salida: 120V~
60Hz
SPECIFICATIONS
Input:
120 V~ 60 Hz
Output: 120 V~ 60 Hz
15A
15A
Nota:
El diseño del producto y las especificaciones pueden cambiar sin previo
aviso.
15 A
15 A
Note:
Product design and specifications are subject to change, without notice.

* Your assessment is very important for improving the work of artificial intelligence, which forms the content of this project