Tangent Spectrum XC Satin Black, Spectrum XC Satin White User manual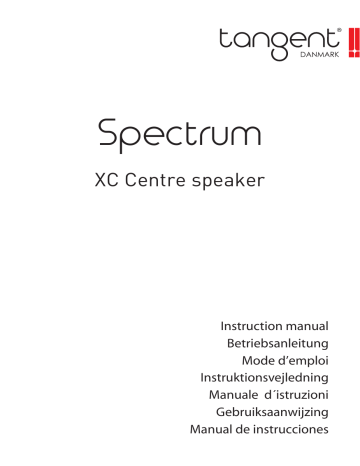 Spectrum
XC Centre speaker
Instruction manual
Betriebsanleitung
Mode d'emploi
Instruktionsvejledning
Manuale d´istruzioni
Gebruiksaanwijzing
Manual de instrucciones
Instruction manual
Thank you for purchasing Tangent loudspeakers. You have just purchased one of the best domestic hifi loudspeakers available and we hope you will enjoy the music they reproduce for many years to come. The following notes are designed to assist you in obtaining a greater degree of musical satisfaction from your Tangent loudspeakers. Before connecting your loudspeakers, we suggest that you read this leaflet carefully.
Amplifier capacity/power handling
Your Tangent loudspeaker system will operate satisfactorily with any good amplifier designed for use with an 4-8 Ohm impedance load. Allthough Tangent loudspeakers are designed to handle high power loadings, you must remember that any loudspeaker that is abused with excessive use of volume, tone controls and graphic equalisers is likely to cause damage to the drive-units. Be carefull especially with small amplifiers constantly driven on high power levels as these may be liable to go into »clipping mode« and disort the signal causing possible damage. If you hear a distordet signal through the loudspeakers you must reduce the power level.
Connecting to your amplifier
We strongly recommend the use of high quality speaker cables, colour coded or grooved cables are recommended to assist checking polarity, your local dealer should be able to advise you on this point. Always switch OFF your amplifier before making any connections or adjustments to the system. Wire the right-hand channel cable so that the positive (RED) terminal of your loudspeaker is connected to the positive
(RED) on your amplifier, and the negative (BLACK) terminal of your loudspeaker is connected to the negative (BLACK) terminal on your amplifier. Repeat the instructions for all channels. Do NOT connect more than one loudspeaker to one terminal on your amplifier.
Phasing
Providing that you have followed the connecting instruction correctly the loudspeakers should be in phase and provide solid stereo images. If, however, you have any doubt as to the phasing of the loudspeakers, try reversing the connections (RED &
BLACK) to ONE of the loudspeakers, and play a recording which has plenty of deep bass operating both loudspeakers simultaneously with the stereo amplifier switched to »mono«. The correct polarity is indicated by firm full bass, when incorrect, the bass will be noticeably much weaker.
Service
No routine attention is required to the working parts of the loudspeakers and being very reliable Tangent loudspeakers rarely require service. Any service problems should in the first instance be referred to your dealer.
Set Up of Speaker System for your Home Theatre
A surround sound system, as a minimum, requires 5-7 loudspeakers. It is important to position them carefully. Thus we recommend that you work with the arrangement of the speakers in your system, perhaps our idea of placing the system initially may not suit the way in which your furniture is arranged.(see page 10)
Betriebsanleitung
Wir danken Ihnen, dass Sie Tangent Lautsprecherboxen gekauft haben. Wir sind sicher, dass Sie diese Lautsprecherboxen viele Jahre geniessen werden. Die folgenden Anweisungen sollen Ihnen helfen, den höchsten Genuss Ihrer Boxen zu sichern.
Power handling
Ihre Tangent Lautsprecherboxen können Sie an jedem guten Verstärker mit 4 oder
8 Ohm anschliessen. Sie sollten wissen, dass Verstärker mit kleiner Wattleistung, die standig mit voller Leistung betrieben werden, eher Schaden an den Lautsprechern verursachen als Verstärker, die eine hohe Wattleistung haben. Der Grund ist, dass kleine
Verstärker, die unrealistisch hoch betrieben werden, möglicherweise eine »Clipping«
Phase erreichen und so verzerrte Signale an die Lautsprecher weiterleiten. Es kann dabei zu einer Zerstörung der Lautsprecher kommen.
Deshalb
Wenn Sie ein verzerrtes Signal aus Ihren Lautsprechern hören, sollten Sie sofort Ihr
»Power Volumen« niedriger stellen.
Kabel
Schalten Sie bitte den Verstärker aus, bevor Sie die Kabel verbinden. Verbinden Sie den rechten Kanal so, dass das rote Klemmanschluss am Lautsprecher mit dem roten
Verstärker-Anschluss verbunden wird. Dann verbinden Sie den schwarzen Klemmanschluss am Lautsprecher mit dem Schwarzen Anschluss am Verstärker. Für die anderen Kanalen wiederholen Sie den Vorgang wie oben beschrieben. Verbinden Sie nicht mehr als eine Lautsprecherbox pro Verstärker-Anschluss.
Kundendienst
Keine regelmässige Inspektion der beweglichen Teile ist erforderlich. Nur in seltenen
Fällen wird es notwendig sein, den Kundendienst zu kontakten. In dem Fall kontakten
Sie bitte Ihren Handler.
Aufstellung der Lautsprecher für Ihr Kino zu Hause
Da Surround Sound 5-7 Lautsprecher benötigt, ist die Plazierung nicht gerade einfach.
Da die Laut-sprecherplazieruing auch Ihrer Wohnungsein-richtung entsprechen und die vorhandenen Plazierungsmöglichkeiten berücksichtigen soll, empfehlen wir, dass
Sie durch Experimenten die beste Aufstellung erreichen.
(see page 10)
Instruktionsvejledning
Vi vil gerne takke Dem for Deres køb af Tangent højttalere. De har netop købt nogle af de bedste højttalere på markedet til privat brug, og vi håber, at De vil få glæde af højttalerne i mange år fremover. Det efterfølgende er udfærdiget for at hjælpe Dem til en større musikalsk tilfredsstillelse gennem Deres Tangent højttalere. Inden De tilslutter Deres højttalere anbefaler vi, at De læser denne manual grundigt. Deres Tangent højttalere vil virke tilfredsstillende med enhver god forstærker udviklet til brug ved
4-8 Ohms belastning. Selv om Tangent højttalere er udviklet til at kunne klare store belastninger må De huske på, at enhver højttaler som bliver misbrugt ved overdrevent brug af volume kan skade højttalerenhederne. Hvis De hører et forvrænget signal fra
Deres højttaler, reducér da straks lydstyrken.
Tilslutning til Deres forstærker
Vi anbefaler at De anvender Tangent højkvalitets højttalerkabler. Deres lokale Radio/TV forhandler vil kunne hjælpe Dem med det rette valg af kabler. Husk altid at slukke Deres forstærker før De laver nogle tilslutninger eller rettelser til systemet. Forbind højre kanal ledning således at den positive (RØD) terminal på Deres højttaler er forbundet med den positive (RØD) terminal på Deres forstærker, og den negative (SORT) terminal på
Deres højttaler er forbundet med den negative (SORT) terminal på Deres forstærker.
Gentag disse instruktioner ved tilslutning af de andre kanaler.
(NB: De må ikke forbinde mere end en højttaler til hver terminal på Deres forstærker).
Korrekt fase
Såfremt De har tilsluttet højttalerne rigtig vil disse kunne levere et korrekt stereosignal.
Hvis De er i tvivl om korrekt tilslutning, ombyt da RØD og SORT på en af højttalerne.
De vil nu kunne høre en forskel i bassen. Ved forkert tilslutning vil højttalernes bas lyde svagere end ved korrekt tilslutning.
Service
Ingen regelmæssig eftersyn af bevægelige dele er nødvendig. Skulle dette mod forventning blive nødvendigt, kontakt da Deres forhandler.
Placering af højttalere til din hjemmebiograf
Da surround sound kræver 5-7 højttalere kan dette stille store krav til placeringen.
Vi anbefaler derfor, at De eksperimenterer med opstilling af højttalerne i Deres surroundsystem, da netop vort forslag til placering, måske ikke passer netop til Deres møblement og Deres placeringsmuligheder.(see page 10)
Mode d'emploi
Avant tout, permettez nous de vous remercier d'avoir acheté des enceintes Tangent.
Vous venez d'acquérir l'une des meilleures enceintes hi-fi et nous espérons que vous jouïrez du son qu'elles offrent pendant de nombreuses années. Le mode d'emploi suivant vous permettra d'obtenir toute la satisfaction musicale que vous attendez des enceintes Tangent. Avant de procéder à l'installation et au branchement, nous vous recommandons de lire attentivement cette notice.
Compatibilité de l'amplificateur/puissance d'utilisation
Vous pouvez relier vos enceintes Tangent a tout amplificateur de bonne qualité d'une puissance de 4 à 8 Ohms. Vous devez savoir que des amplificateurs de faible puissance continuellement soumis à un volume éleve peuvent endommager les enceintes, plus que des amplificateurs ayant une puissance trop élevée. En effet, les petits amplificateurs utilisés de maniere irraisonnable peuvent au niveau de l'écrétage causer des dommages irreparables.
C'est pourquoi
Si vous entendez un signal dans le haut-parleur, vous devez réduire la puissance.
Le branchement
Avant de procéder au branchement des cables, assurez-vous que l'amplificateur est
éteint. Branchez le côté droit de façon à ce que la borne d'entrée rouge de l'enceinte soit reliée à la borne rouge de l'amplificateur. Ensuite reliez la borne d'entrée noire de l'enceinte a la borne noire de l'amplificateur. Renouvelez la méme opération pour le cóté gauche. Ne branchez en aucun cas plus d'une enceinte sur chaque borne de l'amplificateur.
Le service Après-Vente
Les pièces composant les enceintes Tangent ne requièrent aucune inspection réguliére.
Ce n'est que dans de très rares cas qu'il est nécessaire de prendre contact avec le service
Après-Vente. Si toutefois cela se produisait, contactez votre revendeur.
Installation du système d'enceintes pour votre »théâtre à domicile«
Comme un système d'enceintes circulaire nécessite 5-7 enceintes, son positionnement requiert une grande attention. Afin d'être sûr que le placement du sys-tème est en harmonie avec votre mobilier et vos possibilités de rangement, nous vous conseillons de procéder à des tests de placement.(see page 10)
Manuale d´instruzioni
Grazie per aver acquisti diffusori Tangent : nel settore dell´HI-FI domestico sono tra I migliori attualmente Disponibili e siamo certi che Vi garantiranno moltissime ore di piacevole ascolto della vostra musica preferita Le istruzioni che seguono saranno d´aiuto per ottenere le prestazioni ottimali dai nostri diffusori: raccomandiamo perció Di leggerle attentamente di prima di collegare I diffusori all´amplificatore.
Compatibilitá elettrica con I´amplificatore
Questo sistema di diffusori Tangent funzionerá perfettamente con qualsiasi buon amplificatore progettato per carichi Con impedenza di 4-8 ohm. I diffusori Tangent possono accettare carichi di potenza elevata, ma non si deve mai Dimenticare che qualsiasi diffusore finirá col danneggiarsi se viene utilizzato a volume molto elevato, e ancora di piú Utilizzanado
I controlli di tono. Attenzione soprattutto quando si usano costantemente alla massima potenza amplificatori Che ne possiedono poca: in tali condizioni gli amplificatori, superando i massimi limiti della dinamica, tendono a Distorcere il suono, con inevitabili danni anche per I diffusori. Quando si sente un suono disorto provenire dai diffusori, Bisogna ridurre subito il livello di potenza dell´amplificatore.
Collegamento al vostro amplificatore
Per il collegamento diffusori – amplificatore raccomandiamo vivamente di utilizzare cavi di alta qualitá, condificati con Diversi colori ed apposite marchiature per non avere dubbi sulla polaritá: il locale Rivenditore potrá fornirvi I miglior Consigli sull´argomento. Prima di effettuare il collegamento o qualsiasi regolazione del sistema, accertarsi sempre che
I´amplificatore sia spento. Per il cavo del canale destro, collegare il terminale positivo
(ROSSO) dell´altoparlante al Rispettivo terminale (ROSSO) dell´amplificatore, e il terminale negativo (NERO) dell´altoparlante al Rispettivo
Terminale (NERO) dell´amplificatore. Ripetere la stessa procedura per I´altro canale. NON collegare MAI piú di un Diffusore allo stesso terminale dell´amplificatore.
Messa in fase
Se le istruzione di collegamento sono state correttamente eseguite, I diffusori risulteranno
"in fase" e riprodurranno un Programma stereo ben definito. In caso di dubbio sulla corretta fase, provare a invertire i cavetti di collegamento (ROSSO e NERO) su uno solo dei diffusori e riprodurre un brano con toni molto bassi simultaneamente sui due canali, dopo aver commutato su "mono" I´amplificatore stereo. Se la polaritá é corretta, i toni bassi risulteranno forti e stabili; se ivece la polaritá non é coretta, i toni bassi si sentiranno molto piú deboli.
Assistenza
Data la loro grande affidabilitá, diffusori Tangent raramente richiedono interventi di assistenza. In ogni modo, per qualsiasi problema rivolgersi sempre al locale Rivenditore.
Installazione dei diffusori per ottenere l´effetto Home Theatre
Per garantire l´ascolto del suono Surround sono necessari 5-7 diffusori. Il posizionamento dei diffusori é molto importante, in quanto influenza la resa sonora ambientale: deve quindi essere Scelto con la massima attenzione. Puó darsi che la disposizione qui consigliata non concordi con l´arredamento del Locale riservato all´ascolto: consigliamo perció di spermentare diverse soluzioni prima di scegliera quella piú adatta.(see page 10)
Gebruiksaanwijzing
We danken u dat u Tangent luidsprekers gekocht heeft. U heeft zojuist sommige van de beste luidsprekers voor privé gebruik gekocht die op de markt verkrijgbaar zijn, en we hopen dat u er nog vele jaren plezier van zult hebben. Het navolgende is samengesteld met het oog op een zo groot mogelijk muzikaal genot van uw Tangent luidsprekers.
Voordat u uw luidsprekers aansluit, raden wij u aan deze handleiding grondig door te nemen. Uw Tangent luidsprekers zullen op elke versterker met een 4-8 ohm belasting uitstekend werken. Ook al zijn de Tangent luidsprekers ontwikkeld om grote belastingen aan te kunnen, mag u niet vergeten dat elke luidspreker die door overdreven geluidssterkte wordt misbruikt, kan worden beschadigd. Als u een verwrongen geluid uit uw luidspreker hoort, dient u het geluid meteen lager te zetten.
Op uw versterker aansluiten
Wij raden aan dat u kwalitatief hoogwaardige luidsprekerkabels gebruikt. Uw plaatselijke Radio/TV handelaar zal u kunnen helpen bij het uitkiezen van de juiste kabels. Denk er altijd aan uw versterker uit te zetten voordat u iets aansluit of wijzigingen aanbrengt.
Sluit de rechter kanaalleiding zó aan dat de positieve klem (ROOD) op uw luidspreker verbonden is met de positieve klem (ROOD) op uw versterker en de negatieve klem
(ZWART) op uw luidspreker verbonden is met de negatieve klem (ZWART) op uw versterker. Herhaal deze handelingen bij het aansluiten van de andere kanalen
. (N.B.: u mag niet meer dan een luidspreker op een klem van uw versterker aansluiten).
Correcte fase
Indien u de luidsprekers op de juiste wijze aangesloten heeft, zullen ze een correct stereosignaal afgeven. Indien u twijfelt over de juiste aansluiting, verwissel dan ROOD en ZWART op een van de luidsprekers. U zult een verschil in de bas kunnen waarnemen.
Bij een verkeerde aansluiting zal de bas in de luidsprekers veel zwakker overkomen dan bij een correcte aansluiting.
Service
De bewegende delen hoeven niet regelmatig te worden gecontroleerd. Mocht het tegen alle verwachting in nodig blijken, neem dan contact op met uw handelaar.
Plaatsing van luidsprekers voor home cinema
Een surround sound systeem heeft minimum 5-7 luidsprekers nodig. Het is dan ook belangrijk om deze op een juiste manier te plaatsen. Wij bevelen u dan ook aan om de plaatsing van de luidsprekers zelf in te delen daar ons idee van plaatsing misschien niet overeenkomt met de uwe (vb. plaatsing meubelen).(see page 10)
Manual de instrucciones
Queremos agradecerle la compra de altavoces Tangent. Acaba de comprar uno de los mejores altavoces en el mercado para uso doméstico y esperamos que disfrute los altavoces durante muchos años. Las siguientes indicaciones están pensadas para ofrecerte una mayor calidad musical a través de sus altavoces Tangent. Antes de conectar sus altavoces recomendamos que lea este manual detenidamente. Sus altavoces Tangent funcionarán satisfactoriamente con cualquier buen amplificador desarollado para el uso de 4-8 ohmios de carga. A pesar de que los altavoces
Tangent están desarollados para soportar cargas grandes debe tener en cuenta que el volumen excesivo puede dañar los drivers de los altavoces. Si escucha una señal distorsionada debe reducir el volumen de immediato.
Conexión de su amplificador
Le recomendamos que utilice cables de altavoces de alta calidad. Su distribuidor local de TV/Radio podrá asistirle en elección correcta de cables. Acuérdese de apagar siempre su amplificador antes de realizar cualquier conexión o corrección al sistema. Una el cable derecho para que la terminal positiva (roja) en su altavoz esté conectada con la terminal positiva (roja) en su amplificador, y la terminal negativa
(negra) en su altavoz esté conectada con la terminal negativa (negra) en su amplificador. Repita estas instrucciones para conectar todos los altavoces. (No conecte más de un altavoz a cada terminal de su amplificador).
Fase correcta
Si ha conectado sus altavoces correctamente, estos podrán dar una correcta señal estéreo. Si no esta seguro de si la conexión es correcta, cambie rojo y negro en uno de los altavoces. Podrá oir un cambio en el bajo. Si la conexión es incorrecta el bajo de los altavoces se esuchará mas débil que si la conexión fuera correcta.
Servicio
Ninguna atención rutinaria de las partes móviles es necesaria. Si contra toda prevesión tuviese algún problema, contacte con el servicio reinice lo antes posible.
Colocación de los altavoces de su cine en casa
El sonido envolvente requiere de 5 a 7 altavoces y, por lo tanto, es importante encontrar la mejor colocación. Recomendamos que haga pruebas con la colocación de los altavoces de su sistema de sonido envolvente, ya que es posible que la colocación propuesta por nosotros no sea la más adecuada para el mobiliario de su casa y para sus opciones de ubicación (véase la página 10).
Surround set-up
Spectrum
XC Centre speaker
For further information visit our website:
www.tangent-audio.com
* Your assessment is very important for improving the work of artificial intelligence, which forms the content of this project