Tangent Aspect Pair Wenge/Black High Gloss User manual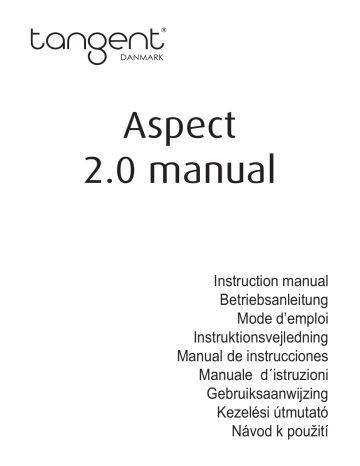 Aspect
2.0 manual
Instruction manual
Betriebsanleitung
Mode d'emploi
Instruktionsvejledning
Manual de instrucciones
Manuale d´istruzioni
Gebruiksaanwijzing
Kezelési útmutató
Návod k použití
Instruction manual
Thank you for purchasing Tangent loudspeakers. You have just purchased one of the best domestic hifi loudspeakers available and we hope you will enjoy the music they reproduce for many years to come.
The following notes are designed to assist you in obtaining a greater degree of musical satisfaction from your Tangent loudspeakers. Before connecting your loudspeakers, we suggest that you read this leaflets carefully.
Amplifier capacity - power handling
Your Tangent loudspeaker system will operate satisfactorily with any good amplifier designed for use with an 4-8 Ohm impedance load. Although Tangent loudspeakers are designed to handle high power loadings, you must remember that any loudspeaker that is abused with excessive use of volume, tone controls and graphic equalisers is likely to cause damage to the drive-units. Be careful especially with small amplifiers constantly driven on high power levels as these may be liable to go into "clipping mode" and distort the signal causing possible damage. If you hear a distorted signal through the loudspeakers you must reduce the power level.
Connecting to your amplifier
Some of the Tangent loudspeakers are supplied with cables, however we strongly recommend the use of high quality multi strand speaker cables, colour coded or grooved cables are recommended to assist checking polarity, your local dealer should be able to advise you on this point. Always switch OFF your amplifier before making any connections or adjustments to the system. Wire the right-hand channel cable so that the positive (RED) terminal of your loudspeaker is connected to the positive (RED) on your amplifier, and the negative (BLACK) terminal of your loudspeaker is connected to the negative (BLACK) terminal on your amplifier. Repeat the instructions for the left-hand channel. Do NOT connect more than one loudspeaker to one terminal on your amplifier.
Phasing
Providing that you have followed the connecting instruction correctly the loudspeakers should be in phase and provide solid stereo images. If however, you have any doubt as to the phasing of the loudspeakers, try reversing the connections (RED & BLACK) to ONE of the loudspeakers, and play a recording which has plenty of deep bass operating both loudspeakers simultaneously with the stereo amplifier switched to
"mono". The correct polarity is indicated by firm full bass, when incorrect, the bass will be noticeably much weaker.
Loudspeaker positioning
Ideally the Tangent loudspeakers should be positioned at least 50 cm from a rear wall, 1 meter from a side wall and at least 2 metres apart. The space between the two loudspeakers and the distance form the listeners are important. If loudspeakers are placed too close together or too far apart, stereo images will not be fully developed. In average living rooms, speaker spacing between 2 and 4 metres will usually produce satisfactory results. The listeners distance from the loudspeakers should be at least equal to and preferably greater than the distance between the loudspeakers. Tests should be made with both speech and music before deciding upon final locations.
Service
No routine attention is required to the working parts of the loudspeakers and being very reliable Tangent loudspeakers rarely require service. Any service problems should in the first instance be referred to your dealer.
Betriebsanleitung
g
Wir danken Ihnen, dass Sie Tangent Lautsprecherboxen gekauft haben. Wir sind sicher, dass
Sie diese Lautsprecherboxen viele Jahre geniessen werden. Die folgenden Anweisungen sollen
Ihnen helfen, den höchsten Genuss Ihrer Boxen zu sichern.
Power handling
Ihre Tangent Lautsprecherboxen können Sie an jedem guten Verstärker mit 4 oder 8 Ohm anschliessen. Sie sollten wissen, dass Verstärker mit kleiner Wattleistung, die ständig mit voller
Leistung betrieben werden, eher Schaden an den Lautsprechern verursachen als Verstärker, die eine hohe Wattleistung haben. Der Grund ist, dass kleine Verstärker, die unrealistisch hoch betrieben werden, möglicherweise eine »Clipping« Phase erreichen und so verzerrte Signale an die Lautsprecher weiterleiten. Es kann dabei zu einer Zerstörung der Lautsprecher kommen.
Deshalb
Wenn Sie ein verzerrtes Signal aus Ihren Lautsprechern hören, sollten Sie sofort Ihr »Power
Volumen« niedriger stellen.
Kabel
Schalten Sie bitte den Verstärker aus, bevor Sie die Kabel verbinden. Verbinden Sie den rechten Kanal so, dass das rote Klemmanschluss am Lautsprecher mit dem roten Verstärker-
Anschluss verbunden wird. Dann verbinden Sie den schwarzen Klemmanschluss am Laut sprecher mit dem Schwarzen Anschluss am Verstärker. Für den Linken Kanal wiederholen Sie den Vorgang wie oben beschrieben. Verbinden Sie nicht mehr als eine Lautsprecherbox pro
Verstärker-Anschluss.
Aufstellung
Am besten plazieren Sie die Tangent Lautsprecherboxen mindestens 50 cm vor der Wand, 1
Meter der Seitenwand entfernt und mindestens 2 Meter auseinander. Wenn die Lautsprecher zu nahe oder Weit auseinander sind, dann wird das Steroebild nicht vollständig entwickelt. Im
Wohnzimmern sind Abstände von 2 bis 4 Metern in der Regel ausreichend, um zufriedenstel lende Ergebnisse zu erreichen. Der Abstand vom Zuhörer bis zu den Lautsprecherboxen soll mindstens so gross sein wie der Abstand zwischen den Boxen, und am besten grösser. Bevor
Sie die endgültige Plazierung festlegen, sollten Sie Tests durchführen, sowohl basiert auf Musik als auch auf Sprache.
Kundendienst
Keine regelmässige Inspektion der beweglichen Teile ist erforderlich. Nur in seltenen Fällen wird es notwendig sein, den Kundendienst zu kontakten. In dem Fall kontakten Sie bitte Ihren
Händler.
Mode d'emploi
Avant tout, permettez nous de vous remercier d'avoir acheté des enceintes Tangent. Vous venez d'acquérir l'une des meilleures enceintes hi-fi et nous espérons que vous jouïrez du son qu'elles offrent pendant de nombreuses années. Le mode d'emploi suivant vous permettra d'ob tenir toute la satisfaction musicale que vous attendez des enceintes Tangent. Avant de procéder
à l'installation et au branchement, nous vous recommandons de lire attentivement cette notice.
Compatibilité de l'amplificateur/puissance d'utilisation
Vous pouvez relier vos enceintes Tangent à tout amplificateur de bonne qualité d'une puissance de 4 à 8 Ohms. Vous devez savoir que des amplificateurs de faible puissance continuellement soumis à un volume éleve peuvent endommager les enceintes, plus que des amplificateurs ayant une puissance trop élevée. En effet, les petits amplificateurs utilisés de maniere irraison nable peuvent au niveau de l'écrétage causer des dommages irreparables.
C'est pourquoi
Si vous entendez un signal dans le haut-parleur, vous devez réduire la puissance.
Le branchement
Avant de procéder au branchement des cables, assurez-vous que l'amplificateur est éteint.
Branchez le côté droit de façon à ce que la borne d'entrée rouge de l'enceinte soit reliée à la borne rouge de l'amplificateur. Ensuite reliez la borne d'entrée noire de l'enceinte a la borne noire de l'amplificateur. Renouvelez la méme opération pour le cóté gauche. Ne branchez en aucun cas plus d'une enceinte sur chaque borne de l'amplificateur.
Le positionnement
Nous vous recommandons de placer les enceintes Tangent à une distance de 50 cm du mur de fond, à un mètre du mur de côté. Un espacement entre les deux enceintes d'au moins deux mètres est nécessaire pour une bonne acoustique. La distance entre les deux enceintes et la distance entre les enceintes et l'utilisateur est très importante. Si les enceintes sont trop près ou trop loin l'une de l'autre, on ne peut obtenir un bon effet stéréo. Dans un salon, un espacement de 2 à 4 mètres donne en général un résultat satisfaisant. La distance entre l'utilisateur et les enceintes doit au moins être aussi grande que celle entre les deux enceintes et si possible plus grande. Avant de décider de leur emplacement définitif, vous devriez effecteur des tests autant au niveau d'écoute de la musique que des paroles pouvant accompagner cette musique.
Le service Après-Vente
Les pièces composant les enceintes Tangent ne requièrent aucune inspection réguliére. Ce n'est que dans de très rares cas qu'il est nécessaire de prendre contact avec le service Après-
Vente. Si toutefois cela se produisait, contactez votre revendeur.
Instruktionsvejledning
Vi vil gerne takke Dem for Deres køb af Tangent højttalere. De har netop købt nogle af de bedste højttalere på markedet til privat brug og vi håber, at De vil få glæde af højttalerne i mange år fremover. Det efterfølgende er udfærdiget for at hjælpe Dem til en større musikalsk tilfredsstillelse gennem Deres Tangent højttalere. Inden De tilslutter Deres højttalere anbefaler vi, at De læser denne manual grundigt. Deres Tangent højttalere vil virke tilfredsstillende med enhver god forstærker udviklet til brug ved 4-8 Ohms belastning. Selv om Tangent højttalere er udviklet til at kunne klare store belastninger må De huske på at enhver højttaler, som bliver misbrugt ved overdrevent brug af volume kan skade højttalerenhederne. Hvis De hører et forvrænget signal fra Deres højttaler, reducer da straks lydstyrken.
Tilslutning til Deres forstærker
Vi anbefaler at De anvender Tangent højkvalitets højttalerkabler. Deres lokale Radio/TV forhandler vil kunne hjælpe Dem med det rette valg af kabler. Husk altid at slukke Deres forstærker før de laver nogle tilslutninger eller rettelser til systemet. Forbind højre kanal ledning således at den positive (RØD) terminal på Deres højttaler er forbundet med den positive (RØD) terminal på Deres forstærker, og den negative (SORT) terminal på Deres højttaler er forbun det med den negative (SORT) terminal på Deres forstærker. Gentag disse instruktioner ved tilslutning af venstre kanal. (NB: De må ikke forbinde mere end en højttaler til hver terminal på
Deres forstærker).
Korrekt fase
Såfremt De har tilsluttet højttalerne rigtig vil disse kunne levere et korrekt stereosignal. Hvis De er i tvivl om korrekt tilslutning, da ombyt RØD og SORT på en af højttalerne. De vil nu kunne høre en forskel i bassen. Ved forkert tilslutning vil højttalernes bas lyde svagere end ved korrekt tilslutning.
Højttalernes position
Den mest fordelagtige placering af Deres Tangent højttalere vil være mindst 50 cm fra bagmuren,
1 meter fra sidemuren og mindst 2 meter mellem hver højttaler. Afstanden mellem de 2 højttalere og afstanden mellem højttaleren og lytter er også meget vigtig. Afstanden til lytter og til højttalerne skal mindst være lige stor som afstanden mellem højttalerne og helst større. Før De beslutter placering, bør De lave en test baseret på både musik og på tale.
Service
Ingen regelmæssig eftersyn af bevægelige dele er nødvendig. Skulle dette mod forventning blive nødvendigt, kontakt da Deres forhandler.
Gebruiksaanwijzing
Gefeliciteerd met de aankoop van Tangent luidsprekers. Het zijn werkelijk één van de beste hi-fi luidsprekers op de markt. De uitstekende geluidskwaliteit zal u dan ook jarenlang plezier bezorgen.
Vooraleer over te gaan tot installatie en aansluiting, raden wij u aan nauwkourig de gebruiksaanwijzing te lezen.
Pas dan zult u een optimale geluidskwaliteit bekomen.
Compatibiliteit van de versterker/gebruikskracht
U kunt uw luidsprekers Tangent aansluiten op elke degelijke versterker van 4 tot 8 Ohm.
Versterkers van mindere kwaliteit die onderbewig zijn aan een voortdurend hoog volume kunnen uw luidsprekers namelijk beschadigen.
Kleine versterkers die op onverantwoorde wijze gebruikt worden, kunnen onherstelbare sohade aanbrengen.
Daarom moot u bij het horen van een signaal in de luidsprekers, het geluid lager zetten.
Het aansluiten
Vooraleer u tot het aansluiten van de kabels overgast, let er dan op dat de versterker uistaat.
Sluit do rechterzijde zodanig aan dat de rode ingangsklem van de luidspreker verbonden is met de rode ingangsklem van de versterker. Verbindt vervolgens de zwarte ingangsklem van de luidspreker met de zwarte ingangsklem van de versterker. Herhaal deze procedure ook voor de linkerzijde. Sluit in geen geval nooit méér dan 1 luidspreker aan op elke ingangsklem van de versterker.
Dienst naverkoop
De onderdelen van de Tangent luidsprekers habben geen regelmatige controle nodig. Enkel in zoldzame gevallen is het nodig om contact op te nemen met de dienst naverkoop. Indien dit geval zich voordoet, contacteer dan uw verkoper.
Manual de instrucciones
Queremos agradecerle su compra de altavoces Tangent. Acaba de comprar uno de los mejores altavoces en el mercado para uso domestico y esperamos que disfrute los altavoces durante muchos años en el futuro. Lo siguiente está extendido para ayudarle para una mayor satisfacción musical a través de sus altavoces Tangent. Antes de conectar sus altavoces recomendamos que lea este manual detenidamente. Sus altavoces Tangent funccionaran satisfactoriamente con cualquier buen amplificador desarollado para el uso de 4-8 ohmios de carga. A pesar de que los altavoces Tangent están desarollados para soportar cargas grandes debe acordarse de qualquier altavoz que es abusado con respecto a uso excesivo del volumen puede dañar los drivers de los altavoces. Si escucha una señal distorsionada debe reducir el volumen de immediato.
Connección de su amplificador
Le recomendamos que utilice cables de altavoces de alta calidad. Su distribuidor local de
TV/Radio podrá asistirle en su elección correcta de cables. Acuerdese de siempre apagar su amplificador antes de realizar cualquier conección ó corección al sistema. Una el cable derecho así que la terminal positiva (roja) en su altavoz está conectada con la terminal positiva (roja) en su amplificador, y la terminal negativa (negra) en su altavoz esta conectada con la terminal negativa (negra) en su amplificador. Repita estas instrucciones al conectar el canal izquierdo.
(No conecte más de un altavoz a cada terminal de su amplificador).
Fase correcto
Si ha conectado sus altavoces correctamente, estos podrán dar una correcta señal de stereo.
Si no esta seguro de si la conección es correcta, cambie rojo y negro en uno de los altavoces. Podrá oir un cambio en el bajo. Si la conección es incorrecta el bajo de los altavoces se esuchará mas débil que si la connección fuera correcta.
Posición de los altavoces
La posición ideal de sus altavoces Tangent seria por los menos 50 cm de la pared trasera, 1 metro de la pared lateral y por los menos 2 metrosentra cada uno de los altavoces. La distancia entre los dos altavoces y la distancia entre el altavoz y el oyente es muy importante. La distan cia entre el oyente y los altavoces por lo menos debe ser igual o mayor que la distancia entre los altavoces, preferiblemente mayor. Antes de que decida la posición, debe hacer una prueba basada en la musica y en el habla.
Servicio
Ninguna atención rutinaria de las partes móviles es necesaria. si contra toda prevesión tiene algún problema, contacte su vendedor lo antes posible.
Manuale d´istruzioni
Grazie per aver acquistato questi diffusori Tangent: nel settore dell´Hi-Fi domestico sono tra i migliori attualmente disponibili e siamo certi che Vi garantiranno moltissime ore di piacevole ascolto delta vostra musica preferita. Le istruzioni che seguono Vi saranno d´aiuto per ottenere le prestazioni ottimali da questi diffusiori: raccomandiamo perciò di leggerle attentamente prima di effetturare il collegamento all´amplificatore.
Compatibilità elettrica con l´amplificatore
Il vostro sistema di diffusori Tangent funzionerà perfettamente con qualsiasi buon amplificatore progettato per carichi con impedenza 4-8 ohm. I diffusiori Tangent possono accettare carichi di potenza elevata, ma non si deve mai dimenticare che qualsiasi diffusore utilizzato ad alto volume e con i cotrolli di tono molto attivi finirà col danneggiarsi. Attenzione soprattutto quando si usano costantemente alla massima potenza amplificatori che ne possiedono poca: in tali condizioni gli amplificatori, superando i massimi limiti della dinamica, tendono a distorcere il suono, con prohabili danni anche per i diffusori. Quando si sente un suono distorto provenire dai diffusori, bisogna ridurre subito il livello della potenza dell´amplificatore.
Collegamento al vostro amplificatore
Per il collegamento diffusori-amplificatore raccomandiamo vivamente di utilizzare cavi di alta qualità, codificati con diversi colori ed apposite marchiature per non avere dubbi sulla polarità: il vostro rivenditore Tangent potrà fornirvi i migliori consigli sull´argomento. Prima di effettuare il collegamento o qualsiasi regolazione del sistema, accertarsi sempre che l´amplificatore sia spento. Per il cavo del canale destro, collegare il terminale positivo (rosso) dell´altoparlante al rispettivo terminale (rosso) sull´amplificatore, e il terminale negativo (nero) dell´altoparlante al rispettivo terminale (nero) sull´amplificatore. Ripetere la stessa procedura per l´altro canale.
NON collegare più di un diffusore allo stesso terminale dell´amplificatore.
Messa in fase
se le istruzioni di collegamento sono state correttamente eseguite, i diffusori risulteranno "in fase" e riprodurranno un programma stereo preciso. In caso di dubbio sulla corretta fase, provare a invertire i cavetti di collegamento (rosso e nero) su uno solo dei diffusori e riprodurre un brano con toni molto bassi simultaneamente sui due canali, dopo aver commutato su "mono" l´amplificatore stereo. Se la polarità è corretta, i tono bassi risulteranno forti e stabili: se invece la polarità non è corretta, i toni bassi si sentiranno molto più deboli.
Posizionamento
Per ottenere i risultati migliori è assolutamente fondamentale un corretto posizionamento dei diffusori: sullo scaffale di una libreria, ad altezza di 150-200 cm, e distanti fra loro non più di 4 metri.
Assistenza
Data la loro grande affidabilità, i diffusori Tangent raramente richiedono interventi di assistenza.
In ogni modo, per qualsiasi problema rivolgersi sempre al proprio rivenditore Tangent di fiducia.
Kezelési útmutató
Köszönjük, hogy Tangent hangsugárzót vásárolt. Ön az egyik legkiválóbb, otthoni használatra tervezett hifi hangsugárzót vásárolta meg, és reméljük, hosszú éveken keresztül biztosítja majd Önnek a minőségi zenehallgatás örömét. Az alábbi instrukciók segítik Önt abban, hogy a Tangent hangsugárzókból a lehető legtöbbet hozhassa ki. Mielőtt üzembe helyezné a hangsugárzókat, feltétlenül olvassa el az alábbi
útmutatót.
Erősítő kapacitás - terhelhetőség
Az Ön Tangent hangsugárzói minden olyan, megfelelő minőségű erősítővel üzemeltethetők, melyekhez
4-8 ohmos hangsugárzók csatlakoztathatók. Habár a Tangent hangsugárzók magas terhelést is képesek elviselni, nem szabad elfelejteni, hogy a szélsőséges hangerő, hangszín és ekvalizer beállítás minden hangsugárzó meghajtó egységét károsíthatja. Különösen hajlamosak a torzításra a kis teljesítményű erősítők, ha folyamatosan nagy hangerővel működtetik azokat. Ilyen esetben a torz jelek a hangsugárzók károsodásához is vezethetnek. Ha torzítást észlel, csökkentse a hangerőt az erősítőn.
Az erősítő csatlakoztatása
A Tangent hangsugárzók egyes típusaihoz mellékeljük a hangsugárzó vezetéket, ettől eltekintve azonban feltétlenül minőségi, többszálas vezeték használatát javasoljuk, mely színkóddal vagy mélyedéssel segíti a megfelelő pólusok azonosítását. Érdeklődjön a helyi szakkereskedésben. A rendszer csatlakoztatása, vagy bármilyen beállítása előtt kapcsolja KI az erősítőt. A jobb oldali hangsugárzó csatlakoztatásánál az erősítő pozitív (PIROS) hangsugárzó kapcsát a hangsugárzó pozitív (PIROS) aljzatához, míg az erősítő negatív (FEKETE) hangsugárzó kapcsát a hangsugárzó negatív (FEKETE) aljzatához kell csatlakoztatni.
Ugyanígy járjon el a bal oldali hangsugárzónál is. Az erősítő mindegyik hangsugárzó kapcsához csak egyetlen hangsugárzót szabad csatlakoztatni.
Fázis
Feltéve, hogy pontosan követte a csatlakoztatásra vonatkozó információkat, a hangsugárzók pontos fázissal, korrekt sztereó hangtérrel szólalnak meg. Ha azonban bármilyen kétsége merülne fel a hangsugárzók fázisát illetően, próbálja meg felcserélni a csatlakoztatást (PIROS és FEKETE) az EGYIK hangsugárzón, és játsszon le egy olyan felvételt (mindkét hangsugárzó használatával), mely gazdag a mély hangokban, miközben a sztereó erősítőt "mono" üzemmódba kapcsolja. Ha a polaritás megfelelő, a basszus telt, határozott lesz, míg helytelen polaritás esetén a mélyhangok érezhetően gyengébben szólnak.
A hangsugárzók elhelyezése
A Tangent hangsugárzók ideális elhelyezés esetén legalább 50 cm távolságban vannak a hátsó faltól, 1 méterre az oldalfaltól, és a köztük lévő távolság minimum 2 méter. Fontos azonban a két hangsugárzó közötti, illetve a hallgatási pozíciótól mért távolság is. Ha a hangsugárzókat túl közel vagy túl távol helyezi egymástól, a sztereó hangkép nem lesz tökéletes. Egy átlagos méretű nappaliban a hangsugárzók egymástól való ideális távolsága 2 és 4 méter között van. A hangsugárzóknak a hallgatási pozíciótól mért távolsága legalább akkora, vagy inkább nagyobb legyen, mint a két hangsugárzó egymástól mért távolsága. A pozíciók végső kijelölése előtt egy zenei és egy szöveges hangfelvétel segítségével ellenőrizze, hogy a tervezett elrendezés megfelelő-e.
Szerviz
A hangsugárzók nem igényelnek rendszeres ellenőrzést vagy karbantartást, és rendkívüli megbízhatóságuknak köszönhetően a Tangent hangsugárzók nagyon ritkán igényelnek szervizelést.
Bármilyen javítást igénylő probléma esetén először keresse fel a vásárlás helyét.
Návod k použití
Děkujeme vám, že jste si koupili reproduktory Tangent. Právě jste získali jedny z nejlepších domácích hifi reproduktorů a doufáme, že vám budou po řadu dalších let přinášet potěšení z poslechu hudby.
Následující poznámky vám mají pomoci dosáhnout větší hudební uspokojení z reproduktorů Tangent.
Než je zapojíte, doporučujeme vám, abyste si pozorně přečetli tento prospekt.
Vztah mezi možnostmi zesilovače a výkonem
Reproduktorový systém Tangent bude uspokojivě fungovat s jakýmkoliv dobrým zesilovačem, určeným pro impedanční zátěž 4 - 8 Ω. Ačkoliv reproduktory Tangent jsou zkonstruovány tak, aby zvládly vysokou výkonovou zátěž, musíte pamatovat na to, že nevhodné používání nadměrné hlasitosti, korekcí barvy zvuku a grafických ekvalizérů by mohlo poškodit budicí jednotky. Buďte opatrní zejména s malými zesilovači dodávajícími trvale vysoké úrovně výkonu, protože mají sklon
"ořezávat" a zkreslovat signál, což by mohlo poškodit reproduktory. Pokud se z nich ozývá zkreslený signál, musíte snížit úroveň výkonu.
Připojení k zesilovači
Některé reproduktory Tangent se dodávají s kabely, my však důrazně doporučujeme používat vysoce kvalitní, vícežilové reproduktorové kabely. Doporučují se barevně odlišené nebo rýhované kabely, které usnadňují kontrolu polarity; v této otázce by vám měl být schopen poradit místní prodejce. Před jakýmkoliv zapojováním nebo nastavováním systému vždy vypněte zesilovač. Pravý kabel zapojte tak, aby byla kladná (červená) svorka reproduktoru připojena ke kladné (červené) svorce zesilovače a záporná (černá) svorka reproduktoru k záporné (černé) svorce zesilovače. Stejným způsobem zapojte levý kanál. K jedné svorce zesilovače NEPŘIPOJUJTE více než jeden reproduktor.
Fázování
Pokud jste dodrželi správný postup zapojování, reproduktory by měly být ve fázi a vytvářet plný stereofonní zvuk. Máte-li však pochybnosti o fázování reproduktorů, zkuste zaměnit připojení
(červenou a černou svorku) na JEDNOM z reproduktorů a se zesilovačem přepnutým na "mono" přehrajte na obou reproduktorech nahrávku, která má hodně hlubokých tónů. Správná polarita se pozná podle hutného hlubokého zvuku; při nesprávné polaritě budou hloubky znatelně slabší.
Umístění reproduktorů
Reproduktory Tangent by měly být v ideálním případě umístěny alespoň 50 cm od zadní stěny, jeden metr od boční stěny a alespoň dva metry od sebe. Prostor mezi oběma reproduktory a vzdálenost od posluchačů jsou důležité. Pokud jsou umístěny příliš blízko sebe nebo příliš daleko od sebe, nevytvoří se úplný stereofonní zvuk. Reproduktory v běžném obývacím pokoji ve vzdálenosti dva až čtyři metry obvykle poskytnou uspokojivé výsledky. Vzdálenost posluchačů od reproduktorů by měla mýt alespoň stejná a pokud možno větší než vzdálenost mezi reproduktory. Před konečným rozhodnutím o umístění byste měli provést zkoušky jak s řečí, tak s hudbou.
Servis
Funkční součásti nevyžadují žádnou pravidelnou údržbu a reproduktory Tangent jsou velmi spolehlivé, takže jen málokdy vyžadují servis. S jakýmikoliv problémy týkajícími se servisu byste se měli obracet v první řadě na prodejce.
Notes:
Aspect
2.0 manual www.tangent-audio.com
* Your assessment is very important for improving the work of artificial intelligence, which forms the content of this project