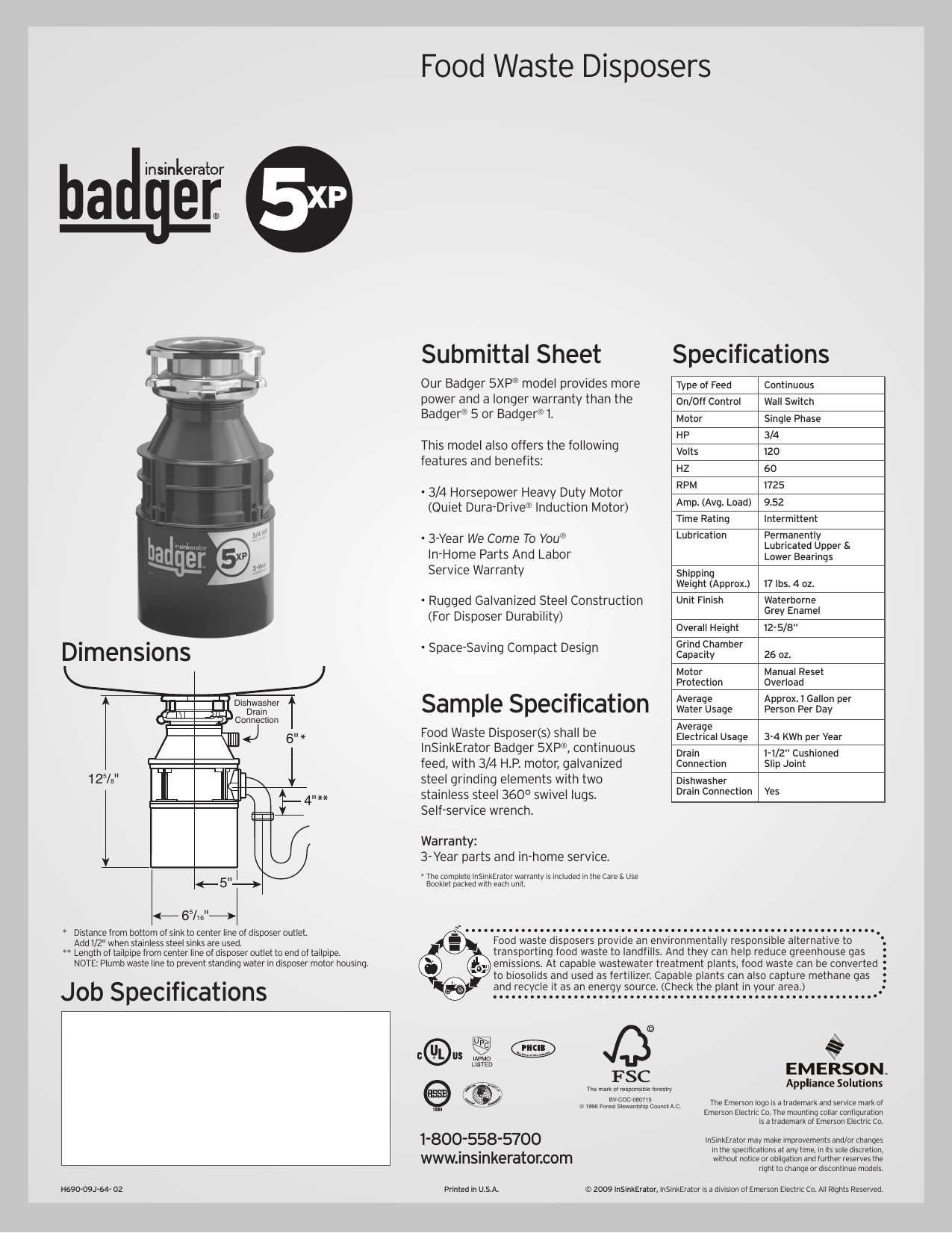 Food Waste Disposers
Submittal Sheet
Specifications
®
Our Badger 5XP model provides more
power and a longer warranty than the
Badger® 5 or Badger® 1.
This model also offers the following
features and benefits:
4"
3/4
Volts
120
HZ
60
1725
Time Rating
Intermittent
• 3-Year We Come To You
In-Home Parts And Labor
Service Warranty
Lubrication
Permanently
Lubricated Upper &
Lower Bearings
• Rugged Galvanized Steel Construction
(For Disposer Durability)
Unit Finish
Waterborne
Grey Enamel
Overall Height
12-5/8"
Grind Chamber
Capacity
26 oz.
Motor
Protection
Manual Reset
Overload
Average
Water Usage
Approx. 1 Gallon per
Person Per Day
Shipping
Weight (Approx.)
Sample Specification
125/8"
Single Phase
HP
9.52
• Space-Saving Compact Design
6"
Wall Switch
Motor
Amp. (Avg. Load)
®
Dishwasher
Drain
Connection
Continuous
On/Off Control
RPM
• 3/4 Horsepower Heavy Duty Motor
(Quiet Dura-Drive® Induction Motor)
Dimensions
Type of Feed
Food Waste Disposer(s) shall be
InSinkErator Badger 5XP®, continuous
feed, with 3/4 H.P. motor, galvanized
steel grinding elements with two
stainless steel 360° swivel lugs.
Self-service wrench.
17 lbs. 4 oz.
Average
Electrical Usage
3-4 KWh per Year
Drain
Connection
1-1/2" Cushioned
Slip Joint
Dishwasher
Drain Connection
Yes
Warranty:
3- Year parts and in-home service.
5"
* The complete InSinkErator warranty is included in the Care & Use
Booklet packed with each unit.
65/16"
* Distance from bottom of sink to center line of disposer outlet.
Add 1/2" when stainless steel sinks are used.
** Length of tailpipe from center line of disposer outlet to end of tailpipe.
NOTE: Plumb waste line to prevent standing water in disposer motor housing.
Job Specifications
Food waste disposers provide an environmentally responsible alternative to
transporting food waste to landfills. And they can help reduce greenhouse gas
emissions. At capable wastewater treatment plants, food waste can be converted
to biosolids and used as fertilizer. Capable plants can also capture methane gas
and recycle it as an energy source. (Check the plant in your area.)
The mark of responsible forestry
BV-COC-080715
© 1996 Forest Stewardship Council A.C.
1-800-558-5700
www.insinkerator.com
H690-09J-64- 02
Printed in U.S.A.
The Emerson logo is a trademark and service mark of
Emerson Electric Co. The mounting collar configuration
is a trademark of Emerson Electric Co.
InSinkErator may make improvements and/or changes
in the specifications at any time, in its sole discretion,
without notice or obligation and further reserves the
right to change or discontinue models.
© 2009 InSinkErator, InSinkErator is a division of Emerson Electric Co. All Rights Reserved.

* Your assessment is very important for improving the work of artificial intelligence, which forms the content of this project