No category
UCM6104 IP PBX Appliance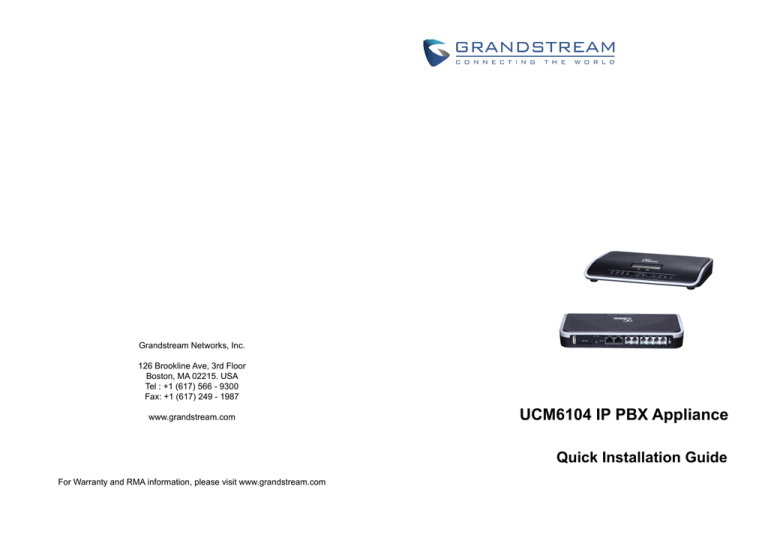 Grandstream Networks, Inc.
126 Brookline Ave, 3rd Floor
Boston, MA 02215. USA
Tel : +1 (617) 566 - 9300
Fax: +1 (617) 249 - 1987 www.grandstream.com
For Warranty and RMA information, please visit www.grandstream.com
UCM6104 IP PBX Appliance
Quick Installation Guide
Content
English..............................................................................1
简体中文
..........................................................................5
Español..............................................................................9
Français...........................................................................13
Deutsch...........................................................................17
Italiano............................................................................21
Русскй.............................................................................25
EN
The UCM6104 is not pre-configured to support or carry emergency calls to any type of hospital, law enforcement agency, medical care unit ("Emergency
Service(s)") or any other kind of Emergency Service.
You must make additional arrangements to access
Emergency Services. It is your responsibility to purchase SIP-compliant Internet telephone service, properly configure the UCM6104 to use that service, and periodically test your configuration to confirm that it works as you expect. If you do not do so, it is your responsibility to purchase traditional wireless or landline telephone services to access Emergency Services.
GRANDSTREAM DOES NOT PROVIDE CON-
NECTIONS TO EMERGENCY SERVICES VIA THE
UCM6104. NEITHER GRANDSTREAM NOR ITS
OFFICERS, EMPLOYEES OR AFFILIATES MAY BE
HELD LIABLE FOR ANY CLAIM, DAMAGE, OR LOSS.
YOU HEREBY WAIVE ANY AND ALL SUCH CLAIMS
OR CAUSES OF ACTION ARISING FROM OR RE-
LATING TO YOUR INABILITY TO USE THE UCM6104
TO CONTACT EMERGENCY SERVICES, AND YOUR
FAILURE TO MAKE ADDITIONAL ARRANGEMENTS
TO ACCESS EMERGENCY SERVICES IN ACCOR-
DANCE WITH THE IMMEDIATELY PRECEDING
PARAGRAPH
.
1
PRECAUTIONS:
• Do not attempt to open, disassemble, or modify the device.
• Do not use a third party power adapter.
• Do not expose this device to temperatures outside the range of 0 °C to +40 °C for
operating or -10 °C to +60 °C for storage.
• Do not expose this device to environment outside of the following humidity range:
10-90% RH (non-condensing).
• Do not power cycle the device during system boot up or firmware upgrade. You
may corrupt firmware images and cause the unit to malfunction.
OVERVIEW:
UCM6104 is an innovative IP PBX appliance designed for small to medium business. Powered by an advanced hardware platform with robust system resources, the UCM6104 offers a highly versatile state-of-the-art Unified Communication
(UC) solution for converged voice, video, data, fax and video surveillance application needs. Incorporating industry-leading features and performance, the
UCM6104 offers quick setup, easy deployment and unrivaled reliability all at an unprecedented price point.
PACKAGE CONTENTS:
1 X UCM6104 Main Case
12V
1 X 12V Power Adapter
1 X Ethernet Cable
1 X Quick Installation Guide
1 X GPL License
2
CONNECTING THE UCM6104:
SD Card Slot Reset
Ground
USB Port DC 12V 2 x LAN Port 2 x FXS Port 4 x FXO Port
1. Connect one end of an RJ-45 Ethernet cable into the LAN 1 port of the UCM6104.
2. Connect the other end of the Ethernet cable into the uplink port of an Ethernet
switch/hub.
3. Connect the 12V DC power adapter into the 12V DC power jack on the back of
the UCM6104. Insert the main plug of the power adapter into a surge-protected
power outlet.
4. Wait for the UCM6104 to boot up. The LCD in the front will show its hardware
information when the boot process is done.
5. Once the UCM6104 is successfully connected to network, the LED indicator for
LAN 1 in the front will be in solid green and the LCD shows up the IP address.
6. (Optional) Connect PSTN lines from the wall jack to the FXO ports; connect
analog lines (phone and fax) to the FXS ports.
USING THE UCM6104 KEYPAD MENU:
LCD
Navigation
Keys
LED
Indicators
3
LAN 1 LED LAN 2 LED USB LED SD Card LED FXS LED FXO LED
1. Press "Down" or "OK" key to start browsing menu options.
2. Press "Down" to browser different menu options. Press "OK" to select an entry.
3. In the menu option, select "Back" to go back to previous menu.
4. The LCD will return to default display after being idle in menu for more than 20
seconds.
CONFIGURING THE UCM6104 VIA WEB GUI:
1. Connect the computer to the same network as the UCM6104.
2. Ensure the UCM6104 is properly powered up and shows its IP address in the
LCD.
3. Open a web browser on the computer and enter the web GUI URL in the format:
http(s)://IP-Address:Port
The default protocol is HTTPS and the default port number is 8089.
4. The web GUI login page will show (see Figure below). The default username
and password for administrator are "admin".
5. For the detailed information to configure SIP Extensions, PSTN lines, SIP trunks
and all the other system settings via web GUI, please download the UCM6104
user manual here:
http://www.grandstream.com/support
This product is covered by one or more of the U.S. patents (and any foreign patent counterparts thereto) identified at www.cmspatents.com.
4
ZH
UCM6104不预设对医院,执法机构,医疗中
心(急救服务)以及各种紧急服务的紧急通话服
务。用户必须自行设定紧急通话功能。用户必
须自行购买SIP兼容的网络电话服务,正确的设
定UCM6104使用该服务,并定期测试您的配
置以确保UCM6104如预期工作,否则请购买
传统无线或有线电话服务来拨打紧急通话。
Grandstream Networks 公司的UCM6104不支
持紧急通话服务。Grandstream Networks公
司、其管理者和员工以及其相关机构对此所造
成的任何索赔、损失或者损害都不负有任何法
律追究责任。在此,您将无权对任何以及所有
由于无法通过UCM6104拨打紧急电话以及没
有遵照前段文字描述而造成紧急通话失败的事
件提出诉讼。
注意事项:
1. 请不要拆卸或修改该设备;
2. 请不要使用第三方的电源适配器;
3. 请不要在超出0至40摄氏度的环境下使用该设备,请不要在超出-10至60摄氏度
的环境下存储该设备;
4. 请不要将设备暴露在超出相对湿度10-90%范围外的环境下;
5. 请不要在设备启动未完成的时候或设备的软件升级过程中断开电源。如上所述
的操作会导致话机本身的程序损坏,进而造成设备无法启动。
产品概览:
UCM6104是一款功能丰富、兼具创新的IP PBX设备。它采用先进的硬件平台,运
用强健的系统资源,为用户提供了集语音、视频、数据、传真和监控设备需求的
统一解决方案。UCM6104融合了工业界领先的功能,安装部署方便,运行稳定可
靠,性价比高,是中小型企业理想的选择。
设备包装清单:
5
UCM6104(1台)
12V
电源适配器 (1个)
网线 (1根)
快速安装手册(1本)
GPL 许可证 (1本)
6
连接UCM6104:
SD卡插槽 重置 LAN端口(2个) 接地端
USB端口 12V电源 FXS端口(2个) FXO端口(4个)
1.用网线连接UCM6104的LAN 1端口;
2.将网线的另一端连接集线器或交换机上行链接的RJ-45网络接口;
3.用12V电源适配器连接UCM6104电源接口和交流电源插座;
4.等待设备启动。启动完成后,UCM6104的LCD上将会显示设备硬件信息;
5.等待设备网络连接完成。连接成功后,UCM6104的LAN 1端口LED指示灯将会
显示绿色,LCD将会显示设备IP地址;
6.(可选)连接PSTN电话线至UCM6104的FXO端口,连接模拟电话或者传真线
至UCM6104的FXS端口。
使用UCM6104菜单按键:
LCD
菜单按键
LED指示灯
7
LAN 1 LED LAN 2 LED USB LED SD卡 LED FXS LED FXO LED
1.按"下"键或"OK"键开始浏览菜单;
2.按"下"键浏览菜单各选项,按"OK"选择菜单选项;
3.选择菜单中的"Back"选项返回上一级菜单;
4.在菜单中空闲停留20秒后,LCD将会回到默认显示。
通过网络界面配置UCM6104:
1.将电脑与UCM6104连接至同一网络;
2.UCM6104正常启动并成功连接网络后,在LCD上确认UCM6104的IP地址;
3.将UCM6104的IP地址以下列格式输入在电脑的网络浏览器上:
http(s)://IP地址:端口
默认协议为HTTPS,默认端口为8089;
4.UCM6104网络登录界面如下图所示。默认用户名和密码均为"admin";
5.登录后,用户可以在网络界面下配置SIP账号、PSTN连接、SIP中继、系统设定
等。欲获取更多详细信息,请在如下链接下载UCM6104用户手册:
http://www.grandstream.com/support
8
ES
El teléfono UCM6104 no viene pre configurado ni tiene acceso a información de ningún tipo de servicio de llamadas de emergencia, hospitales, servicios policiales, unidades de cuidados médicos o cualquier otro tipo de servicio de socorro. Usted deberá hacer las coordinaciones necesarias para poder acceder a estos servicios. Será su responsabilidad, el contratar el servicio de telefonía por internet compatible con el protocolo SIP, configurar apropiadamente el teléfono UCM6104 para usar dicho servicio y periódicamente, probar su configuración para confirmar su funcionamiento de acuerdo a sus expectativas. Si usted decide no hacerlo, será su responsabilidad comprar servicios de telefonía tradicional, ya sea por línea fija o inalámbrica para poder acceder a los servicios de emergencia.
GRANDSTREAM NO PROVEE CONEXIONES CON
NINGUN SERVICIO DE EMERGENCIA MEDIANTE EL
UCM6104. NI GRANDSTREAM NI SUS DIRECTORES,
EMPLEADOS O AFILIADOS, PUEDEN SER SUJETOS
REPONSABLES POR NINGUN RECLAMO, DAÑO O
PERDIDA. POR LO TANTO, POR LA MEDIANTE, USTED
RENUNCIA A SU DERECHO DE RECLAMO O DENUNCIA
QUE PUEDA SURGIR DEBIDO A LAS LIMITACIONES EN
EL USO DEL UCM6104 PARA CONTACTAR A LOS SERVI-
CIOS DE EMERGENCIA, ASI COMO A SU NEGLIGENCIA
DE REALIZAR LAS COORDINACIONES NECESARIAS
PARA ACCEDER A TODOS LOS SERVICIOS DE EMER-
GENCIA, MENCIONADOS EL PARRAFO PRECEDENTE.
9
PRECAUCIONES:
• No abrir, desarmar o intentar modificar este equipo.
• No use adaptadores de corriente distintos al suministrado.
• No exponga este dispositivo a temperaturas fuera del rango de 0 °C a +40 °C en
funcionamiento y -10 °C a +60 °C en almacenadas.
• No exponga este dispositivo ambientes fuera del siguiente rango de humedad:
10-90% RH (Sin condensación).
• Por favor NO apague el UCM6104 durante el arranque o durante la actualización
del firmware. La interrupción de la actualización del firmware puede causar mal
funcionamiento del equipo.
INFORMACIÓN GENERAL:
El UCM6104 es un innovador dispositivo IP PBX diseñado para pequeñas y medianas empresas. Potenciado con una avanzada plataforma de hardware y un robusto sistema de recursos. El UCM6104 ofrece una gran versatilidad, líder en
Comunicaciones Unificadas (UC), para soluciones convergentes de voz, video, datos, video vigilancia. La incorporación de funciones y características líderes de la industria hacen que el UCM6104 ofrezca una configuración rápida, facilidad y confiabilidad de implementación, con un precio sin precedentes.
CONTENIDO DEL PAQUETE:
1 X UCM6104 Base Principal 1 X Cable de Red
12V
1 X Adaptador de Alimentación de 12V
1 X Guía de instalación rápida / 1 X Licencia GPL
10
CONECTANDO EL UCM6104:
Ranura de tarjeta SD Resetear
2 x Puertos FXS Tierra
Puerto USB DC 12V 2 x Puertos LAN 4 x Puertos FXO
1. Conecte un extremo de un cable Ethernet RJ-45 en el puerto LAN 1 del
UCM6104.
2. Conecte el otro extremo del cable Ethernet RJ-45 en el puerto de enlace de un
switch/hub.
3. Conecte el adaptador de alimentación de 12V DC en el conector de alimenta-
ción de 12 V DC en la parte posterior de la UCM6104. Inserte el enchufe princ-
ipal del adaptador de alimentación a una toma de corriente protegida contra
sobretensión.
4. Espere a que el UCM6104 inicie. La pantalla LCD en la parte frontal mostrará la
información de hardware cuando el proceso de arranque comienza.
5. Una vez que el UCM6104 está correctamente conectado a la red, el indicador
LED para el LAN 1 en la parte frontal estará en color verde y en la pantalla apa-
rece la dirección IP asignada.
6. (Opcional) Conecte las líneas PSTN de la toma de la pared a los puertos FXO,
conectar líneas analógicas (teléfonos y fax) a los puertos FXS.
USO DEL MENÚ POR TECLADO DEL UCM6104:
11
LAN 1 con indicador LED
LAN 2 con indicador LED
USB con indicador LED
Pantalla
LCD
Teclas de
Navegación
Indicadores
LED
FXO con indicador LED
FXS con indicador LED
SD Card con indicador LED
1. Pulse el botón "Bajar" o "OK" para comenzar a navegar por las opciones del
menú.
2. Pulse el botón "Bajar" para navegar por las diferentes opciones del menú. Pulse
el botón "OK" para seleccionar una entrada.
3. En la opción del menú, seleccione "Volver" para regresar al menú anterior.
4. La pantalla LCD volverá a la pantalla por defecto (de inicio) después de estar
inactiva durante más de 20 segundos.
CONFIGURACION DEL UCM6104 ATRAVEZ DE LA
INTERFAZ WEB DE USUARIO
1. Conecte un ordenador a la misma red que el UCM6104.
2. Asegúrese de que el UCM6104 está correctamente encendido y muestra su
dirección IP en la pantalla LCD.
3. Abra un navegador web en el ordenador y escriba la dirección URL del UCM6104
en el siguiente formato:
http(s)://Direccion-IP:Puerto
El protocolo predeterminado es HTTPS y el número de puerto predeterminado
es 8089.
4. La página web de inicio de sesión GUI mostrará (ver figura más adelante). El
nombre de usuario y contraseña por defecto para el administrador es "admin".
5. Para la información detallada de las configuraciones de extensiones SIP, líneas
PSTN, troncos SIP y todos los ajustes del sistema a través de la interfaz Web
GUI, por favor descargue el manual de usuario UCM6104 desde aquí.
http://www.grandstream.com/support
12
FR
Le UCM6104 n'est pas préconfiguré pour prendre en charge ou de procéder les appels d'urgence à tout type d'hôpital, d'application de la loi, ou unité de soins médicaux ("Service (s) d'urgence") ou tout autre type de service d'urgence. Vous devez faire des arrangements pour l'accès aux services d'urgence. C'est votre responsabilité d'acheter un service téléphonique
Internet compatible SIP, configurer correctement le
UCM6104 à utiliser ce service et, périodiquement, de tester votre configuration afin de confirmer qu'il fonctionne comme prévu. Si vous ne le faites pas, c'est votre responsabilité d'acheter un accès au service téléphonique traditionnel sans fil ou filaire afin d'accéder aux services d'urgence.
GRANDSTREAM NE FOURNIT AUCUNE CONNEX-
ION AUX SERVICES D'URGENCE VIA LE UCM6104.
NI GRANDSTREAM, NI SES DIRIGEANTS, EMPLOY-
ES OU FILIALES PEUVENT ETRE TENUS RESPON-
SABLE POUR TOUTE RECLAMATION OU CAUSE
D'ACTION DECOULANT OU RELATIF A VOTRE IN-
CAPACITE D'UTILISER LE UCM6104 POUR CON-
TACTER LES SERVICES D'URGENCE ET VOTRE
ECHEC DE FAIRE DES ARRANGEMENTS SUP-
PLEMENTAIRES POUR ACCEDER AUX SERVICES
D'URGENCE EN CONFORMITE AVEC LE PARA-
GRAPHE PRECEDENT.
13
PRECAUTIONS:
• Ne pas tenter d'ouvrir, de désassembler, ou demodifier le dispositif.
• Ne pas utiliser un adaptateur d'alimentation tiers.
• Ne pas exposer cet appareil à des températures hors de la plage de 0 °C à
+40 °C en opération ou -10 °C à +60 °C en stockage.
• Ne pas exposer cet appareil à un environnement avec humidité hors de la plage
de 10-90% RH (sans condensation).
• Veuillez ne pas éteindre le UCM6104 pendant le démarrage du système ou la
mise à jour du firmware. Cela risque de rompre l'image du firmware et en con
séquence rendre l'unité inutilisable.
PRESENTATION:
UCM6104 est une appliance IP PBX innovatrice conçue pour les petites et moyennes entreprises. Doté d'une plateforme matérielle avancée et de ressources système robustes, UCM6104 offre une grande souplesse, et l'état-de-l'art de la solution des communications unifiées (UC) pour une convergence de la voix, vidéo, donnée fax et les besoin des applications de vidéo surveillance. Intégration des fonctionnalités et performances leaders de l'industrie, la UCM6104 offre une installation rapide, un déploiement facile et une connectivité sans rival, tout cela
à un prix sans précédent.
CONTENU DU PACK:
1 X UCM6104 Boîtier Principal 1 X Câble Ethernet
12V
1 X 12V Adaptateur Secteur
1 X Guide d'installation rapide / 1 X Licence GPL
14
CONNECTER LE UCM6104:
Port Carte SD Réinitialisation
Terre
Port USB
12V DC 2 x Ports LAN 2 x Ports FXS 4 x Ports FXO
1. Branchez une extrémité d'un câble Ethernet RJ-45 dans le port LAN 1 du
UCM6104.
2. Branchez l'autre extrémité du câble Ethernet dans le port de liaison montante
d'un commutateur Ethernet / concentrateur.
3. Branchez l'adaptateur d'alimentation 12 V DC dans la prise de courant à l'arrière
du UCM6104. Insérez la prise de l'adaptateur secteur sur une prise électrique
protégé contre les surtensions.
4. Attendez que le UCM6104 démarre. L'écran LCD à l'avant affichera ses informa-
tions matérielle lorsque le processus de démarrage est terminé.
5. Une fois que le UCM6104 est connecté au réseau, le voyant LED LAN 1 à l'
avant sera en vert et l'écran LCD affichera l'adresse IP.
6. (Optionnel) Reliez les lignes RTC à partir de la prise murale vers les ports FXO,
connecter les lignes analogiques (téléphone et fax) aux ports FXS.
UTILISATION DU CLAVIER MENU DU UCM6104:
LCD
Boutons de
Navigation
Indicateurs
LED
15
LED LAN 1 LED LAN 2 LED USB LED Carte SD LED FXS LED FXO
1. Appuyez sur "Bas" ou "OK" pour commencer à parcourir les options du menu.
2. Appuyez sur "Down" pour parcourir les différentes options du menu. Appuyez
sur "OK" pour sélectionner une entrée.
3. Dans le menu, sélectionnez "Retour" pour revenir au menu précédent.
4. L'écran LCD revient à l'affichage par défaut après avoir été inactif dans le menu
pendant plus de 20 secondes.
CONFIGURATION DU UCM6104 VIA
L'INTERFACE WEB:
1. Connectez l'ordinateur au même réseau que le UCM6104.
2. S'assurer que le UCM6104 est bien sous tension et affiche son adresse IP dans
l'écran LCD.
3. Ouvrez un navigateur Web sur l'ordinateur et entrez l'URL de l'interface web
dans le format suivant:
http(s)://IP-Address:Port
Le protocole par défaut est HTTPS et le numéro de port par défaut est 8089.
4. La page de connexion apparaîtra (voir la figure ci-dessous). Par defaut, Le nom
d'utilisateur et le mot de passe administrateur sont «admin».
5. Pour des informations détaillées concernant la configuration des extensions
SIP, lignes RTC, Trunks SIP et tous les autres paramètres du système via l'
interface Web, Veuillez télécharger le manuel d'utilisation du UCM6104 à partir
d'ici.
http://www.grandstream.com/support
16
DE
Das UCM6104 ist nicht für die Durchführung von Notrufen an Krankhäuser, Strafverfolgungsbehörden, medizinische
Pflegeeinrichtungen ("Notdienste") oder jegliche andere
Form von Notdiensten ausgerichtet. Sie müssen zusätzliche Einstellungen vornehmen, um Zugang zu Notdiensten zu erhalten. Es liegt an Ihnen, einen SIP-kompatiblen Internettelefoniedienst zu erwerben, das UCM6104 korrekt für die Nutzung dieses Dienstes zu konfigurieren und die Konfigurierung regelmäßig auf ihre Funktionstüchtigkeit zu testen. Andernfalls liegt es an Ihnen, herkömmliche Drahtlos- oder Festnetztelefoniedienste zu erwerben, um Zugang zu
Notdiensten zu erhalten.
GRANDSTREAM BIETET ÜBER DAS UCM6104 KEINE
VERBINDUNG ZU NOTRUFEN AN. WEDER DAS UN-
TERNEHMEN GRANDSTREAM NOCH SEINE FUNK-
TIONÄRE, ANGESTELLTEN ODER PARTNER KÖNNEN
FÜR FORDERUNGEN, SCHADEN ODER VERLUSTE
HAFTBAR GEMACHT WERDEN. SIE VERZICHTEN
HIERMIT AUF JEGLICHE UND ALLE SOLCHE FORDER-
UNGEN ODER RECHTLICHEN SCHRITTE, DIE DURCH
DIE UNMÖGLICHKEIT, ÜBER DAS UCM6104 NOTRUFE
ZU NUTZEN, SOWIE DURCH IHR VERSÄUMNIS, DIE
GEMÄß DEM VORHERGEHENDEN PARAGRAPH NOT-
WENDIGEN ZUSÄTZLICHEN EINSTELLUNGEN FÜR
DEN ZUGANG ZU NOTRUFEN VORZUNEHMEN, VER-
URSACHT WERDEN KÖNNEN.
17
VORSICHTSMAßNAHMEN:
• Versuchen Sie nicht, das Gerät zu öffnen, zu zerlegen oder zu modifizieren.
• Verwenden Sie keine Netzteile von anderen Herstellern.
• Das Gerät darf nicht bei Temperaturen jenseits von 0 °C bis +40 °C betrieben
oder gelagert werden von -10 °C bis +60 °C.
• Die Luftfeuchtigkeit muss innerhalb des folgenden Bereichs liegen: 10-90% rel.
Luftfeuchtigkeit (nichtkondensierend).
• Schalten Sie das UCM6104 beim Systemstart oder bei der Firmware-Aktualisier
ung NICHT aus und wieder ein. Andernfalls können Firmware-Bilder beschädigt
werden und es könnten Funktionsstörungen am Gerät auftreten.
ÜBERSICHT:
Das UCM6104 ist eine innovative IP-Telefonanlagen-Appliance für kleine bis mittlere Unternehmen. Das UCM6104 verfügt über eine moderne Hardwareplattform mit leistungsfähigen Systemressourcen und bietet eine sehr vielseitige Unified
Communication-Lösung auf dem aktuellen Stand der Technik, die die Anforderungen von konvergenten Sprach-, Video-, Daten-, Fax- und Videoüberwachungsanwendungen erfüllt. Durch branchenführende Leistungsmerkmale und Leistung bietet das UCM6104 schnelle Einrichtung, einfache Implementierung und unerreichte Zuverlässigkeit zu einem konkurrenzlosen Preis.
PACKUNGSINHALT:
1 X Ethernet-Kabel 1 X UCM6104
12V
1 X 12V Netzteil
1 X Schnellinstallationsanleitung / 1 X GPL-licentie
18
UCM6104 ANSCHLIESSEN:
SD Card Slot Zurücksetzen 2 x FXS-Anschluss Erdung
USB-Anschluss
12 VDC 2 x LAN-Anschluss 4 x FXO-Anschluss
1. Stecken Sie ein Ende eines RJ-45-Ethernet-Kabels in den Anschluss LAN 1
des UCM6104.
2. Stecken Sie das andere Ende des Ethernet-Kabels in den Uplink-Anschluss
eines Ethernet-Switch/Hubs.
3. Schließen Sie das 12-VDC-Netzteil an den 12-VDC-Stromversorgungsanschlu-
ss auf der Rückseite des UCM6104 an. Stecken Sie den Netzstecker des Netz-
teils in eine Steckdose mit Überspannungsschutz.
4. Warten Sie, bis das UCM6104 gestartet wurde. Nach dem Startvorgang werden
die Hardwareinformationen auf dem LCD auf der Vorderseite angezeigt.
5. Sobald das UCM6104 ordnungsgemäß mit dem Netzwerk verbunden wurde,
leuchtet die LED für LAN 1 auf der Vorderseite grün und auf dem LCD wird die
IP-Adresse angezeigt.
6. (Optional) Stellen Sie eine Verbindung von den Wandanschlüssen für die Fest-
netzleitungen mit den FXO-Anschlüssen her. Schließen Sie die Analogleitungen
(Telefon und Fax) an die FXS-Anschlüsse an.
VERWENDUNG DES UCM6104-TASTENFELDMENÜS:
LCD
Navigationstasten
LED-
Anzeigen
19
LAN 1-LED LAN 2-LED USB-LED SD-Karten-LED FXS-LED FXO-LED
1. Drücken Sie die Abwärtstaste oder OK, um durch die Menüoptionen zu navi-
gieren.
2. Drücken Sie die Abwärtstaste, um zu anderen Menüoptionen zu wechseln.
Drücken Sie OK, um einen Eintrag auszuwählen.
3. Wählen Sie in der Menüoption "Zurück", um zum vorherigen Menü zu wechseln.
4. Bei mehr als 20 Sekunden ohne Aktivität wird auf dem LCD wieder die Standar
danzeige angezeigt.
KONFIGURIEREN DES UCM6104 ÜBER DIE WEB-GUI
1. Schließen Sie den Computer an dasselbe Netzwerk an wie das UCM6104.
2. Vergewissern Sie sich, dass das UCM6104 eingeschaltet ist und die IP-Adresse
im LCD angezeigt wird.
3. Öffnen Sie auf dem Computer einen Webbrowser und geben Sie die URL für die
Web-GUI im folgenden Format ein:
http(s)://IP-Adresse:Port
Das Standardprotokoll ist HTTPS und die Standardportnummer ist 8089.
4. Die Anmeldeseite der Web-GUI wird angezeigt (siehe Abbildung). Der Standar-
dbenutzername und das Standardkennwort für den Administrator lauten
"admin".
5. Ausführliche Informationen zum Konfigurieren der SIP-Nebenstellen, Festnet-
zleitungen, SIP-Leitungen und allen anderen Systemeinstellungen über die
Web-GUI finden Sie im UCM6104-Benutzerhandbuch, das Sie hier herunter-
laden können.
http://www.grandstream.com/support
20
IT
UCM6104 non è preconfigurato per supportare o effettuare chiamate di emergenza a qualsiasi tipo di ospedale, struttura giudiziaria, unità di assistenza medica ("Servizi di emergenza") o a qualsiasi altro tipo di servizio di emergenza. È necessario effettuare accordi supplementari per accedere ai Servizi di emergenza.
È a Vostra esclusiva responsabilità acquistare servizi di telefonia internet conformi con SIP, configurare
UCM6104 correttamente per usare tale servizio ed effettuare test periodici della configurazione per assicurarsi che funzioni in modo idoneo. Se non si effettua ciò, è Vostra responsabilità acquistare servizi telefonici fissi o wireless tradizionali per accedere ai Servizi di emergenza.
GRANDSTREAM NON FORNISCE COLLEGA-
MENTI AI SERVIZI DI EMERGENZA ATTRAVERSO
UCM6104. NÈ GRANSTREAM NÈ I SUOI RESPON-
SABILI, DIPENDENTI O AFFILIATI POSSONO ES-
SERE RITENUTI RESPONSABILI DI QUALSIASI
RECLAMO, DANNO O PERDITA, E DI QUALSIASI
AZIONE LEGALE DERIVANTE DA TALI RECLAMI O
CAUSE IN RELAZIONE ALL'IMPOSSIBILITÀ DI US-
ARE IL UCM6104 PER CHIAMATE AI SERVIZI O DI
STRINGERE ACCORDI SUPPLEMENTARI PER AC-
CEDERE AI SERVIZI DI EMERGENZA IN CONFOR-
MITÀ AL PARAGRAFO PRECEDENTE.
21
PRECAUZIONI:
• Non tentare di aprire, smontare o modificare il dispositivo.
• Non utilizzare un adattatore di alimentazione di terzi.
• Non esporre il dispositivo a temperature non incluse nell'intervallo da 0 °C a
+40 °C per l'operatività o da -10 °C a +60 °C per l'immagazzinaggio.
• Non esporre il dispositivo ad ambienti non inclusi nel seguente intervallo di
umidità: 10 - 90 % di umidità relativa (senza condensa)
• NON spegnere e riaccendere il UCM6104 durante l'avvio del sistema o l'aggiorna-
mento del firmware. Si possono corrompere le immagini del firmware e causare
problemi di funzionamento.
PANORAMICA:
UCM6104 è un'innovativa appliance per IP PBX pensata per le piccole e medie imprese. Supportata da un'avanzata piattaforma hardware con solide risorse di sistema, l'appliance UCM6104 offre una soluzione UC (Unified Communication) all'avanguardia e altamente versatile per le esigenze di applicazioni voce, video, fax dati e di videosorveglianza convergenti. Con funzionalità e prestazioni all'avanguardia nel settore, UCM6104 garantisce una configurazione rapida, una semplice distribuzione e un'affidabilità senza eguali, il tutto a un prezzo mai visto prima.
CONTENUTO DELLA CONFEZIONE:
1 X UCM6104 Apparecchi principale 1 X Cavo Ethernet
12V
1 X 12V Alimentatore
1 X Guida di installazione rapida
1 X GPL License
22
CONNESSIONE DEL UCM6104:
Slot per SD Card Ripristina Due porte FXS
Messa a terra
Porta USB CC a 12 V Due porte LAN Quattro porte FXO
1. Collegare un'estremità di un cavo Ethernet RJ-45 alla porta LAN 1 di UCM6104.
2. Collegare l'altra estremità del cavo Ethernet alla porta di uplink di uno switch/
un hub Ethernet.
3. Collegare l'adattatore di alimentazione CC a 12 V alla presa di alimentazione
CC a 12 V sulla parte posteriore di UCM6104. Inserire la spina principale dell'
adattatore di alimentazione in una presa di corrente protetta contro le sovraten-
sioni.
4. Attendere l'avvio di UCM6104. Quando il processo di avvio sarà completato, sul
display LCD anteriore verranno visualizzate le informazioni relative all'hardware.
5. Una volta che UCM6104 è connesso correttamente alla rete, l'indicatore LED
della LAN 1 nella parte anteriore sarà di colore verde e il display LCD visual-
izzerà l'indirizzo IP.
6. (Opzionale) Collegare le linee PSTN dalla presa a muro alle porte FXO;
collegare le linee analogiche (telefono e fax) alle porte FXS.
UTILIZZO DEL MENU DEL TASTIERINO DI UCM6104:
LCD
Tasti di navigazione
Indicatori
LED
23
LED LAN 1 LED LAN 2 LED USB LED scheda SD LED FXS LED FXO
1. Premere il tasto "Giù" o "OK" per iniziare a scorrere le opzioni del menu.
2. Premere "Giù" per scorrere le diverse opzioni del menu. Premere "OK" per
selezionare una voce.
3. Nell'opzione di menu, selezionare "Indietro" per tornare al menu precedente.
4. Il display LCD tornerà alla visualizzazione predefinita dopo un periodo di inat-
tività nel menu di più di 20 secondi.
CONFIGURAZIONE DI UCM6104 TRAMITE
INTERFACCIA UTENTE GRAFICA WEB:
1. Collegare il computer alla stessa rete di UCM6104.
2. Assicurarsi che UCM6104 sia alimentato correttamente e visualizzi l'indirizzo IP
sul display LCD.
3. Aprire un browser Web sul computer e immettere l'URL dell'interfaccia utente
grafica Web nel formato:
http(s)://Indirizzo-IP:Porta
Il protocollo predefinito è HTTPS e il numero di porta predefinito è 8089.
4. Verrà visualizzata la pagina di accesso dell'interfaccia utente grafica Web
(vedere la figura sotto). Il nome utente e la password amministratore predefiniti
sono "admin".
5. Per informazioni dettagliate su come configurare le estensioni SIP, le linee
PSTN, i trunk SIP e tutte le altre impostazioni di sistema tramite l'interfaccia
utente grafica Web, scaricare qui il manuale utente di UCM6104.
http://www.grandstream.com/support
24
RU
UCM6104 не предназначен для поддержки и выполнения срочных звонков в медицинские учреждения, правоохранительные органы, учреждения здравоохранения ("Экстренные службы") и в какие-либо другие экстренные службы. Для доступа к экстренным службам необходимо предпринять дополнительные меры. Приобретение SIP-совместимой услуги Интернет телефонии, надлежащая конфигурация UCM6104 для использования данной услуги и периодическая проверка конфигурации с целью подтверждения правильности работы являются обязанностью заказчика. Если это не сделано, то для доступа к экстренным службам необходимо подключиться к услугам беспроводной или проводной телефонной связи.
GRANDSTREAM НЕ ПРЕДОСТАВЛЯЕТ ПОДКЛЮЧЕНИЕ
К ЭКСТРЕННЫМ СЛУЖБАМ ЧЕРЕЗ UCM6104. КРОМЕ
ТОГО, НИ КОМПАНИЯ GRANDSTREAM, НИ ЕЕ
РУКОВОДИТЕЛИ, СОТРУДНИКИ И АФФИЛИРОВАННЫЕ
ЛИЦА НЕ НЕСУТ ОТВЕТСТВЕННОСТИ В СЛУЧАЕ
КАКИХ-ЛИБО ПРЕТЕНЗИЙ, УЩЕРБА ЛИБО ПОТЕРЬ,
И ВЫ ТЕМ САМЫМ ОТКАЗЫВАЕТЕСЬ ОТ КАКИХЛИБО
ТРЕБОВАНИЙ ИЛИ ОСНОВАНИЙ ДЛЯ ИСКА,
ЯВЛЯЮЩИХСЯ РЕЗУЛЬТАТОМ ИЛИ КАСАЮЩИХСЯ
ВАШЕЙ НЕСПОСОБНОСТИ ИСПОЛЬЗОВАТЬ UCM6104,
ЧТОБЫ СВЯЗАТЬСЯ С АВАРИЙНЫМИ СЛУЖБАМИ
И ВАШИМ ОТКАЗОМ СДЕЛАТЬ ДОПОЛНИТЕЛЬНЫЕ
ПРИГОТОВЛЕНИЯ, ЧТОБЫ ПОЛУЧИТЬ ДОСТУП
К АВАРИЙНЫМ СЛУЖБАМ В СООТВЕТСТВИИ С
ПРЕДЫДУЩИМ ПАРАГРАФОМ.
25
МЕРЫ ПРЕДОСТОРОЖНОСТИ:
• Не пытайтесь открывать, разбирать или изменять устройство.
• Не используйте адаптер питания другого производителя.
• Не допускается использование устройства при температурах вне диапазона
от 0 °C до +40 °C при эксплуатации и от -10 °C до +60 °C при хранении.
• Не допускается выставлять устройство наружу при относительной
влажности вне диапазона 10-90% (без конденсата).
• Не следует выключать/включать UCM6104 во время загрузки системы или
обновления микропрограммного обеспечения. Возможно повреждение
встроенных программ, что приведет к поломке устройства.
ОБЩИЙ ОБЗОР:
UCM6104 инновационная IP-АТС для предприятий малого и среднего бизнеса. UCM6104 основана на усовершенствованной аппаратной платформе с надежными системными ресурсами и представляет собой многофункциональное, высокотехнологичное решение для унифицированных коммуникаций, отвечающее потребностям клиентов в конвергенции голосовых, видео- и факсимильных данных, а также видеонаблюдения.
UCM6104, оснащенная передовыми в отрасли функциями и обладающая исключительной производительностью, - это быстрая настройка, простота в эксплуатации и непревзойденная надежность по невероятно доступной цене.
КОМПЛЕКТ ПОСТАВКИ:
1 X корпус UCM6104 1 X кабель Ethernet
12V
1 X 12V адаптер питания 12 В
1 X Руководство по быстрой установке / 1 X лицензия GPL
26
ПОДКЛЮЧЕНИЕ UCM6104:
Разъем для SD-карты Сброс 2 порта локальной сети
Заземление
Порт USB 12 В постоянного тока 2 порта FXS 4 порта FXO
1. Вставьте один конец кабеля Ethernet RJ-45 в порт локальной сети 1
UCM6104.
2. Вставьте другой конец кабеля Ethernet в порт исходящей связи
переключателя/коммутатора Ethernet.
3. Подключите адаптер питания постоянного тока 12 В к разъему питания
постоянного тока 12 В на задней панели UCM6104. Вставьте сетевой
штепсель адаптера питания в сетевую розетку с защитой от перепадов
напряжения.
4. Дождитесь загрузки UCM6104. По завершении процесса загрузки на ЖК-
дисплее на передней панели отобразится информация об оборудовании.
5. После успешного подключения UCM6104 к сети индикатор LAN 1 на
передней панели загорится зеленым цветом, а на ЖК-дисплее будет
отображен IP-адрес.
6. (Дополнительно) Подключите линии ТСОП от стенной розетки к портам
FXO; подключите аналоговые линии (телефон и факс) к портам FXS.
ИСПОЛЬЗОВАНИЕ МЕНЮ КЛАВИАТУРЫ UCM6104:
27
Индикатор
LAN1
Индикатор
LAN2
Индикатор
USB
Индикатор
SD карты
ЖК-дисплей
Клавиши навигации
Световые индикаторы
Индикатор
FXO
Индикатор FXS
1. Нажмите кнопку "Down" (Вниз) или "OK", чтобы открыть параметры меню.
2. Нажмите "Down" (Вниз) для перехода к пунктам другого меню. Нажмите
"OK", чтобы выбрать запись.
3. В меню выберите пункт "Back" (Назад), чтобы вернуться к предыдущему
меню.
4. При бездействии в меню более 20 секунд ЖК-дисплей вернется в состояние
по умолчанию.
НАСТРОЙКА UCM6104 ЧЕРЕЗ ВЕБ-ИНТЕРФЕЙС:
1. Подключите компьютер к той же сети, в которой находится UCM6104.
2. Убедитесь, что UCM6104 правильно включен, а на ЖК-дисплее
отображается его IP-адрес.
3. Откройте веб-браузер на компьютере и введите URL-адрес веб-интерфейса
в формате:
http(s)://IP-Address:Port
Протокол по умолчанию - HTTPS, номер порта по умолчанию - 8089.
4. Появится страница входа веб-интерфейса (см. рис. ниже). Имя
пользователя и пароль администратора по умолчанию "admin".
5. Подробная информация о настройке расширений SIP, линий ТСОП, SIP
транков и всех других систем в веб-интерфейса доступна в руководстве
пользователя UCM6104, которое можно загрузить здесь.
http://www.grandstream.com/support
28
29
FCC Caution:
Any Changes or modifications not expressly approved by the party responsible for compliance could void the user's authority to operate the equipment.
This device complies with part 15 of the FCC Rules. Operation is subject to the following two conditions: (1) This device may not cause harmful interference, and
(2) this device must accept any interference received, including interference that may cause undesired operation.
Note: This equipment has been tested and found to comply with the limits for a
Class B digital device, pursuant to part 15 of the FCC Rules. These limits are designed to provide reasonable protection against harmful interference in a residential installation. This equipment generates, uses and can radiate radio frequency energy and, if not installed and used in accordance with the instructions, may cause harmful interference to radio communications. However, there is no guarantee that interference will not occur in a particular installation. If this equipment does cause harmful interference to radio or television reception, which can be determined by turning the equipment off and on, the user is encouraged to try to correct the interference by one or more of the following measures:
- Reorient or relocate the receiving antenna.
- Increase the separation between the equipment and receiver.
- Connect the equipment into an outlet on a circuit different from that to which the
receiver is connected.
- Consult the dealer or an experienced radio/TV technician for help.
Regulatory Information
U.S. FCC Part 68 Statement
This equipment complies with Part 68 of the FCC rules and the requirements adopted by the ACTA. The unit bears a label on the back which contains among other information a product identifier in the format US: GNIIS00BUCM6104. If requested, this number must be provided to the telephone company.
This equipment uses the following standard jack types for network connection:
RJ11C.
This equipment contains an FCC compliant modular jack. It is designed to be connected to the telephone network or premises wiring using compatible modular plugs and cabling which comply with the requirements of FCC Part 68 rules.
The Ringer Equivalence Number, or REN, is used to determine the number of devices which may be connected to the telephone line. An excessive REN may cause the equipment to not ring in response to an incoming call. In most areas, the sum of the RENs of all equipment on a line should not exceed five (5.0).
In the unlikely event that this equipment causes harm to the telephone network, the telephone company can temporarily disconnect your service. The telephone company will try to warn you in advance of any such disconnection, but if advance notice isn't practical, it may disconnect the service first and notify you as soon as possible afterwards. In the event such a disconnection is deemed necessary, you will be advised of your right to file a complaint with the FCC.
From time to time, the telephone company may make changes in its facilities, equipment, or operations which could affect the operation of this equipment. If this occurs, the telephone company is required to provide you with advance notice so you can make the modifications necessary to obtain uninterrupted service.
There are no user serviceable components within this equipment. See Warranty flyer for repair or warranty information.
It shall be unlawful for any person within the United States to use a computer or other electronic device to send any message via a telephone facsimile unless such message clearly contains, in a margin at the top or bottom of each transmitted page or on the first page of the transmission, the date and time it is sent and an identification of the business, other entity, or individual sending the message and the telephone number of the sending machine or of such business, other entity, or individual. The telephone number provided may not be a 900 number or any other number for which charges exceed local or long distance transmission charges. Telephone facsimile machines manufactured on and after December 20,
1992, must clearly mark such identifying information on each transmitted message. Facsimile modem boards manufactured on and after December 13, 1995, must comply with the requirements of this section.
This equipment cannot be used on public coin phone service provided by the telephone company.
Connection to Party Line Service is subject to state tariffs. Contact your state public utility commission, public service commission, or corporation commission for more information.
30
* Your assessment is very important for improving the work of artificial intelligence, which forms the content of this project