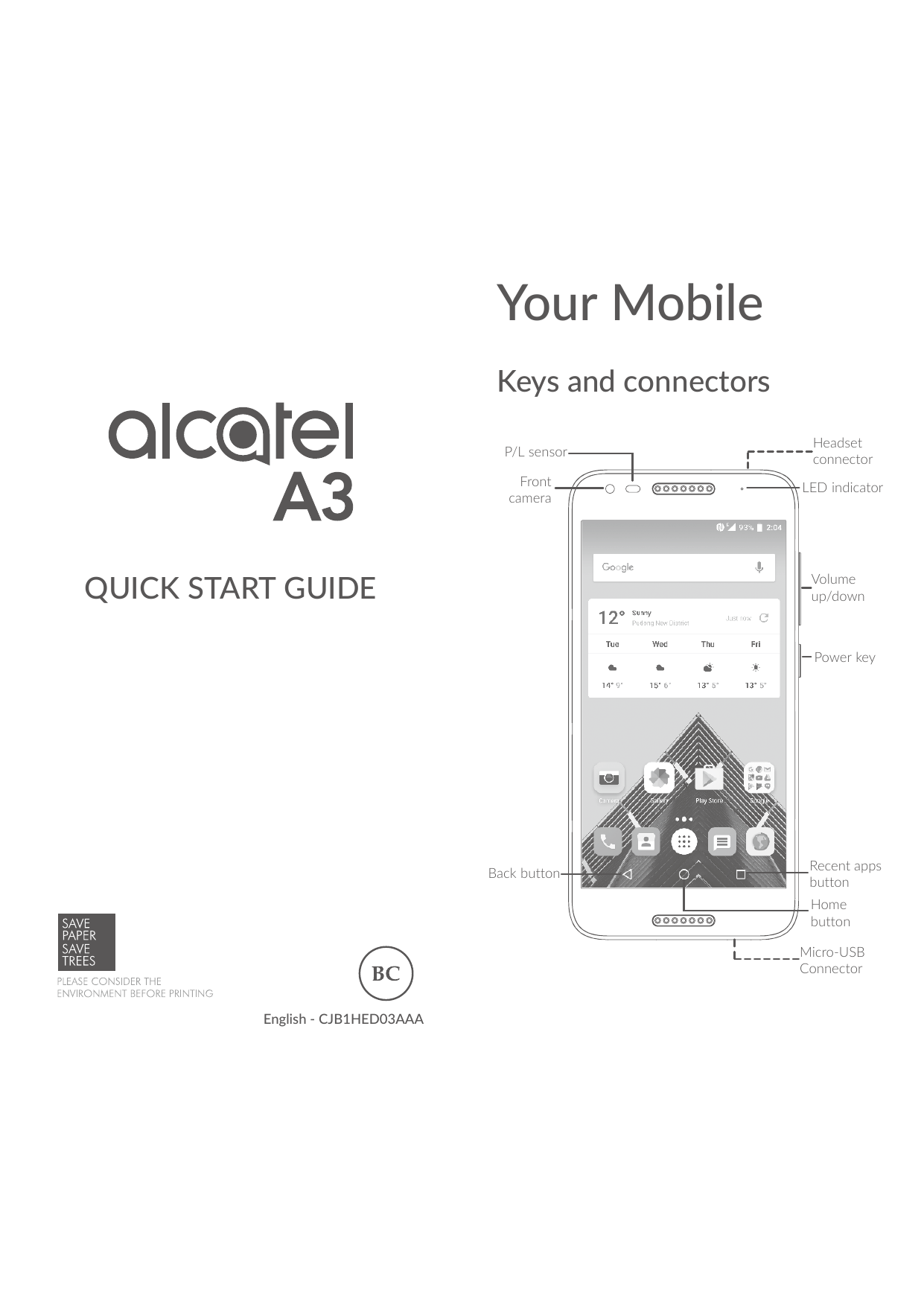 Your Mobile
Keys and connectors
P/L sensor
Front
camera
QUICK START GUIDE
Headset
connector
LED indicator
Volume
up/down
Power key
Back button
Recent apps
button
Home
button
Micro-USB
Connector
English - CJB1HED03AAA
Home screen
Camera
You can bring all the items (applications,
shortcuts, folders, and widgets) you love or
use most frequently to your Home screen for
quick access.
Camera Flash/
Flashlight
Touching the Home key always takes you
back to the main Home screen.
Getting started
1
2
Charge the battery.
Insert or remove your Nano SIM card or
microSD card.
Nano SIM card
Open the Quick
settings panel
MicroSD card
Touch and drag down to
open the Notification panel
Swipe left or right to
view more screens
Favorite tray applications
Enter application list
Phone call
Contacts
Making a call
You can view and create contacts on your
phone and synchronize these with your Gmail
contacts or other applications on the web or
on your phone.
Enter the desired number from the keyboard
and touch
to make a call.
Answering a call
When you receive a call, slide
or up to:
left, right,
Search in Contacts
View your favorites
Reject by SMS
Open the Quick contact panel
Long press to select contact(s)
to delete
Answer the call
Reject the call
Add new contact
Messaging
Email
You can create, edit, and receive SMS and
MMS.
The first time you set up your phone, you can
select to use an existing Email account or to
create a new one.
An SMS will be converted to MMS
automatically when media files (image, video,
audio, slides, etc.) are attached or subject or
email addresses are added.
Filter starred emails
See options and settings
Add recipients
Send the text message
Insert emoticons
Swipe right to delete the
email
Swipe left to star the email
Create an email
Help
To get help:
• View user manual and FAQ
Visit www.alcatelonetouch.com
• Update your phone's software
Open the Updates application to check
software updates.
• Back up your personal data
Go to Settings > Backup & reset > Back up
my data and turn it on.
• Reset your phone
Go to Settings > Backup & reset > Factory
data reset, and then touch RESET PHONE.
To get more info, you can access the Boost &
Care application.

* Your assessment is very important for improving the work of artificial intelligence, which forms the content of this project