Avid Pinnacle Studio 16.0 Installation Instructions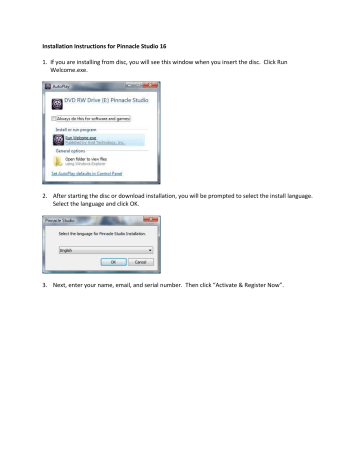 Installation Instructions for Pinnacle Studio 16
1. If you are installing from disc, you will see this window when you insert the disc. Click Run
Welcome.exe.
2. After starting the disc or download installation, you will be prompted to select the install language.
Select the language and click OK.
3. Next, enter your name, email, and serial number. Then click "Activate & Register Now".
4. After registering you will receive a window that thanks you for registering and gives you the option
to sign up for a Box.com account, click OK.
5. Next, you will be presented with an option to use the Standard or Custom Installation. For most
users we recommend using the Standard Installation. This will install all of the included content.
6. This is the Standard Installation screen, click Install to continue.
7. Certain Prerequisites are required for installation. Click OK to continue.
If you are installing from a disk, skip to Step 12. If you are installing from a download, proceed to Step
8.
8. If you have a download version of Studio, you will be prompted to install the selected components.
Click Yes to continue.
9. Next you must install the Pando Media Booster software to proceed with the download. Click OK.
10. The content download status will be updated at the bottom of the Welcome screen.
11. Once the content is downloaded you must click Yes to continue with the installation.
12. To begin the installation, click Next on this first install screen.
13. Read the license agreement, if you accept them select "I accept the terms in the license agreement,
click Next.
14. This screen allows you to change the location of the Studio 16 installation (optional). Click Next.
15. Next you are given the option to add Desktop and Quick Launch shortcuts. Make you selections and
click Next.
16. This screen gives you the option to continue with the install or go back and make changes. If you
want to proceed, click Install.
17. The Studio installation begins. This process will take some time.
18. After the main Studio application is installed, the content will be installed. You can identify what
has been installed already by checking the check marks next to the content. It will be green if it is
installed. The bottom of the installer shows the current item that it being installed.
19. Once the installation is complete, click Done to exit the installer.
Congratulations, Pinnacle Studio 16 is successfully installed!

* Your assessment is very important for improving the work of artificial intelligence, which forms the content of this project