Toshiba SD-P1750SN DVD & Blu-ray Specification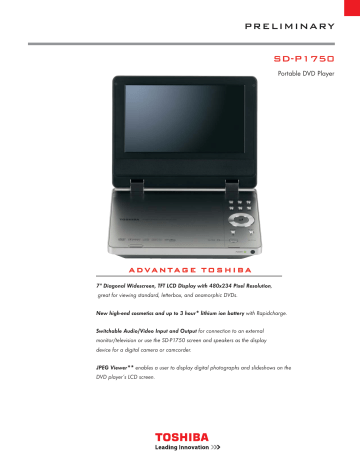 PRELIMINARY
SD-P1750
Portable DVD Player
ADVANTAGE TOSHIBA
7" Diagonal Widescreen, TFT LCD Display with 480x234 Pixel Resolution,
great for viewing standard, letterbox, and anamorphic DVDs.
New high-end cosmetics and up to 3 hour* lithium ion battery with Rapidcharge.
Switchable Audio/Video Input and Output for connection to an external
monitor/television or use the SD-P1750 screen and speakers as the display
device for a digital camera or camcorder.
JPEG Viewer** enables a user to display digital photographs and slideshows on the
DVD player's LCD screen.
SD-P1750
Specifications
Convenience
LCD
Panel Size
Resolution
Aspect Ratio
LCD Response Speed
Viewing Angle
Brightness
Contrast Ratio
7" Diagonal Wide
480 X 234
Wide
TBD
TBD
TBD
TBD
Audio
Disc & Card Compatibility**
✓
✓
✓
Yes (-R/-RW)
✓
✓
✓
✓
✓
✓
Video
Video D/A Converter
✓
✓
Brightness, Color
✓
✓
English, French, Spanish, German, Polish
AC Adapter
✓
Up to 3 Hours*
✓
Terminals
Audio D/A Converter
24bit / 192kHz
DTS® & Dolby® Digital Optical Output
✓
Virtual Surround - Built-in Speakers
✓
DVD-Video
DVD-R
DVD-RW
DVD VR format
CD
CD-R
CD-RW
MP3-Audio
WMA-Audio
JPEG
Invert Display Mode
AC/DC Operation
Video Adjustments
JPEG Viewer
Zoom Mode
OSD Language
Power Supply
Supplied Battery Pack
Playback Time
Rapid Battery Charge
14bit / 108MHz
*Battery life and number of charge cycles will vary depending on use and settings.
**Some DVD-R/DVD-RW and CD-R/CD-RW discs may be incompatible due to laser pick
up and disc design. CD-R/CD-RW discs must be recorded using CD-DA method for
CD audio playback. The DVD player may not support some MP3/WMA/JPEG/DivX
recordings due to differences in recording formats, disc structure, or condition of the
A/V Output
A/V Input
Digital Output
Headphone Output
Coaxial Digital Output
1(Mini Jack)
✓
Coaxial
x2
✓
Supplied Accessories
Battery Pack
AC Adapter (100-240V)
Car Card Adapter
AV Cable
Remote Control
Owner's Manual
✓
✓
✓
✓
Slim type
English, French, Spanish (simplify)
Product & Packaging
Unit Dimensions (WHD) in.
Carton Dimensions (WHD) in.
Unit Weight
Carton Weight
UPC Code
7.48 x 1.50 x 5.81
13.03 x 7.40 x 4.65
1.76
4.928
022265000298
http://www.tacp.toshiba.com Customer Solutions: 800.631.3811
© Toshiba America Consumer Products, L.L.C.
82 Totowa Road, Wayne, NJ 07470 (2007). All Rights Reserved (5/07.08)
Dolby and the double-D symbol are registered trademarks of Dolby Laboratories. "DTS" is a
registered trademark of DTS, Inc. All others are trademarks or registered trademarks of their
respective owners.
disc (use of CD-RW for MP3 files is not recommended). See owner's manual for more
information.
Product design and specifications subject to change or modification without notice.

* Your assessment is very important for improving the workof artificial intelligence, which forms the content of this project