Altec Lansing IMW789 User guide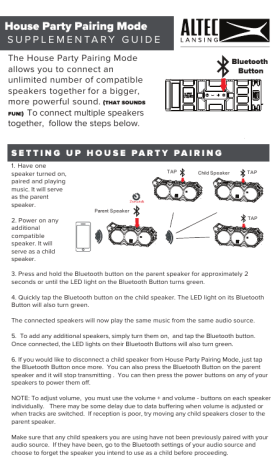 House Party Pairing Mode
S U P P L E M E N TA R Y G U I D E
The House Party Pairing Mode
allows you to connect an
unlimited number of compatible
speakers together for a bigger,
more powerful sound. (that sounds
fun!) To connect multiple speakers
together, follow the steps below.
Bluetooth
Button
S E T T I N G U P H O U S E PA R T Y PA I R I N G
1. Have one
speaker turned on,
paired and playing
music. It will serve
as the parent
speaker.
2. Power on any
additional
compatible
speaker. It will
serve as a child
speaker.
TAP
Child Speaker
TAP
2
Parent Speaker
TAP
TAP TO PAUSE
3. Press and hold the Bluetooth button on the parent speaker for approximately 2
seconds or until the LED light on the Bluetooth Button turns green.
4. Quickly tap the Bluetooth button on the child speaker. The LED light on its Bluetooth
Button will also turn green.
The connected speakers will now play the same music from the same audio source.
5. To add any additional speakers, simply turn them on, and tap the Bluetooth button.
Once connected, the LED lights on their Bluetooth Buttons will also turn green.
6. If you would like to disconnect a child speaker from House Party Pairing Mode, just tap
the Bluetooth Button once more. You can also press the Bluetooth Button on the parent
speaker and it will stop transmitting . You can then press the power buttons on any of your
speakers to power them off.
NOTE: To adjust volume, you must use the volume + and volume - buttons on each speaker
individually. There may be some delay due to data buffering when volume is adjusted or
when tracks are switched. If reception is poor, try moving any child speakers closer to the
parent speaker.
Make sure that any child speakers you are using have not been previously paired with your
audio source. If they have been, go to the Bluetooth settings of your audio source and
choose to forget the speaker you intend to use as a child before proceeding.

* Your assessment is very important for improving the work of artificial intelligence, which forms the content of this project