TRENDnet TV-NVR104D2 4-Channel HD PoE NVR Quick Installation Guide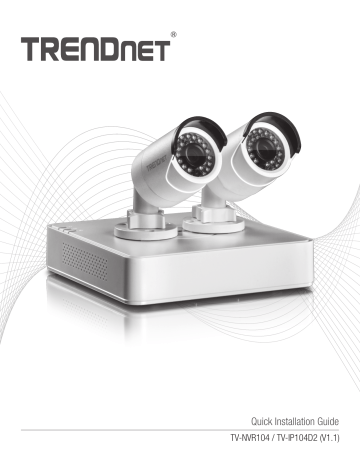 Quick Installation Guide
TV-NVR104 / TV-IP104D2 (V1.1)
Table of Content
1 English
1. Before you start
2. Hardware Drive Installation (For TV-NVR104 only)
3. System Installation
4. Initial Setup
5. Setup Wizard
1. Before You Start
Package Contents
Ÿ
TV-NVR104 or TV-NVR104D2
Ÿ
CD-ROM (Utility & User's Guide)
Ÿ
Power Adapter
Ÿ
Network cables (1.8 m / 6 ft.)
Ÿ
Optical Mouse
Ÿ
Quick Installation Guide
Minimum System Requirements
Ÿ
Monitor/TV with VGA or HDMI connection
Ÿ
Hard drive (for TV-NVR104)
1
2. Hardware Drive Installation (For TV-NVR104 only)
Skip this step if you have TV-NVR104D2.
Note:
Ÿ
Static electricity can damage the TV-NVR104 . Before handling the unit, discharge any static electricity by touching a metal object, or use an anti-static wrist strap.
Ÿ
The TV-NVR104 supports 3.5" SATA hard drive up to 6TB.
1. Remove the four retaining screws from the bottom panel of the TV-NVR104 .
2. The top cover is slotted vertically. From the back of the unit, gently slide the cover up to separate it from the lower panel.
3. Attach the SATA cable to the hard drive (not included) and control board. SATA connectors are keyed to prevent improper installation.
2
4. Mount the hard drive to the TV-NVR104's drive bay using the mounting screws included with your hard drive.
5. Reattach the top cover to the unit. Make sure the lower panel lines up with the slots on the cover.
6. Hard drive is now installed!
3
3. System Installation
Power
WPS
VGA
HDMI
Display
4
4. Initial Setup
1.
When you turn on your NVR you will be promoted to active the NVR. Please change the password to the requirements listed on the
window and click " OK ".
Activation
Username
New Password
Confirm Passw...
admin
Enter new password. For your security new password must be between 8 and 16 characters and contain at least one: Special character (!.@.#.$) Alphanumeric (1,
2,3, etc.) Upper case character.
OK Cancel
2.
You will get a pop up that your device has been activated Please click " OK ".
Attention i
The device is activated.
OK
3.
After you setup your pattern, you will then be asked to setup your language select the language and click " Apply ".
Language
System Language English
Apply
Exit
5
5. Setup Wizard
1.
First window will be if you want to start the wizard when the device starts. Please select the check box to your preference and click
" Next ".
Wizard
Start wizard when device starts?
Next
2.
Configure your time zone along with system date, time, and format then and click " Next ".
**Our password recovery system utilizes the device time and date so it is important to set it up correctly**
Time Zone
Date Format
System Date
System Time
Wizard
(GMT-08:00) Pacific Time (U.S. & Canada)
MM-DD-YYYY
02-27-2017
10:20:55
Exit
Previous Next Exit
3.
Next window is your network configuration. If you don't intend to have your NVR connected to a network you can click " Next ";
otherwise please configure your network settings then hit " Next ". It is recommended to enable both the DHCP Client and DNS DHCP.
Wizard
Network Type
Enable DHCP Client
IPv4 Address
IPv4 Subnet Mask
IPv4 Default Gateway
Enable DNS DHCP
Primary DNS Server
Secondary DNS Server
10M/100M Auto detection
192 .168 .10 .60
255 .255 .255 .0
. . .
Previous Next Exit
6
4.
Next window is your ports and DNS settings. If you don't have or don't know what DNS settings are, you can click " Next " otherwise
please configure your DNS settings then hit " Next ".
Wizard
Server Port
HTTP Port
RTSP Port
Enable UPnP
Enable DDNS
DDNS Type
Server Address
Device Domain Name
Status
Username
Password
8000
80
554 dyn.com
DDNS is disabled
Previous Next Exit
5.
If this is your first setup on a new unit you may simply press " OK ". If you have installed a different Hard Drive, please select your Hard
Drive from the list and then click " Init " to initialize/format your hard drive. Once the Hard Drive is done initializing, click " OK ".
Label
1
Capacity
931.51GB
Status
Normal
Wizard
Property
R/W
Type
Local
Free Space
927GB
Previous OK
Init
Exit
6.
The final window contains the recording setup options. Please configure the NVR to your recording preferences: either Continuous or
Motion Detection. After that click " OK " and you're done!
Wizard
Continuous
Motion Detection
Previous OK Exit
7.
Installation is completed, please refer to user's guide for more detail information and other configurations. (or use our standard style from
other models)
7
Manufacturer's Name and Address
TRENDnet, Inc.
20675 Manhattan Place
Torrance, CA 90501 USA
Zwolsestraat 156 2587 WB
The Hague The Netherlands
Product Information:
Model Number:
TV-NVR104 / TV-NVR104D2
NVR
Trade Name:
TRENDnet
TRENDnet hereby declare that the product is in compliance with the essential requirements and other relevant provisions under our sole responsibility.
Safety
EMC
EN 60950-1: 2006 + A11: 2009: +A1: 2010 + A12: 2011 + A2: 2013
EN 55022: 2010 Class B
EN 50130-4: 2011
EN 61000-3-2: 2006 + A1: 2009 + A2: 2009
EN 61000-3-3: 2008
This product is herewith confirmed to comply with the Directives.
Directives:
LVD Directive 2014/35/EU
EMC Directive 2014/30/EU
RoHS Directive 2011/65/EU
WEEE Directive 2012/19/EU
REACH Regulation (EC) No. 1907/2006
Person responsible for this declaration.
Place of Issue: Torrance, California, USA
Date: March 06, 2017
Name: Sonny Su
Title: Director of Technology
Signature:
Certifications
This device can be expected to comply with Part 15 of the FCC Rules provided it is assembled in exact accordance with the instructions provided with this kit.
Operation is subject to the following conditions:
(1) This device may not cause harmful interference
(2) This device must accept any interference received including interference that may cause undesired operation.
Waste electrical an electronic products must not be disposed of with household waste. Please recycle where facilities exist. Check with your
Local Authority or Retailer for recycling advice.
Applies to PoE Products Only: This product is to be connected only to PoE networks without routing to the outside plant.
Note
The Manufacturer is not responsible for any radio or TV interference caused by unauthorized modifications to this equipment. Such modifications could void the user's authority to operate the equipment.
Advertencia
En todos nuestros equipos se mencionan claramente las caracteristicas del adaptador de alimentacón necesario para su funcionamiento. El uso de un adaptador distinto al mencionado puede producir daños fisicos y/o daños al equipo conectado. El adaptador de alimentación debe operar con voltaje y frecuencia de la energia electrica domiciliaria exitente en el pais o zona de instalación.
Technical Support
If you have any questions regarding the product installation, please contact our Technical Support.
Toll free US/Canada: 1-866-845-3673
Regional phone numbers available at www.trendnet.com/support
TRENDnet
20675 Manhattan Place
Torrance, CA 90501
USA
Copyright © 2017. All Rights Reserved. TRENDnet.
Product Warranty Registration
Please take a moment to register your product online. Go to TRENDnet's website at: www.trendnet.com/register
TV-NVR104 / TV-NVR104D2 (V1.1)
* Your assessment is very important for improving the workof artificial intelligence, which forms the content of this project